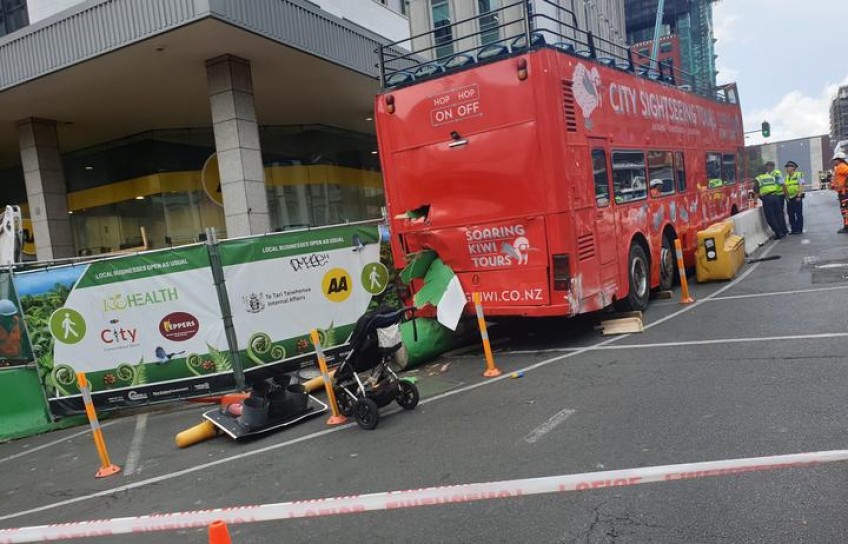 Runaway double-decker strikes mother and baby on Victoria St in Auckland
Jan 13, 2020
---
A witness to a dramatic bus crash in central Auckland today says he was amazed nobody was seriously injured after the double decker vehicle rolled backwards down Victoria St and right over a mother and baby.
Police have confirmed three people have suffered minor injured after the sightseeing bus hit pedestrians on the corner of Victoria Street and Albert Street shortly after 1pm today.
The bus came to a stop when it hit a construction site at the intersection.
Satender Phogat told RNZ he was working in a local shop when he saw the bus rolling down going backwards as a mum and a young baby were just going through a pedestrian light
"I wondered what the hell was going on, why was the bus going like that, and then I see inside there's no driver in the bus."
He said the bus was going about 10-12 km/h and went right over the mother and child. The driver came a few seconds afterward, running after the bus.
"But the baby was right under the bus."
Diana Glenie said she was waiting to cross the road when she saw it unfold.
"I thought that's where that bus is going to have to stop or it's going to hit me and it's going to hit that lady, and then I realised it wasn't going to stop and it just kept going right over the top of her and over the pram and the baby."
People were scrambling to help the woman and for a time they couldn't find her baby, before it was eventually found on the other side of the bus, Glenie said.
With another bystander, Phogat pulled the baby out from under the front of the bus, while the mother was pulled out near the back.
"The mum was at the back still and she was crying while we took out the baby, but he was all right.
"They are so lucky. I didn't want to see under the bus, to be honest, but when I heard the screaming, then I realised they are still alive."
Police said cordons are in place at the intersection and these will remain in place while the scene is cleared.


---