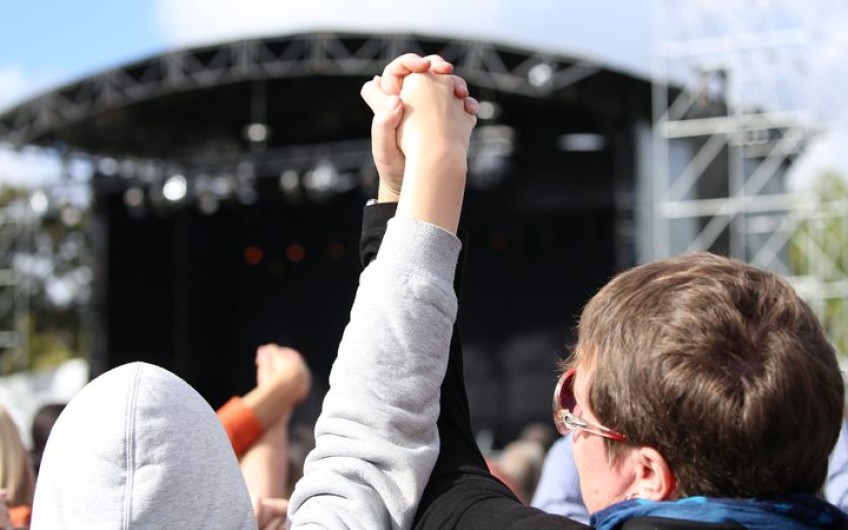 Remembrance service: New Zealand mourns the victims from the Christchurch mosque terror attacks
Mar 29, 2019
---
Heads were bowed and tears shed in silence as the names of the 50 victims of the terror attacks two weeks ago were read out at a remembrance service attended by tens of thousand in Christchurch and many more across the country today.
On Friday 15 March, people gathered at Masjid Al Noor on Deans Ave in Christchurch for Jumu'ah prayers. At 1.40pm a lone gunman shot dead many worshippers before driving across town to the mosque in Linwood, killing more.
During today's event, called Ko tātou, tātou - We are one, the names of the 50 victims of the terror attacks on Al Noor Mosque and the Linwood Mosque were read aloud by members of the Muslim community Interfaith Society.
As the names were read out, tears were quietly shed by children and adults alike. Some people held hands, others embraced each other.
Where last week's prayers in the park were raw and full of open emotion, today's remembrance with a crowd of at least 23,000 people at Hagley Park - and hundreds more at events broadcast around the country - was more formal and subdued.
It was attended by dignitaries from 59 countries and featured performances from Marlon Williams, Yusuf Islam (Cat Stevens), Holly Smith and Teeks.
The remembrance today began at 10am with a karanga by Ngāi Tūāhuriri kuia Aroha Rereti-Crofts, Hutika Crofts, Reimoana Crofts and Lunne Te Aika.
"In our custom we allocate a time for our people to grieve and to sit with the spirit of the dead to release their pain," said Julian Wilcox, the head of Te Rūnanga o Ngāi Tahu and master of ceremonies for the day.
"We have a saying 'tears avenge death' - but we also understand that there is a world where pain no longer exists, where the soul dies, where it is numb and beyond feeling, and we call this world 'te kore', the world of nothing.
"It is the task of our women who you hear keening to call to you, and to call you back into the world of light which we have now - to call you back to the world of pain and joy."
The longest and loudest applause though, was for Farid Ahmed, a survivor of the attacks whose wife was killed.
He maintained that he loves and forgives the attacker.
"All the thanks and praise to the Lord of the universe, may peace and mercy be upon all. I'm beginning in the name of Allah, the kind and merciful," he said.
"I want a heart that will be full of love and care and full of mercy and will forgive lavishly. This heart doesn't want any more lives to be lost. This heart doesn't like that the pain I have gone through ... that any human being should go through that kind of pain.
"That is why I have chosen peace, I have chosen love and I have forgiven."
He said he wanted to offer his prayer for those who had died, but also for those who survived.
"Do not say about those who are killed in the worship of Allah that they are dead, they are alive. Their soul is alive. People who are killed in their worship are in paradise.
"Their body is going to be perished but their souls are not going to be perished... they are being hospitalised by Allah the merciful.
"I would like to offer my sincere prayers for the people who have been killed but also for the people who have survived. I would also like to offer my prayers for the people of New Zealand for safety and security and I would also like to offer my prayer for the people in this world for peace and happiness.
"If our heart is full of love then peace will start from here," he said, indicating his heart.
Prime Minister Jacinda Ardern spoke to the crowd of the threat of extremism.
"The world has been stuck in a vicious cycle of extremism breeding extremism and it must end," she said, bringing applause.
"We cannot confront these issues alone, none of us can. The answer to them lies in a simple concept, that is not bound by domestic borders, that isn't based on ethnicity, power base or even forms of government. The answer lies in our humanity.
"But for now we will remember the tears of our nation and the new resolve we have formed."
Christchurch City mayor Lianne Dalziel said she wanted to thank those gathered for sharing their grief.
"And thank you for helping restore our faith in humanity."
She said she wanted to everyone to collectively express gratitude to all those who played an extraordinary role in the response to the attacks including police and other first responders, the community, coroners, council, funeral directors and many others.
"And we honour the imams for their inspiring leadership."
Muslim Association of Canterbury president Shaggaf Khan also addressed the crowd.
"On behalf of the local Muslim community in Christchurch I stand before you today with a mix of feelings. I feel deeply saddened - I'm saddened that when I look for them I can no longer see the beautiful faces of the 50 men and women and children who lived among us only 14 days ago.
"Although our eyes shed tears and our hearts mourn, we know that they are at peace. I feel incredibly humble. I am humbled by the outpouring of grief that you have shared with us."
As well as sadness and humility, he said he was also proud of how the country had responded.
"I feel ultimately hopeful that as a community, as a people, as a nation, we are clear about the path we want to walk... I am proud. From this callousness, how much compassion has been shown; from this despair, how much hope as sprung. Of this darkness, how much light has spread."
Order of service:
Karanga MC Julian Wilcox, the Ngāi Tahu chief operating officer, welcomes those gathered Mihi Whakatau by Dr Te Maire Tau, Te Ūpoko o Ngāi Tūāhuriri Speech by Christchurch mayor Lianne Dalziel Waiata of Tahu Pōtiki, the founder of Ngāi Tahu, performed by Marlon Williams (Ngāi Tahu) Du'a - Muslim invocation Survivor Farid Ahmed Federation of Islamic Associations president Dr Mustafa Farouk Reading of the names Performance by Yusuf Islam / Cat Stevens Du'a Governor-General Patsy Reddy Prime Minister Jacinda Ardern Performance of Whakāria Mai by Hollie Smith and Teeks Two young women pay tribute to their father New Zealand national anthem performed by Maisey Rika Mihi whakakapi by Dr Te Maire Tau Kapa haka performance of 'He Hōnore'


---