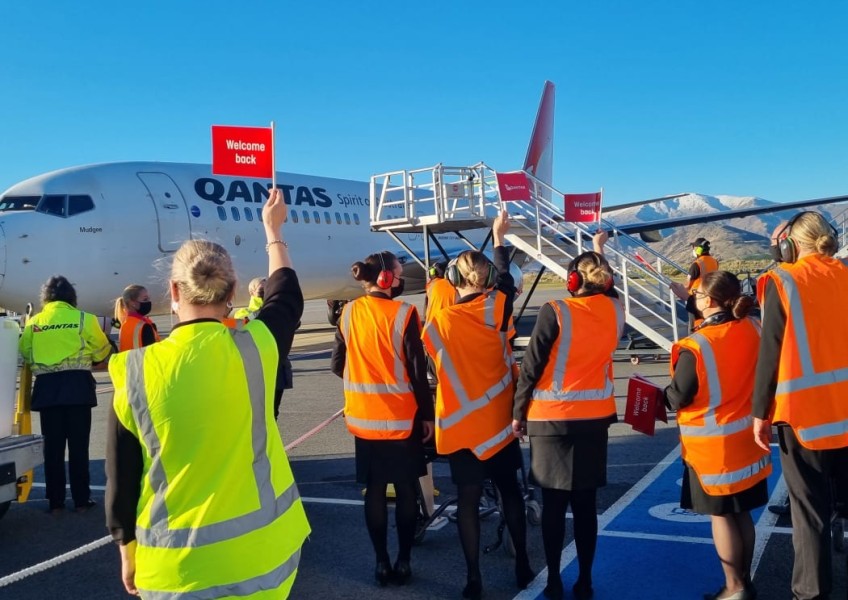 Queenstown welcomes full flight from across Tasman
May 23, 2022
---
Queenstown Airport has officially welcomed its first trans Tasman flight in more than 300 days.
Stormy conditions and lightning strikes in Sydney delayed the trans-Tasman flight by more than a year, but they've been used to waiting at Queenstown Airport.
Businesses said today's flight gave them hope and a lot more certainty.
Passengers disembarked to live music, goodie bags and signs, delighted to be in the resort town, especially after sitting on the tarmac in Sydney for an hour.
Golf, work and a week-long 50th were among the reasons travellers decided to cross the ditch.
One passenger exclaimed "oh, it's amazing" after getting off the plane to blue skies and snow on the hills, while another said "it's about time".
It was not often travellers were personally welcomed by the tourism minister, but Stuart Nash said it was a special occasion.
"I mean look at this. You've got beautiful blue sky, you've got a dusting of snow on the mountains... It doesn't get any better than this and for the first time in many many months, we're going to get international tourists flying in to Queenstown. A full flight coming in, I think that's worth celebrating."
For businesses, the direct flights meant more certainty - and hopefully more customers.
By mid-morning, the Shotover Jet was already roaring along the river despite the frosty start.
Ngāi Tahu Tourism general manager Jolanda Cave said it was great news to have international arrivals on the cards again, particularly for its Queenstown-based business.
"It's exciting to say the least. Australian obviously is a significant channel for all of our business units, particularly Shotover in Queenstown.
"So to see the first flight land in Queenstown today is a sign of some pretty cool things to come. I think it's going to be a slow build back, but definitely a positive one."
Winter was looking a lot brighter.
"What we're definitely seeing is numbers starting to pick up from July onwards. So I imagine it will be one of our best winters that we've had in the last couple of years. It won't be anything like it was pre-Covid, but it will certainly be pretty strong."
The last few years have been a mixed bag for Darren Lovell - he had to close a Queenstown business due to Covid-19 but his Frankton-based business, Love Chicken, was doing well.
Today's flight felt like a return to normality, he said.
"We're excited, we want people to come. We want to show them a good time. That's why we're in the hospitality business or in the tourism business. That's why we love living in Queenstown, we like showing people a great time. We like showing off not only our town, but out country.
"Hopefully lots of people are going to arrive, lots of people are going to have a great ski season. Business is going to be busy. Some of us can pay off some debts."
He was asking visitors to please be patient as most businesses were still facing staff shortages.
"I was looking online last night at what Australia are trying to do to entice overseas workers and young people on working holiday visas. They're offering $20 visas and competitions that you can win your air fare back if you're the first 200 to sign up for a work visa, and things like that.
"I wish our government here was taking the situation seriously."
Nash said there were no current plans to offer incentives, but there was a campaign to attract Australians to hop the ditch and work in Aotearoa, and working holiday visas were available.
"I know there's not enough Kiwis to do the job. We hear that wherever we go and it doesn't matter what industry you're in, there is a real labour shortage.
"We're at record low unemployment which is fantastic on one side and brings other issues from the other side.
"It's a really strong value proposition. If you are overseas, you've been locked up, you want to work in one of the world's iconic tourist destinations, you want to have a great time, you want to work hard. It doesn't get any better than this."
While Qantas was leading the charge across the Tasman, Jetstar was only a week behind and Air New Zealand would be touching down from next month.

---