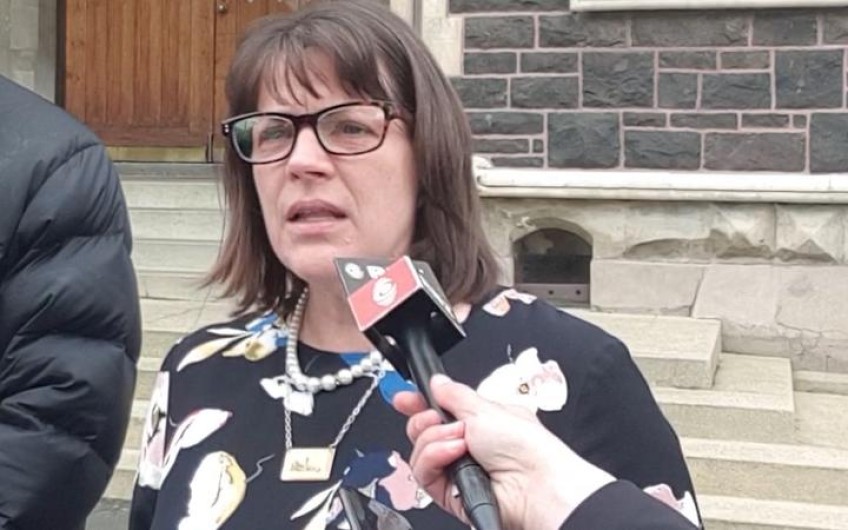 Otago University students mourn death of fellow student at Dunedin party
Oct 07, 2019
---
The parents of the young woman who died at a Dunedin student party are showing remarkable courage in the face of their deep grief, the university vice-chancellor says.
Vice-Chancellor Professor Harlene Hayne spoke to the media at a press conference in Dunedin today - the first time she has spoken publicly about the tragedy that occurred at a chaotic party in the city on Saturday night.
Professor Hayne said the student's death has severely affected the university community and her heart went out to the family and friends most affected.
"I met with her parents earlier today - they are simply remarkable people, in the midst of their own grief, I admire their courage and their generosity in helping us to look after the students who are most severely affected by this tragedy."
She urged the media to respect the parents' privacy as they worked through their deep grief.
The police are refusing to confirm the identity of the woman who died but RNZ understands her to be 19-year-old Sophia Crestani.
Her name was not used at the media conference this afternoon.
Instead Professor Hayne said the university's priority was looking after its students. Many had already sought help from counsellors such as Student Health and chaplains.
However, she had noticed in the last 24 hours, "the biggest support they have sought is from each other".
She said the two students who were admitted to hospital after the party were fine and were suffering leg injuries.
The students who lived at the house used for the party had moved out and the university was helping them find new accommodation, Prof Hayne said.
The university had also started work on a "compassionate consideration process" for those who might be unable to sit all their exams, which start on 12 October.
Asked if she had any message for prospective parents worried about sending their children to the university, she said: "I'm sure there are a lot of parents concerned. This is a tragic accident.... this university community has come together in a way that I can hardly believe."
Staff and students had rallied round to help each other.
The president of Otago University Students Association, James Heath, said now was not the time for finger-pointing.
A drop-in centre would open at the association's office tomorrow, and students could access other counselling services on campus.
"Most significantly, we urge our students to be there for each other; reach out to your friends and flatmates; talk, listen, show the strength of our community."
Classmates gather at victim's school
Hundreds of people were trying to flee the Manor flat on Dundas Street when the second year student suffered fatal injuries.
Two other people were also seriously injured while trying to leave the Manor flat on Dundas Street shortly before midnight on Saturday. Police said the injuries were not life-threatening and a full recovery was expected.
Ms Crestani, who was a second year student, was carried out of the party by attendees and given CPR, but to no avail.
Former classmates of the young woman have been gathering at their high school, Queen Margaret College, in Wellington to remember her.
Principal Jayne-Ann Young said they had set up an area for current and former students to gather to remember Ms Crestani.
"It's such a devastating and unusual situation that we find ourselves in. Sophia was very close to her friends, we already have a significant number of girls who have returned to the school, just to be in a safe space where they knew her very well."
Ms Young said the Head of Senior School and the Chaplain have also gone to Dunedin to support Ms Crestani's family and friends.
Flat where student died blessed
A blessing has been carried out at the Dunedin flat where Ms Crestani died on Saturday night.
One of the University of Otago chaplins, Mark Chamberlain performed the blessing on Sunday morning, at the request of some of the students.
Ms Crestani was a resident at Salmond College.
Its head of college, Maurie Jackways, declined to comment.
The master of Knox College, Graham Redding, said the college held a prayer at its chapel yesterday and they have been trying to meet every Knox student who was at the party.
He said on a Facebook post that the student community is in shock.
University students recall 'uncontrolled' party
One university student, who was at the party, said it started off calm but the party soon became so congested it was nearly impossible to move.
"As soon as we started to leave, or tried to leave, it was as if the stairwell had just become congested. It was like nobody could move.
"If you were trying to move through the crowd you'd lose whoever you were with, and people were pushing because it was just so uncontrolled. If you tried to go down a step, everyone behind you would fall on top of you because everyone was just holding each other up."
As students laid flowers outside the flat last night, one of them said the death had left everyone feeling quite shaken up.
She said it was one thing for injuries or destruction of property to happen at a party, but another for someone to lose their life.
"Even though we weren't close with the person, just knowing of her and seeing her with her friends, having fun and stuff, and realising that life has ended - that makes you realise what can happen at parties.
"Like how rowdy parties can get out of hand, and one minute everything is fine and the next somebody's struggling to survive, it's really sad."
Police urged anyone affected by the incident to seek support from them, or victim support and other agencies.
Otago Coastal Area Commander Inspector Marty Gray on Sunday said it was horrible news for the family of Ms Crestani.
"They live outside of Dunedin and they've been told of their daughter's death this morning and they've been offered support by police."
Police yesterday said a scene examination was ongoing, and they were speaking with those who were at the party.
Main Image: Vice-Chancellor Professor Harlene Hayne says students are reaching out to each other after the death of one of the students at an out-of-control party in the city. Photo: RNZ / Tess Brunton

---