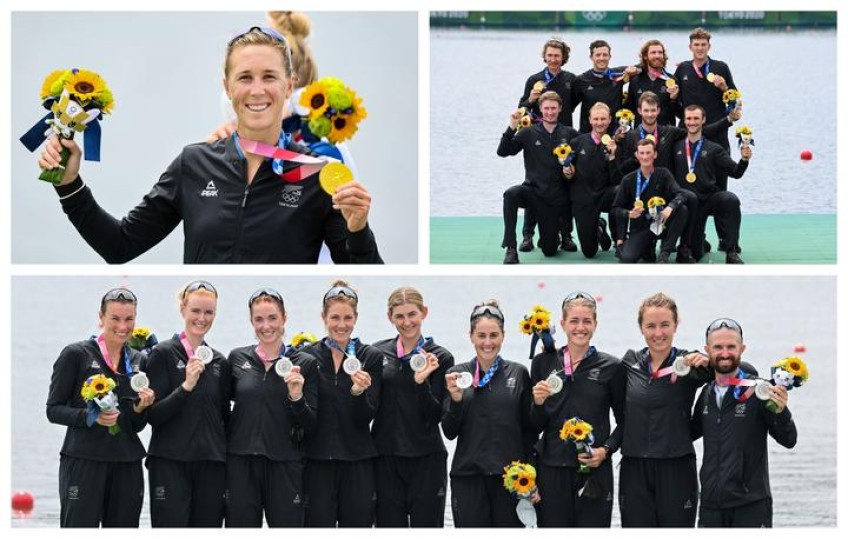 Olympic rowing: Men's eight and Twigg win gold
Jul 30, 2021
---
New Zealand rowers have won two golds and a silver in an unforgettable hour at the Tokyo Olympic Games.
Emma Twigg started the medal rush by winning gold in the women's single sculls.
Twigg dominated the final winning in an Olympic best time of 7 mins, 13.97 secs.
She led from start to finish and crossed the line 3.42 secs ahead of Hanna Prakatsen of the Russian Olympic Committee, with Austria's Magdalena Lobnig claiming bronze.
Twigg told Sky Sport she could not believe it.
"All these years many, many disappointments and I just can't thank the people I have surrounded myself by enough, they've got me here, that's not my result that's my team.
"I feel like this is fate and here we are, and it's an amazing feeling."
Twigg was motivated by yesterday's gold medalists Kerri Gowler and Grace Prendergast.
"I kinda took inspiration from Kerri and Grace and what they did yesterday, they just held their heads and knew what they could do, I knew prognostically I was close to them in recent times, so if they could do it so could I.
"Honestly to anyone that has had a little bit of failure just keep at it if you believe you can do something and you know your worth then the world's your oyster."
It is a medal that has been more than a decade in the making for the 34-year-old.
Twigg finished fourth at the London and Rio Games after falling short of the final on her Olympic debut in Beijing in 2008.
She retired from rowing after her Rio disappointment and completed a master's degree in international sports management before returning to the sport in 2019, when she claimed silver at the world championships
The New Zealand men's eight stunned the world to win gold in the final event of the Olympic rowing programme, emulating the feats of the Kiwi crew from the Munich Olympics in 1972.
Sam Bosworth (cox), Shaun Kirkham, Tom Mackintosh, Michael Brake, Matt MacDonald, Tom Murray, Phillip Wilson, Hamish Bond and Daniel Williamson have finished .96 secs ahead of Germany, with reigning Olympic champions Great Britain having to settle for bronze.
They only secured their place in the Tokyo field in May after winning the last chance Olympic qualifying regatta.
The New Zealanders were third after the first quarter of the race, just .45 secs behind Germany before making their move in the second 500 metres.
They took the halfway lead and a slender .07 sec lead over Great Britain, with Germany slipping to third.
The New Zealand men's eight extended their advantage to 1.31 secs at the 1500m mark before holding on over the final quarter of the race.
It is a third successive gold medal for Hamish Bond, who won the men's pair with Eric Murray in 2012 and 2016.
The world champion New Zealand women's eight earlier claimed silver moments after Twigg stood at the top of the Olympic dais, finishing .91 secs behind Canada, with China third a further 1.07 secs back.
Caleb Shepherd (cox), Ella Greenslade, Emma Dyke, Kelsey Bevan, Kirstyn Goodger, Beth Ross, Phoebe Spoors, Lucy Spoors, Jackie Gowler, Grace Prendergast and Kerri Gowler were third at 500 metres and at the halfway stage, before reeling in Australia in the third 500.
But they couldn't chase down Canada, who led from start to finish.
Australia faded to finish fifth.
It is a second Olympic medal in 24 hours for Grace Prendergast and Kerri Gowler who won gold in the women's pair.
Gowler told Sky Sport : "We were putting it all out there and whatever we were going to come across the line at we were going to be happy and it was second and I'm bloody stoked for all of us."
Pendergast had a similar sentiment.
"I feel like I'm just as stoked with this race as I was yesterday, it's a silver medal but it was incredible and it was so much fun and I think we've just really been a really good bunch together and it's just so special to come away with a silver medal that honestly feels like a gold."
Lucy Spoors told Sky Sport the medal was result of years of hard work.
"It has just been such a long project and we've been training so hard for three years to put ourselves in a position where we could end up on the podium and I think today I'm most proud of the way that we stayed composed and stayed together so that we could put out the best race that we could possibly have."

---