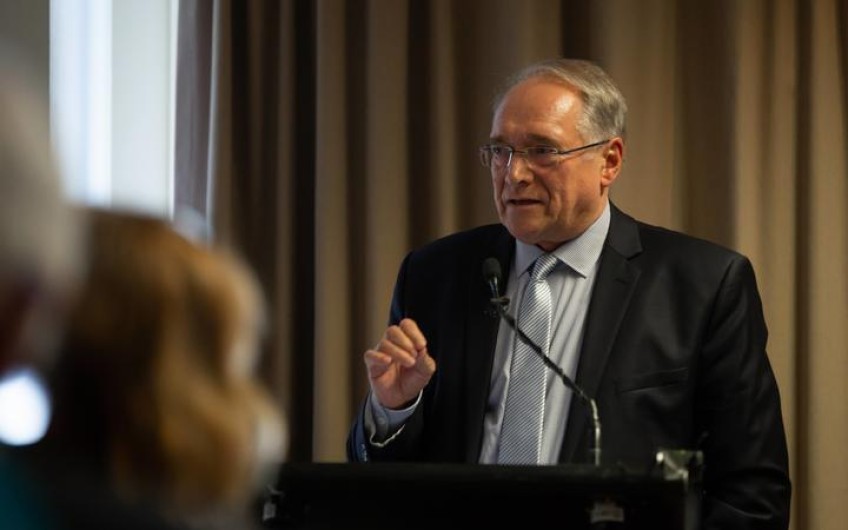 News as a social enterprise?
Nov 29, 2020
---
By Colin Peacock, RNZ. You can listen to the full Mediawatch story here.
People are used to getting news from public broadcasters paid for by taxpayers - or as a customer of commercial media organisations. But is news as a social enterprise an idea whose time has come? South Island online outfit Crux now wants its local audience to take ownership.
When Peter Newport launched online news service Crux in mid-2018, he told Mediawatch the Southern Lakes region risked becoming a "digital backwater" starved of good journalism.
It is an expensive place to maintain reporters and offices, he said, and mainstream news organisations - RNZ included - had pulled journalists out of the region to cut costs.
Key backers of Crux including entrepreneur Dick Hubbard shared the concern and formed the Southern Media Community Trust to get Crux going led by Peter Newport - a veteran journalist who's worked for the BBC in the UK, TV news in Australia - and here at TV3, RNZ and others.
Dedicated to news about Queenstown, Wanaka and the wider Southern Lakes region, Crux launched with news sections covering community issues, environment, schools, council and business.
Financial trusts have underpinned some long-established overseas news media, but Crux was a first for New Zealand - and also an experiment in a new kind of ownership to sustain local news coverage.
By mid-2019, Crux was getting more than 60,000 page views a month and thousands more via Facebook.
Big local issues such as Queenstown's airport expansion plans, a new hospital, local governance and water quality were getting frequent coverage on the site - and sometimes pushback from local outfits that didn't enjoy the added scrutiny.
Some of Crux's stories about tourism industry problems and a maternity care crisis in the region were picked up by the national news media.
Crux has also received public funding from NZ On Air for three video series about life in the area: Living in La La Land, The Developers and Southern Lens. Housing, now blowing up as a major social and political issue nationwide, is the focus of its most in-depth video series yet: House Talk, co-produced with RNZ.
All of this has been done so far without the advertising or commercial sponsorship which other digital news start-ups have at the core of their businesses.
But even before Crux launched two years ago, Peter Newport told Mediawatch he didn't want it to depend on a handful of deep-pocketed donors in the long term.
"Our model is that we think we'll be owned by the community. We'll float it to them," he said.
Now Crux and backers are pressing ahead with a plan to turn its audience into stakeholders and the outlet itself into a social enterprise. The idea was pitched to a meeting of potential supporters in Queenstown this week.
Stage one hinges on a small group of investors putting up around $300,000 to allow Crux to hire more journalists and a business manager. The ultimate goal is to have hundreds or even thousands of local people take over as stakeholders within two years by investing small sums in it.
If they can pull it off, it will be another first in the media here.
But is news really a 'social enterprise'?
Christchurch-based lawyer Stephen Moe wrote the book on it: Social Enterprise in New Zealand.
"Gone are the yields that came from passive term deposits and this can open up a door to new ways of thinking," he said in a piece for Stuff last Friday.
He's helped several businesses set up as social enterprises and says it's an idea whose time has come for the media.
This week the Centre for Social Impact published his review of Impact Investment in Aotearoa (PDF) with real-life examples in other New Zealand businesses.
"There are thousands of them throughout the country and there are purpose-driven entrepreneurs who want to do business while also being sustainable," he said.
"We see it in other outlets like The Spinoff where people put money in to support what's being done," Steven Moe from law firm Parry Field told Mediawatch.
"The company structure is well-understood. You have shareholders, directors, dividends that flow back to shareholders – and all that can all be used within a social enterprise context if you add in a mission and some purpose so the vision is set for that company," he said.
But traditional news media companies aren't democracies. The proposal calls for an 'editorial advisory board' giving community stakeholders a say.
Won't hundreds of local owner/investors make decision-making harder?
"You can flip that on its head and say all of a sudden you have ambassadors out there who care about what they have invested in. It can get more complicated in terms of consultation but it can be a positive thing to involve more people in decisions that get made," he said.
Peter Newport says it may be easier to just recruit a handful of wealthy local backers, but wrong.
"All over the world - especially in the US - wealthy people including billionaires love to buy media outlets but not just for the fun of it or as a hobby. Those media outlets are very powerful - and even Crux in its own small way is powerful," he said.
"I feel strongly that if local media is going to survive and thrive we have to be the voice of the people – and we should be owned by the people," he said.
Crux's founders want to make fast progress - hiring new staff this summer to begin the process of moving to community ownership.
But the Crux plan falls down if local residents with the means don't stump up around $300,000 to expand Crux before the readers and residents can take a stake in it.
"We have been talking to the community about funding for two and a half years. Already we have come very close - if not even passed - our minimum goal. And there are journalists out there who are sick of re-writing media releases and calling it 'news,' Peter Newport told Mediawatch.
Among those on board with the idea is Nathan Weathington, a US-born writer and publisher who now lives in Albert Town near Wanaka. Nathan is the publisher of the new magazine 1964.
In Canada he worked for newspaper publisher Black Press which publishes local daily papers in the western US as well.
Does he think the Crux audience will go for community ownership?
"I absolutely think it will work. I come from Canada where the co-op model is a bit more mainstream. We even have retail stores where you end up owning the store if you shop there," he said.
"By subscribing I can own . . a share in the business that provides my community with news. To me it's a no brainer and there are people doing it very successfully," he said.
"I was looking at transitioning a lot of newspapers in Canada - over 100 of them - into a similar model. I think the job is to get high-quality editorial out. You let them do their job then you make sure things function properly [so] anyone gets paid - and that's it," he said.
Does not trying to make a profit make a make a big difference?
"I think it's huge. It lowers the bar if you're saying we only have to break even," said Heathington who also publishes a local 'mountain culture' magazine called 1964 (named for the year Mount Aspiring National Park was founded).
"I think everyone is starting to realise how much we need real investigative journalism around the world – and local communities need high-quality journalism to function properly," he said.
Are people in the region ready and willing to become stakeholders in their own news media outlet?
"I think so; 50 or 100 dollars a year to subscribe to an organisation that keeps democracy flowing in my town? And I can own it? Yes - I'll subscribe," he said.
Crux's founders want to move quickly. The proposal suggests hiring new staff this summer to begin the process of moving to community ownership.
Just before the election, the broadcasting and digital media minister Kris Faafoi reportedly told the main news media union E tū his Labour Party would commit $75 million to the government's media funding agency NZ On Air over the next three years to fund more journalism.
It still requires "Cabinet approval, with detail on what would be funded and how still to be decided" - but is Crux's plan partly a pitch for some of that cash?
"Yes absolutely we have our eyes on some of that. But the government doesn't want to risk taxpayers' money on something that's not well run and may not be totally professional," he said.
"So we are anticipating what those conditions will be – good governance, good local funding and good editorial standards - before they give money to regional journalism," he said.
Listen to the full Mediawatch story here.
Main Image: Crux Managing Editor Peter Newport.

---