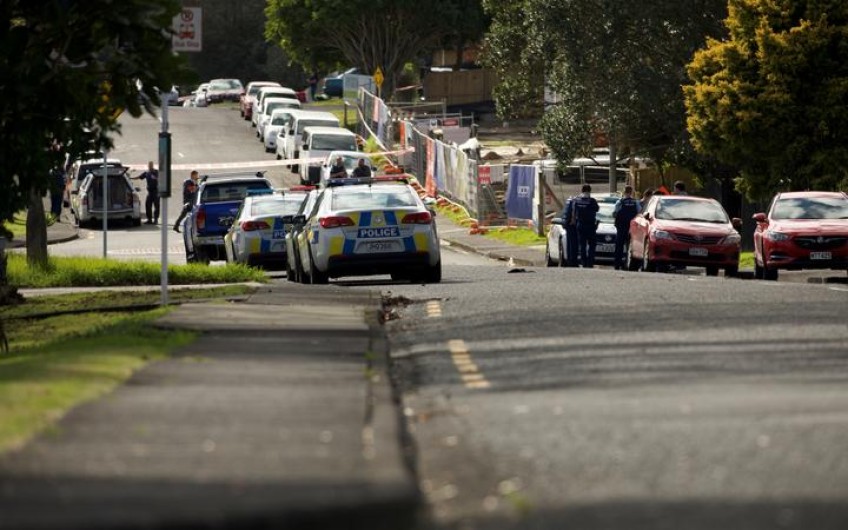 One of two police officers shot in West Auckland dies from injuries
Jun 19, 2020
---
One of the two police officers who was shot during a routine traffic stop in West Auckland this morning has died.
There are reports two people were arrested after the Armed Offenders Squad surrounded a house in Massey this afternoon, following the shooting.
Police Minister Stuart Nash says the police officer who died in the shooting was a man who had dedicated his career "to keeping us safe."
Police Commissioner Andrew Coster confirmed at a media conference this afternoon the officer had died and said it was "absolutely devastating" news.
Watch Police Commissioner Andrew Coster's media conference here:
The second officer who was shot is in a serious condition in hospital after the incident that happened at around 10.30am on Reynella Drive in Massey.
Coster said it was a routine stop and there was nothing to indicate that this job was out of the ordinary. The officers were not carrying firearms.
A member of the public was also hit by a vehicle after police performed the traffic stop and suffered minor injuries.
The offender fled the scene in a vehicle and police say they have a large presence and are actively searching for the offender.
Watch the media conference with Police Minister Stuart Nash and Police Association head Chris Cahill here:
Today's death is the first police fatality in the line of duty since 2009.
Follow RNZ's liveblog here:
var liveblog={load:function(e,t){var a=document,l=a.createElement("script"),o=a.getElementsByTagName("script")[0];return l.type="text/javascript",l.onload=t,l.async=!0,l.src=e,o.parentNode.insertBefore(l,o),l}};liveblog.load("https://rnz.liveblog.pro/lb-rnz/themes_assets/angular/parent-iframe.js?"+parseInt(new Date().getTime()/900000,10),function(){"function"==typeof liveblog.loadCallback&&liveblog.loadCallback()});


---