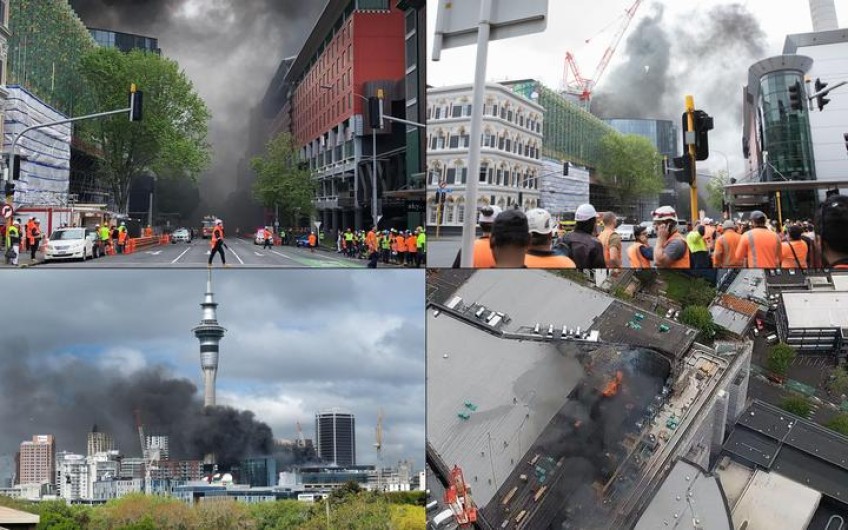 Live updates: Major fire breaks out in SkyCity convention centre in central Auckland
Oct 22, 2019
---
Major evacuations are underway after a huge fire broke out at the SkyCity convention centre.
St John says one person has been admitted to Auckland City Hospital in a serious condition.
SkyCity has decided to evacuate its entire Auckland precinct, because of smoke from the fire.
That means people will need to leave the Sky Tower, casino, all SkyCity hotels and restaurants and corporate offices.
The company said police were onsite to help with evacuations.
People who were intending to visit SkyCity venues this evening - including restaurants on Federal Street - should make alternative arrangements.
Fire and Emergency said the fire started on the seventh floor - the roof - of the under-construction SkyCity convention centre, before spreading to the sixth.
Bitumen and insulation is on fire and there are also concerns about gas cylinders in the area.
One person is unaccounted for, but Fire and Emergency said they were not concerned about it.
The cause of the fire is unknown.
The Fire Service has sounded the sixth alarm, which means all available resources from Auckland have been called in, with further resources from Hamilton on the way.
Fire and Emergency spokesperson Dave Woon said it was "a very, very difficult fire to extinguish".
View of the #Auckland CBD fire between 2:00-2:30 pm Tuesday from our time lapse camera.The peak wind gust at our climate station on the Sky Tower was 58.3 km/h from the west-southwest. pic.twitter.com/sRImHQqBF9
— NIWA Weather (@NiwaWeather) October 22, 2019
Police and ambulance staff are on the scene to assist fire crews and hundreds of people, including construction workers, have been evacuated.
One man said he was on his lunch break when he thought he heard a fire drill sound out.
"I'm just eating my lunch...you hear that fire alarm, often before the alarm gets triggered you hear about it before hand and we just left and come here. I just want to finish my lunch."
In a statement, Fletcher Building - the company constructing the convention centre - said its people and contractors were its number one priority at the moment.
It said it's confirming the facts and will provide an update in due course.
Fire and emergency say 23 appliances from across greater Auckland are responding, including one aerial unit from Hamilton.
They are also advising people to stay out of the CBD area.
Fire and emergency spokesperson Jessica Chaplin said they received multiple calls about flames at the site just after 1pm.
She said fire trucks are still on their way from all over Auckland.
A witness says the flames appear to be spreading.
People have taken to social media to report on the fire.
SkyCity's $700 million International Convention Centre and hotel project which has been plagued by problems, including cost over-runs and construction delays.
The complex is being built by Fletcher Construction and SkyCity.
This afternoon, Fletcher Building's share price has dropped nearly 1 percent, while SkyCity's share price is down 2-and-a-quarter percent.
The casino operator has been hoping the convention centre and hotel complex would be completed by the end of next year in time for the America's Cup in 2021.
The project is set to cost several hundred million more than budget and is running two years late.
It was originally budgeted to cost between $400 million and $500 million, but is now expected to cost more than $800m.
Fire is really building. People can be seen on the roof. pic.twitter.com/EFgQBaMYCJ
— Phil Goff (@phil_goff) October 22, 2019
Something smoky happening central Auck? @radionz pic.twitter.com/Nq917QGocg
— Alex Ashton (@AlexGPAshton) October 22, 2019
This doesn't look good. Fire in down town Auckland - much black smoke pic.twitter.com/wca7LkPcoW
— notHamilton (@notHamiltonNZ) October 22, 2019
Earlier this year, the company pushed the completion date out to the second half of 2020 - a delay of six months, forcing a review of bookings.
The complex is being built by Fletcher Construction and SkyCity has already triggered penalty clauses in its contract which require Fletchers to pay damages.
It was expected the convention centre would be ready well in time for 2021, when Auckland hosts APEC and the America's Cup.
SkyCity's share price dropped 2.75 percent today, while Fletcher Building was down 1.5 percent.


---