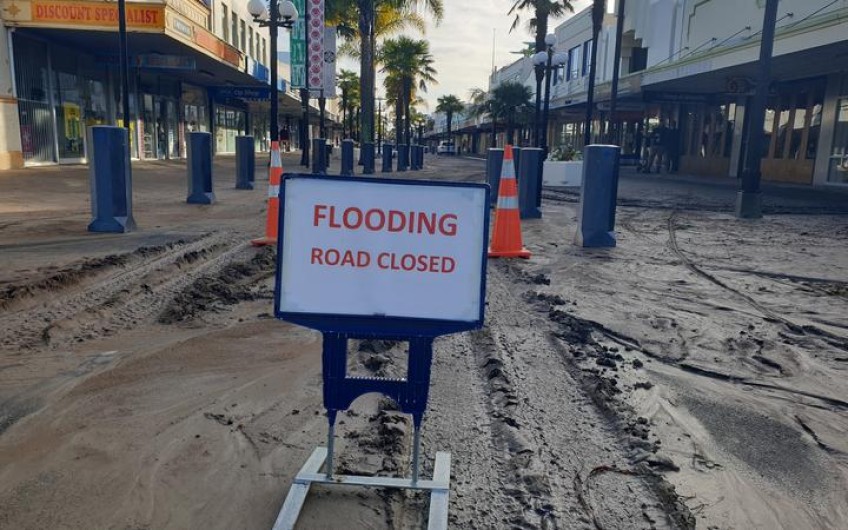 Deluge sees state of emergency declared in Napier
Nov 10, 2020
---
Napier is in a state of emergency after torrential rain flooded the city and left homes underwater, causing large slips and trapping people in their cars.
More than 1500 properties are without power this morning.
By late last night, the city had had 237 millimetres of rain - four times the average for the entire month of November, Niwa says.
Floodwaters subsided overnight but more rain is expected this afternoon.
Mayor Kirsten Wise told Morning Report it was difficult last night to do a full assessment of the damage and authorities are regrouping this morning.
"I live on the Hill myself and when I was in the office getting photos sent through from my family of slips across the road etc, so the Hill will be one of the priority areas today."
Support and welfare services will be available to those unable to move back soon, she says. About 50 people were in the evacuation centre last night, but authorities were still getting in touch with people at that stage and some residents were also self-evacuating.
The downpours overloaded the storm and waste-water network forcing manhole covers to lift which contaminated the floodwater.
The Napier City Council yesterday evening relieved the pressure on the network by discharging polluted wastewater into a stream which flows out to sea via the Ahuriri Estuary.
The environmental team will be assessing that situation today, Wise says.
"What gets discharged there is actually incredibly diluted by the time it gets there and I'm not saying that to try and make light of the situation, because it's absolutely not acceptable and we hate being in a position where we have to do it. And we will be working over the next few days to ensure we clean up anything there as quickly as we possibly can."
It's just the second time a local state of emergency has been declared in the city and the first since 2011. The city's mayor is calling it a one in 250-year event.
"We have monitored the rainfall, and that particular reading was taken at Nelson Park … and it was sitting at just under 250mm of water at the highest peak last night which when you go through the guidance of how you assess these events, it meets the criteria of being a one in 250-year event."
Napier city councillor Greg Mawson told RNZ the clear sky this morning belies what's going on at ground level, with abandoned cars and damaged properties.
"At the moment you wouldn't guess, if you looked straight up in the sky, it's a beautiful day here in Napier.
"A few fences are destroyed around the place and obviously with the waves and so forth our neighbour's fence toppled over - it's an old brick fence."
Mawson, who lives in Onekawa in the south-west, says there are abandoned cars strewn across his street. He says a lot of people were driving around last night for a look around.
"That just created waves and the waves were batting against the house. It sounded like we were asleep in a boat."
He says the water was centimetres away from flooding his house and he and his family were planning how to get to his parents' place if they had to - either in an SUV or heading out on foot carrying the kids.
A few people are out checking their properties this morning and some work vans are on the road, he says.


---