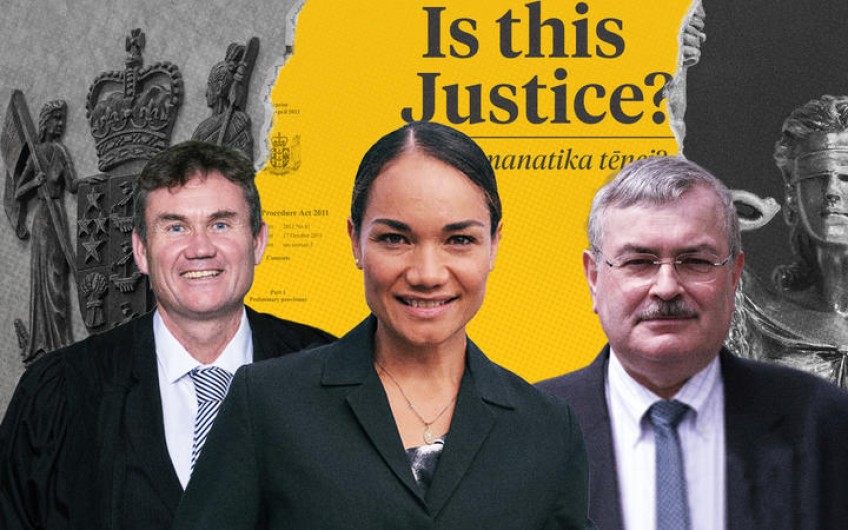 Legal aid system 'broken and may collapse' - Chief Justice
Oct 13, 2021
---
Hourly rates for legal aid lawyers haven't increased since 2008 and there are now almost no lawyers prepared to do civil legal aid work in some parts of the country.
From his desk, close to the front desk of his Nelson law practice, lawyer Steven Zindel can hear his receptionist turning down people seeking help.
"Some are in tears almost … some say they have rung every lawyer in town."
He estimates his receptionist turns away three people a day. Zindel mainly does legal aid work and takes on around 200 cases a year but struggles to keep up with demand. He simply can't represent every person seeking help.
He tries to prioritise based on need and this means he sometimes takes cases from outside Nelson.
"I got a new client in Westport today because it was desperate. I got a new client on Friday with a husband who had threatened to shoot her in the past, and they couldn't find a lawyer on the West Coast."
Three-and-a-half hours drive from Zindel's Nelson office, Greymouth's Anthony Whitcombe is the only lawyer registered to provide civil legal aid for the more than 31,500 people who live on the West Coast. He's also one of just four providers registered to do family legal aid in the region.
He normally has about 100 legal aid cases on his books at a time. When he's overloaded he stops taking new cases for a month. "You can only do as much as you can," he says.
425 kilometres north, Whanganui lawyer Chris Wilkinson Smith gets calls every day from people working their way through a list of civil legal aid lawyers. With the surname Wilkinson, he guesses he's one of the last names left to call. By the time they get to him he can hear the desperation in their voices.
"They sound stressed. They sound as if they're already realised that this is an almost insurmountable problem - to try and find a lawyer that's available and prepared to take their case."
If he can't help them he suggests other avenues they can try, but he suspects many just give up. He worries people are missing out on justice because they can't find a legal aid lawyer.
"The other side will just run straight over the top of them and get judgment against them."
In South Auckland, Manukau-based Kingi Snelgar says he is giving up criminal legal aid work. He's a young Māori barrister who did his Masters of Law at Harvard University.
He's passionate about his work. "An important part of the reason I became a defence lawyer was the over representation of Māori - and being someone that has some insight from a cultural point of view to the cultural sensitivities of Māori, but also of the reality of the world many of the defendants and victims come from."
The stress and financial strain of doing legal aid work has taken a toll.
"It's just not not worth the cost," he says.
For lawyer Tony Ellis, who's now based in Kawakawa, north of Auckland, it's a dispiriting situation. He wrote to former Minister of Justice Andrew Little in 2018 calling the civil legal aid system a "national disgrace". He was one of 37 lawyers offering civil legal aid in Wellington and had turned down 150 cases that year.
He says it's now even more of a national disgrace.
"You can't find anybody because we're in danger of extinction."
He struggles to answer the question of what it would take for the system to get an overhaul.
"A monumental cock up? People commit suicide because they can't get their cases heard? … I can't actually see myself coming up with an answer to your question, because the whole thing is so depressing."
Industry organisations are also expressing concern.
"We now have a situation where lawyers are just not doing it," says New Zealand Law Society President, Tiana Epati. "My concern is that vulnerable parts of communities are getting hurt."
"I've heard this story a few times now, where women are potentially in a domestic violence situation who need an urgent protection order - they are searching for a family lawyer on legal aid and they cannot find one."
She says it's reached crisis point.
"At this stage we need to figure out how to attract good lawyers back into legal aid, because there's a culture that's 'just don't go there'."
It's not just lawyers up and down the length of New Zealand sounding alarm bells about New Zealand's legal aid system, which is supposed to help people with "insufficient means" access justice.
The most senior member of the judiciary, Chief Justice Dame Helen Winklemann, says she's been speaking about the need to address deficiencies in the legal aid system for a decade.
She says the legal aid system is "broken and may collapse if nothing is done about it".
Are lawyers really giving up civil legal aid work?
If you need legal aid for a criminal matter, you have a good chance of finding help. The government funds the Public Defence Service which has 10 offices in New Zealand. In 2015 it was estimated the Public Defence Service managed about a third of criminal legal work, with private lawyers doing the rest.
For family legal aid or civil legal aid - which includes proceedings relating to protection orders, care and protection orders, compulsory mental health treatment, accident compensation appeals and refugee status - there's no pool of government-employed lawyers to help. Private lawyers take on these cases, but only if they want to.
Of the almost 15,000 lawyers with practising certificates in New Zealand only 2375 are contracted to provide legal aid work.
This doesn't mean they are taking on cases though, says NZ Bar Association Council member Felix Geiringer, who's been digging into numbers.
He gives the example of civil legal aid lawyers. There are 480 civil legal aid lawyers listed as being able to lead cases without supervision on the Ministry of Justice website, but only 180 did any legal aid work last year.
He's currently collecting information on how numbers have changed over time for different types of legal aid lawyers and where there are gaps.
"What we are forming is a very clear picture of where we've got to now, and where we've got to now is alarming."
In the past 12 months 28 new lawyers signed up to be civil legal aid providers capable of leading a case. In the same time period 41 lawyers opted out. Their reasons were mixed, but the biggest reason - 41 percent - was they were ceasing to do legal aid work, followed by 39 percent who had said they were no longer practising law. The remainder had found new jobs in the legal sector, had been suspended or died.
Why are lawyers giving up?
Low hourly rates and fixed fees for legal aid work come up over and over again in conversations with lawyers.
Hourly rates range from $92 to $159 per hour depending on the experience of the lawyer and type of proceedings. Some fixed fees (set amounts paid for certain legal services) for criminal work were updated in 2018 but the Ministry of Justice says hourly rates haven't changed since 2008.
Steven Zindel reckons it's worse than that, with some pay rates remaining unchanged since 1998.
"An example is that a senior lawyer doing a Judge alone criminal case was paid $106.67 per hour GST exclusive in 1998 and is now paid $106 per hour." Taking the effects of inflation into account, this is a decrease.
Zindel's hourly rate for private clients is around $290, but as he mostly takes on legal aid cases he rarely charges this. As a provincial provider he says he can survive on legal aid rates because his overheads are low - "We don't have any luxuries here," he says. If he was paying Auckland or Wellington rents for office space he's not sure he could cope.
Wilkinson Smith points out the "huge disparity" between what the government pays lawyers representing the crown versus what it pays lawyers representing a citizen on legal aid taking on the crown.
The crown's lawyer gets up to $309 per hour, while the citizen's lawyer gets up to $159 an hour.
When civil aid clients are up against companies the difference can be even bigger. If you're fighting a bank, insurance company or debt collection agency, Wilkinson Smith estimates privately engaged senior lawyers are paid between $300 to $500 an hour.
He calculates in a normal law practice around one third of a fee covers overheads, a third covers salaries and a third is profit.
"If you're asking lawyers to do something for less than two thirds of the normal rate, you're asking them to do it at a loss,' he says. "I think if nothing changes this very alarming trend of very few lawyers doing civil legal aid will continue."
Administrative nightmare
As well as low pay rates, Gisborne lawyer Adam Simperingham says the amount of administration involved in legal aid work is burdensome.
"It's a nightmare, it's an absolute nightmare. We don't get paid for it, it's part of the legal aid thing - 'We do not pay for administrative work'."
Legal aid only covers the provision of legal services. Helping clients apply for legal aid and communicating with legal aid services are not considered legal services.
Simperingham has to submit a form requesting approval for funding of work. Because his practice specialises in legal aid work there's a staff member dedicated to completing paperwork.
"If I had to do that I would pull my hair out. I probably wouldn't be a legal aid lawyer."
He says it feels like there's an element of mistrust between the Legal Aid Service and lawyers.
"We have to spend a lot of time justifying what we're doing."
Greymouth lawyer Anthony Whitcombe puts the mistrust down to a 2009 report on legal aid which found some lawyers were rorting the system.
"That made a difference with the way Legal Aid looked at lawyers. 'Ooh, you want an extra one hour do you? Can you send us a two page letter to justify it?'"
When you can't find a lawyer
Whanganui lawyer Wilkinson Smith says people he has to turn away because he's overloaded with work ask him if they can represent themselves. He tells them they can, but advises they're at a disadvantage.
"It's like someone who doesn't play bridge or lawn bowls going along and thinking they could enter a local tournament. You're just going to get completely run over."
The Ministry of Justice doesn't collate statistics on the number of people who represent themselves. It also hasn't done any analysis of the anecdotal impact of cases tying up courts for longer because a self-represented person struggles with court process, or analysis on outcomes for people who self-represent.
Skimping on legal aid could be shifting costs to other parts of the justice system, says Felix Geiringer.
"It ends up taking more time in court, it ends up taking more time to get resolved, it involves more steps. That means more money for the justice system to fund all that."
Another option is begging a lawyer to do the work for free - pro bono. Lawyers are encouraged to do some pro bono work but Geiringer says even if every lawyer in the country did one pro bono case a year it would only scratch the surface.
"You can't run an entire legal system on the back of lawyers doing work for free."
Fixing the system
The Ministry of Justice reviews the legal aid system every three years. The most recent assessment, conducted in 2018, received submissions suggesting remuneration for providers and eligibility thresholds for people seeking civil and family legal aid be reviewed.
The Ministry of Justice's Chief Operating Officer Carl Crafar says administrative changes were made following the 2018 review.
"Policy, processes and applications have been streamlined and in 2020, the legal aid provider approval and application framework was updated to encourage more lawyers to provide legal aid services."
He says since 2018 there's been a 15 percent increase in the number of registered legal aid providers.
No changes were made to eligibility thresholds, or remuneration.
In an update to legal aid providers the Ministry explained: "We did not receive Budget funding, which was required to implement changes arising from the review … We understand that many of you will be disappointed in the result and it is not what you may have been expecting. Legal aid reviews are scheduled for regular intervals and there will be an opportunity to examine legal aid policy settings in the future."
This year's scheduled triennial review was cancelled by Minister of Justice Kris Faafoi.
"I did not consider a 2021 review would have added any new information and, instead, I asked my officials to continue with work relating to improving access to justice more broadly, including progressing the key issues from the 2018 review," he says.
Adam Simperingham says the reviews tend to "pay lip service to the real issues".
"The real issue was payment for lawyers. I'm guessing that that's probably more of a Treasury thing and a Budget measure. But that seems to be the real issue. I think that the lack of decent payment is going to cause issues on a medium to long-term basis and no, that has not been addressed."
The Legal Services Commissioner has the power to change what lawyers are paid for legal aid, but the Secretary for Justice (at the direction of Cabinet) sets the financial parameters for these decisions.
If there's not enough money in the pot to increase rates and fixed fees, then the Commissioner's hands are tied.
Because of funding constraints, Acting Legal Services Commissioner Tracey Baguley says lawyers rates aren't even linked to inflation.
More money was put into legal aid in this year's budget, with $235 million over five years assigned to "immediate cost pressures". Exactly where it's going to be spent wasn't specified.
Felix Geiringer's view is the government needs to be willing to invest more money into legal aid. "It was cut back to the point where it's actually seriously undermining its efficiency," but he says that's just part of the solution.
With so many issues around access to justice, his view is that all the partial solutions need to be implemented. "We've got to be pulling all the levers at once."
What's at stake
Without a well-functioning legal aid system the worry is that only people who can afford to pay a private lawyer can afford justice.
"I think justice is just as important for civilised societies, as health and education," says Nelson's Steven Zindel. "That's how you judge a society really, not just by if your illnesses are treated, but also whether you've got equal treatment under the law."
Gisborne's Adam Simperingham agrees.
"It's not just justice for the rich. We want to be able to provide access to justice for all."
This is part of the series Is This Justice?
Main Image: Adam Simperingham, Tiana Epati and Dr Tony Ellis say there are issues with legal aid. Photo: RNZ/Vinay Ranchhod


---