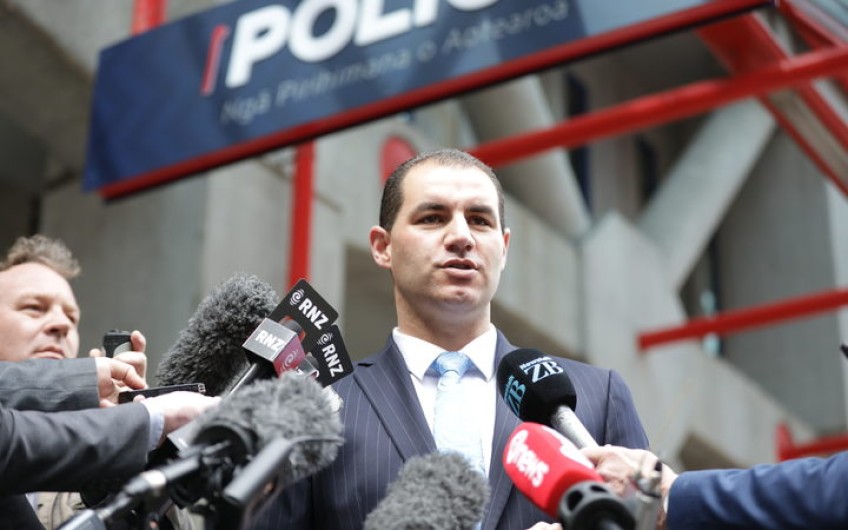 Jami-Lee Ross says police will be investigating complaint
Oct 17, 2018
---
Former National MP Jami-Lee Ross has emerged from the Victoria Street police station in Wellington after filing a complaint on leader Simon Bridges.
After emerging from the station he told media the police will be investigating the complaint.
Before he went into the station he told media outside the Wellington police station this afternoon that he would release the recording publicly after he had given it to police.
After filing his complaint he confirmed that the recording will be uploaded to Twitter.
He said the recording which is about to be released does not include Simon Bridges telling him to split the donation up.
He said Mr Bridges had told him in an earlier un-recorded phone call.
Mr Ross said he never touched the $100,00 donation.
He said he provided the bank account to the donor and when it arrived, it arrived split up.
Mr Ross said he has further recordings of him and Mr Bridges discussing the alleged harassment allegations which he raised yesterday. He said he recorded the conversations in order to protect himself.
In an extraordinary move yesterday, Mr Ross quit the National Party over what he claims are corrupt practices by the National party's leader.
Mr Ross alleges he has a phone recording suggesting Mr Bridges had asked him to split a $100,000 donation from businessman Zhang Yikun into smaller parts, so it was below the threshold where it would have to be made public.
Yesterday, Mr Bridges responded to those claims saying they were "baseless, false but serious allegations".
Today, deputy leader Paula Bennett told Morning Report that Mr Bridges told her he did in fact meet with the businessman and the subject of supporting the party may have come up.
"[Mr Bridges] said he certainly had conversations with [Mr Zhang] and with others that have wanted to support the National Party."
However, she said she was hesitant to comment, because she didn't want to misrepresent anyone as this was based off another conversation and she was telling it third-hand.
"He certainly had dinner with him, he's trying to recall that dinner and all of the conversations, and then I think he's seen him at other functions, which Jami-Lee Ross has put photos out. He certainly thinks that it may have come up that he had said I want to support the National Party, Simon knowing I think that Jami-Lee knows him probably did put him on to it," she said.
"We're trying to dig our way through all of this, it is very complex, we're not sure what Jami-Lee Ross has done, he's kind of woven this through, It's not straightforward. I am hesitant and now I don't want to misrepresent."
The Electoral Commission said it has not received any complaints relating to the matter, but would provide assistance to the police.
National Party $10k donor revealed
Meanwhile, the person responsible for a separate $10,000 secret donation to National has been revealed as the former Auckland councillor Aaron Bhatnagar.
Among his allegations, Mr Ross said Mr Bridges had knowingly filed a false election return which noted a donation from a group called the Cathedral Club.
That donation was later removed from Mr Bridges' return.
The National Party said it was transferred to the wider party which is where it was supposed to go in the first place.
In a statement published online, Mr Bhatnagar has revealed he was responsible for the donation.
He said the Cathedral Club was an informal pay-your-own-way dinner club comprised of a small group of Young Nats and university friends.
He was a regular attendee and one of the organisers of the club dinners, the last of which was held in 2008, he said.
"These days, it's easier for me to donate to parties, causes and charities than it is to participate on committees and help in campaigns as I once did," Mr Bhatnagar said.
"So I'm happy to be noted as giving $10,000 to the National Party in 2017. In addition, I have supported candidates in National with lesser sized donations in the past."
In a statement, a spokesperson for the National Party said the party fully complied with the Electoral Act but had a long-standing policy of not discussing donations.
"Given the public interest in the Cathedral Club, however Aaron Bhatnagar has confirmed he is the donor," the statement read.
"Simon and Aaron Bhatnagar are friends and Aaron is a well-known and strong supporter of the National Party.
"As the National Party has outlined, the donation was made to the National Party, not to Simon and the error was fixed as soon as it became known."


---