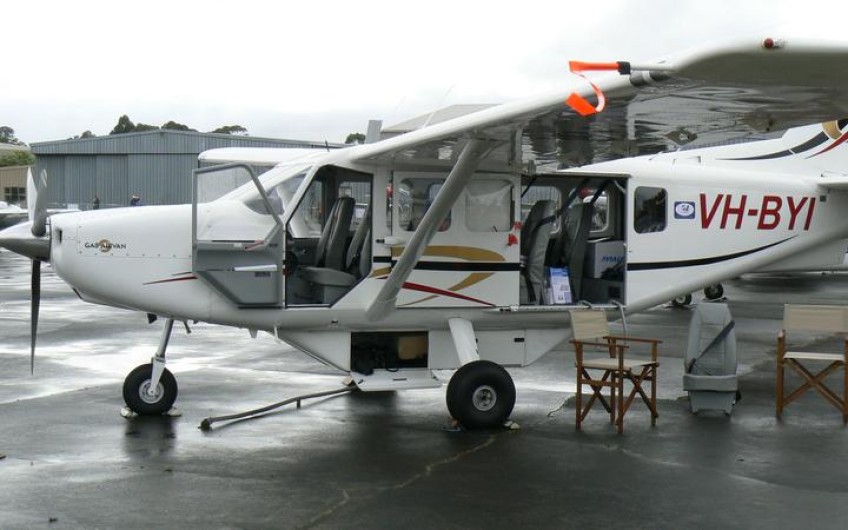 Grounded planes: 'Possible in-flight break-up' cause for concern
Jul 22, 2019
---
A possible risk of in-flight break-up is the reason for the grounding of 21 sightseeing planes in New Zealand on Saturday.
The Civil Aviation Authority has suspended the airworthiness certificates of 21 GippsAero GA-8 Airvans currently being operated until more is known about a GA-8 crash in Sweden earlier this week.
All nine people on board the skydiving flight were killed. Australia's Civil Aviation Safety Authority has also grounded the 63 GA-8s operating there.
Aviation authorities do not know how long it will take for the planes grounded in New Zealand to be able to fly again.
The CAA's airworthiness manager, Shaun Johnson, said public safety was the primary concern.
"This is an unusual incident in that the information we have would suggest there's been some form of in-flight break-up and we have no information to suggest why that might be.
"That's exactly why the European Aviation Safety Authority is conducting an investigation," Mr Johnson said.
"Australia as the state of design for the aircraft are now also involved and have a person on the ground in Sweden."
CAA director Graeme Harris, who announced the grounding of the aircraft, said it was necessary until more was known about the circumstances of the crash in Sweden.
"We do not take these steps lightly but when there is a reasonable doubt about the safety of an aircraft, the flying public, operators and pilots of the affected aircraft in New Zealand must be satisfied that the CAA will act with their safety as a priority.
"Whilst I regret any inconvenience this grounding will cause ... I simply cannot compromise when I have information that indicates any unacceptable risk."
There are 10 operators of GA-8 aircraft, which are mainly used for sightseeing, in New Zealand.
Mr Harris has been in contact with the Australian Civil Aviation Safety Authority (CASA).
The failure of the plane in the Swedish crash appeared to have happened at 4000 metres after structural failure, but the cause had not yet been confirmed, Mr Harris said.
CASA spokesperson Peter Gibson said GA-8s were first certified in 2000 and had not had a difficult safety history prior to the crash.
He said GippsAero held a production certificate issued by CASA to manufacture the GA-8 and was subject to regular surveillance and safety checks by the authority.
The GA-8 is a single-engine high-wing aeroplane with fixed tricycle landing gear. It is used in Australia for a range of purposes, including charter flights and skydiving.
- RNZ / ABC
Main Image: An example of the GA-8 Airvan, the type of plane that has been grounded. Photo: Flickr / DadGoesFlying / (CC BY-NC 2.0)
Read: Glenorchy Air amongst local operators hit by CAA order to ground aircraft.


---