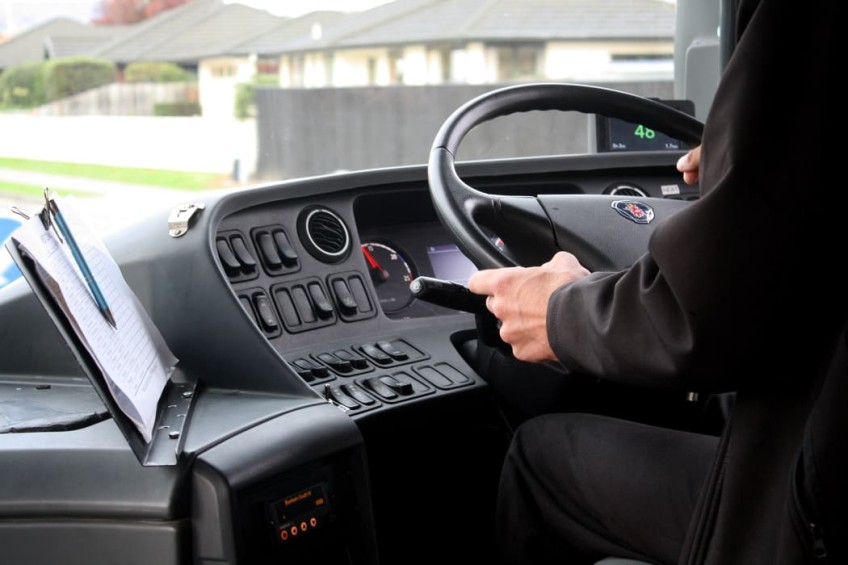 Government clears local council ownership of bus services
Aug 16, 2022
---
Bus operators are furious with the government's plans to allow council ownership of bus services although the announcement has the backing of Local Government New Zealand and the bus drivers' union.
The government has unveiled its Sustainable Public Transport Framework, which allows for councils to own public transport assets such as bus companies and the fleet.
Local Government New Zealand supported the change, with its president, Stuart Crosby, saying council ownership of public transport options could be a key lever in tackling climate change.
The Tramways Union said staff have endured years of appalling working conditions and they have had enough.
Bus and Coach chief executive Ben McFadgen told Morning Report the idea public transport will be more effective and efficient under public ownership was "fundamentally unsound".
He said if the country went back 30 years to when councils ran bus services they would be returning to an era of inefficiencies with poorly maintained fleets and offering services that fell far short of meeting commuters' needs.
"You get more efficiencies through private operators running their businesses. They're focusing on keeping their costs down, getting a good service out, meeting the outcomes that the government needs."
The current system was not so broken that it needed to be replaced, McFadgen said.
"You get more efficiencies through private operators running their businesses" - Bus and Coach chief executive Ben McFadgen duration 6′ :44″ from Morning Report Add to playlistPlaylist Download as Ogg Download as MP3 Play Ogg in browser Play MP3 in browser
Nationalising it would not fix the problem of driver shortages.
Under the current tender system the government had driven costs down so operators had no choice but to pay low wages to their drivers.
"If there was more of a focus on public value and in the tenders they [the government] made a point of saying driver wages and retaining those driver wages and making sure that the staff were well paid ... there's no reason why you couldn't do that."
McFadgen said the government, unions, operators and public transport agencies had been working together in the last few months to try and resolve driver pay and conditions.
"We were all getting somewhere and now the government announces this nationalisation thing."
He did not understand how the government which already subsidised the industry could afford this step in the current economic conditions.
Operators have made a huge outlay for their businesses and had kept services going through the disruptions of the last three years.
Now they were being "kicked in the teeth again".
He was confident operators would pay their drivers more if it meant the government would abandon the proposal.
Current model 'a complete failure'
However, Tramways Union Wellington branch secretary Kevin O'Sullivan said his membership has been wanting the change to happen "since day one".
He said the current model "was a complete failure" and the union's initial opposition to it had been vindicated.
"That model has been a complete disaster. It's just got to change... There will be no improvement until there's a higher level of state control. ...The current model isn't working and things need to change and this is a signal that change is on the way."
O'Sullivan said it was "old thinking" on the part of the Bus and Coach Association to say councils in collaboration with the union could not run an efficient bus service.
"It's a public service so the profit motive has to be one of the lesser considerations."
If the government's targets for public transport were to be met, which was not happening at present either in terms of fewer emissions or the services, it needed to be run under some form of state control.
Local Government New Zealand also supports the change, with its president, Stuart Crosby, saying council ownership was better suited to meeting climate change targets.
Crosby told Morning Report that the national tendering system that was in place at present resulted in driver shortages and also fixed bus routes that didn't always meet community needs.
The poor pay for bus drivers and their dissatisfaction with aspects like split shifts had the potential to be handled better by councils which recognised that it was "a highly responsible job", Crosby said.
LGNZ wanted a more flexible system. That would allow the opportunity to decarbonise bus fleets and introduce more on-demand services that had been very successful in trials.
"I'm not suggesting that all the councils will actually rip in and buy their own buses and run their own systems. It's just an opportunity that some councils might take up."
He said another negative to the current system was the split between regional councils which ran the buses through contractors and the city or district councils that supplied the infrastructure.
The ultimate goal was to get more people using buses resulting in more money coming in.
He agreed councils might have to invest more of their budget in buses.
"What would change ... is to have more flexibility to meet their community's needs. It doesn't necessarily mean that councils will buy buses, hire drivers etcetera. A lot of it will probably still be contracted out but under their [council] terms."


---