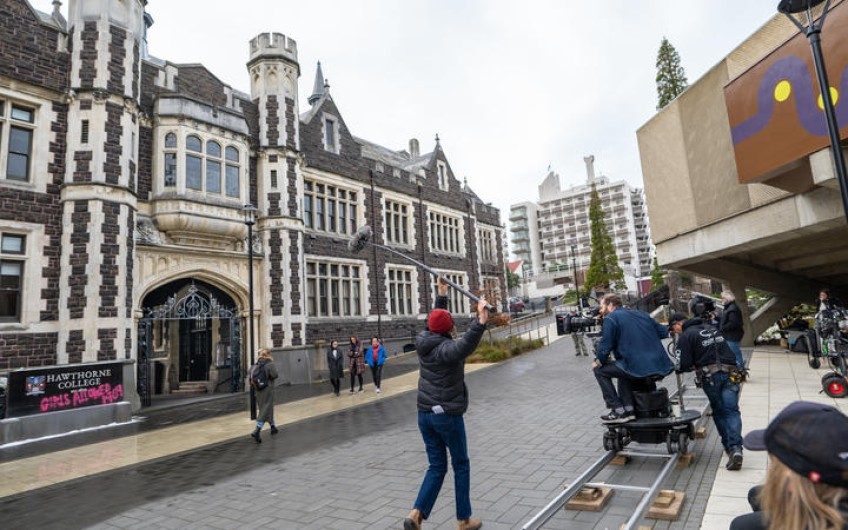 Wanaka, Q'town and Dunedin could become "The Hollywood of the South"
Mar 29, 2021
---
Otago is enjoying an unprecedented level of filming around the region at the moment.
A Netflix flim called The Royal Treatment about to wrap up after several weeks of filming in Dunedin and Oamaru, and TV series Under the Vines and One Lane Bridge have been filming in Central Otago and Queenstown.
But if the region is going to capitalise on the opportunities, and the record number of enquiries coming into Film Otago Southland, they're going to need is more studios - and fast.
The organisation's film office coordinator, Antony Deaker, who says the Netflix movie particularly has been a huge boost to the local economy, with its 135-strong crew and large cast of mainly Kiwi-based actors and extras.
Deaker says Europe and Canada were considered as possible locations before Netflix settled on Otago, and the absence of tourists in the country due to the Covid-19 pandemic, has been a boon for getting access to premiere locations.
Netflix brought just two producers and two actors into the country for the film, which is amazing, Deaker says.
"It's a real endorsement of the quality of the producers and the crew and the talent that we have in New Zealand and the capacity of the city to host productions like this.
"It's a real proof of concept that we can produce international work here without the international being here."
He said local crews are known for their "can-do skill-set" backed up with Dunedin's diversity of locations that are easy to get to. "It's a 15-minute city."
The crew's base has been in the CBD and they have reached "stellar locations with ease".
Since January The Royal Treatment has generated about 1200 bed nights for Dunedin, 1000 hours of shooting that provided acting work for about 100 people and there was also work for the likes of local prop makers and embroiderers.
"So it has been a real buzz and it has been a real pleasure working with the crew - they've been great."
Lack of studios being addressed
Dunedin was an early base for television production firstly with the NZBC and then TVNZ with children's programmes like Play School and its long-standing natural history unit. It still has excellent post-production and editing facilities, however, the city doesn't have a studio.
It's been a concern for the sector for years so it was exciting that possible new studio facilities are being discussed for both Wanaka and Dunedin, Deaker says.
For the latter a council-owned site is being looked at for conversion into a range of facilities that might involve the private sector and tertiary institutions joining the council to bring the venture to reality. It's important that it be in the CBD so that the crew can easily access bars and restaurants and it needs plenty of parking, he says.
Deaker says the region is not looking to cut Wellington and Auckland out of film and TV production and will continue to aim to attract work on a scale that can be managed, such as The Royal Treatment.
A centre of digital excellence has been established recently and that will support game-makers and tech designers.
He says effort is also going into supporting local writers with writer-in-residence placements being offered so that local stories can continue to be told.
'Juicy looking projects'
One Lane Bridge is being filmed in Queenstown while Under the Vines has found an ideal location in the wine-making area of Cromwell and Alexandra. It stars Rebecca Gibney who now lives in Dunedin and remains very popular in Australia where she has starred in several well-known series, including The Flying Doctors, Packed to the Rafters and Wanted.
Deaker says other possible film work could be imminent for the region with "several juicy looking projects that are in the pipeline".
These include a couple of international TV series, two New Zealand features and a US Christmas comedy movie. "It's a real mix of domestic and international projects."


---