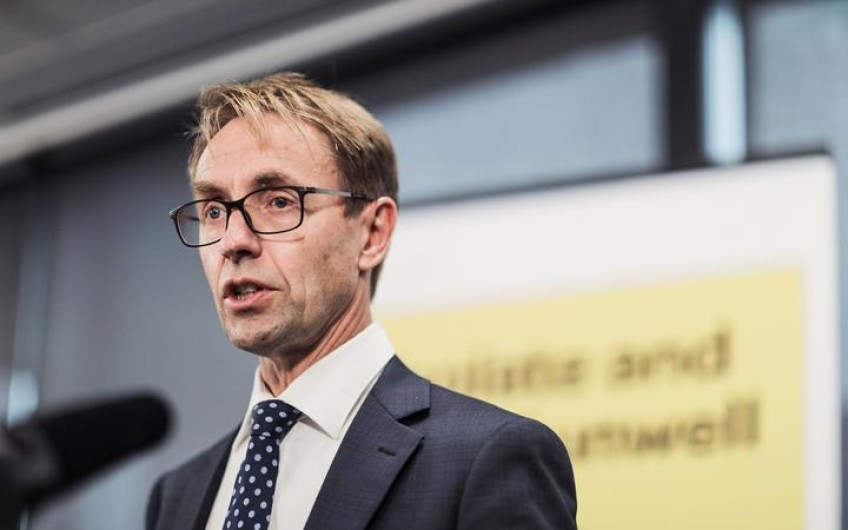 Case numbers continue to drop: Bloomfield
Apr 12, 2022
---
There are 11,063 new community cases of Covid-19 today and 16 further deaths to report.
Director-General of Health Dr Ashley Bloomfield said there are 622 people in hospital with the virus, including 23 in intensive care.
In today's 1pm press conference, Dr Bloomfield said there are now 14.3 cases per 1000 people in the country.
"We are continuing to see the number of cases drop," he said.
"Overall ... rates are coming down."
Bloomfield says new hospital admissions are also trending down.
He urges people to get vaccinated, wear a mask, and stay at home when unwell.
Ministry of Health Chief Science Advisor Dr Ian Town was also at the 1pm update, saying the pandemic has undeniably created unprecedented pressure on the health system.
He says an important study being conducted this year focuses on the impact of Covid-19 in Aotearoa.
It started in February, conducted by researchers at the University of Victoria in Wellington.
"The aim of the study is to understand experiences of people ... who have had Covid-19. We want to know more about the impact it has had on their health and wellbeing, of both themselves but also their whānau.
"We hope the outcomes of this study when it is reported later this year will help us be better prepared and also understand how to provide better support services for people with an illness such as Covid-19."
The study is open to anyone who had Covid-19 up until December 2021.
There will be an online questionnaire and from there, small groups will have detailed interviews and focus groups will be undertaken - with special focus on groups like Māori, Pasifika and those with disabilities.
So far, 400 people have completed the survey and anyone who had Covid-19 last year is encouraged to take part.
"We have already funded a number of research projects including the one I have just mentioned," Town says.
"Last year ... we made available a $1 million fund for rapid response research and we were delighted when the Health Research Council made available another $2m under their Covid-19 Emergency Infectious Diseases Grant Programme ... a number of these projects had a direct impact on our understanding of the disease and the response itself."
That included work to speed up whole genome sequencing, an essential tool in the response last year, he says.
Another found dexamethasone - a widely used steroid - was beneficial for those in hospital deteriorating with Covid-19.
"We have already experienced a number of benefits from locally funded research and we are looking ... to see if we can fund other research in the future."
One is a detailed case note review of all people in hospital with the coronavirus this year.
"That will give us information to help us understand the course of hospital treatment and help us plan protocols for the future."
Bloomfield says more than 230,000 people have received flu vaccinations ahead of winter.
"Even if you haven't had a flu vaccine before, now is a good time and a good year to go and get your first one."
He also encourages people to get an MMR vaccine.
"It's important people go into winter with as much protection as possible."
Yesterday, the ministry reported 7592 new community cases of Covid-19 along with 11 further deaths.


---