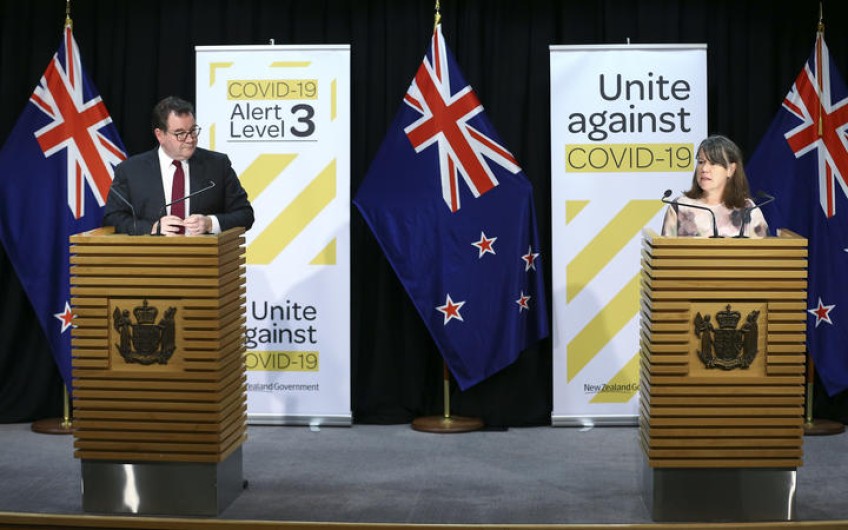 Friday 28th: 5 confirmed community cases and 7 overseas
Aug 28, 2020
---
There are 12 new cases of Covid-19 in New Zealand today, including five confirmed community cases and seven imported cases.
Finance Minister Grant Robertson and Director of Public Health Dr Caroline McElnay have given the daily Covid-19 briefing.
The five new cases in the community are all linked to the Auckland cluster.
Four of the five cases are from one household and linked to the Mt Roskill Evangelical Church sub-cluster. The other case is linked to a known confirmed case.
The imported cases came from one single flight. Dr McElnay said it was highly likely they were undetected before they got on the flight.
There are now 130 active cases of Covid-19 and there are 11 people in hospital with the coronavirus - eight on a ward, three are in ICU.
Dr McElnay said widespread testing was a critical part of the elimination strategy and testing sites will be open throughout the country, with pop-up testing sites continuing to move across Auckland.
Contact tracing has identified 2475 close contacts of cases - 2433 have been contacted and are self-isolating.
There are 161 people linked to the Auckland cluster who have been transferred to the Auckland quarantine facility - this includes 88 positive cases and their close family contacts.
New Zealand's labs processed 11,010 Covid-19 tests yesterday, bringing the total to 730,330.
Dr McElnay said if the numbers of testing at the moment could be maintained, she was confident that reaching the 70,000 target was possible.
'We are nearly there'
With two days to go until the alert levels are due to drop, Robertson said he wanted to thank Aucklanders for their efforts under alert level three.
He said it was because of their commitment, that the city is able to move down levels on Monday.
"As a result of your actions, New Zealand remains in a comparatively positive position to other countries who have experienced second-wave outbreaks, with a small number of daily cases, no additional cases and no spread of the virus beyond the cluster, so thank you.
"We are nearly there, but the job is not quite done."
He asked Aucklanders to get a test if they have flu or cold-like symptoms this weekend, or were connected to the Auckland cluster in any way.
He also reminded Aucklanders that restrictions still apply until 11.59pm Sunday, and there will continue to be cases, so Aucklanders needed to behave so they did not spread the virus.
That is why gatherings like church and birthdays will still be limited to 10, he said.
"This weekend, the Level 3 restrictions [in Auckland] are still in place," Robertson said.
Robertson also thanked church leaders and community who had rallied around those who have tested positive.
Yesterday there were seven new cases of Covid-19, six of them in the community and all six have been linked to the current Auckland cluster.


---