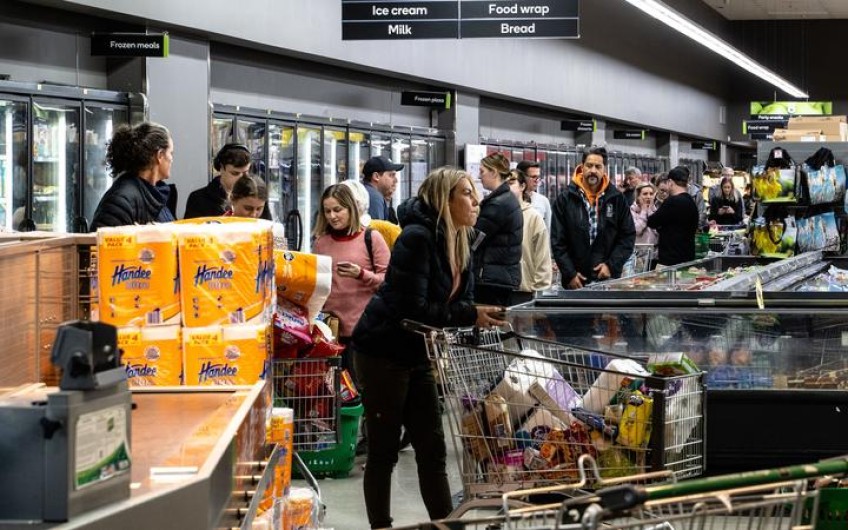 Covid-19 panic buying: PM calls for calm as hundreds queue outside supermarkets
Aug 12, 2020
---
Supermarket websites are being overloaded and queues are forming outside shops in Auckland after news of new cases of community transmission.
Prime Minister Jacinda Ardern and Director-General of Health Dr Ashley Bloomfield announced at a media conference this evening there were four new cases in Auckland with no known connection to managed isolation or workers at the border.
They announced Auckland, where the cases are located, would be entering alert level 3 again from midday tomorrow for three days, with the rest of the country going to level 2 over the same time.
Among the supermarkets that saw a rush of people were the Countdown supermarket at Lynnmall, Auckland, where about 300 people were lining up to get inside.
At least 200 were also winding around the entire building at Countdown on Quay Street in central Auckland. Police later arrived at the supermarket, which was closed until 6am Wednesday.
Shoppers were turned away from Greenlane Countdown after the store closed two hours early.
The Pak'n'Save, Countdown and New World websites were all overloaded after the announcement.
Countdown general manager Kiri Hannifin told Lately with Karyn Hay that Countdown stores had been inundated with massive queues this evening, which was disappointing.
"We actually made the decision to close all of our stores down."
She said Countdown had about six or seven stores in the Auckland region that usually at midnight but they closed about 10pm, or as soon as they could manage it.
"Just to manage behaviour and keep our team safe."
She said workers still had protective shields up, but they would have got a fright.
"They were working, I was watching Netflix … so we thought we'd just take a breath, get ready and we'll be totally prepared to look after Auckland and the rest of New Zealand tomorrow and keep everybody safe and make sure we've all got groceries. We're good at this, we've done it before."
She said it wasn't easy to get people out of the supermarkets, and they didn't have security on at the time.
She said work was still happening but they didn't want the panic buying to happen.
"There's no need for it, we didn't need to do it last time, we don't want to do it again."
When asked if Countdown could automatically go back to level 3 she replied, "Depressingly, yes ... We meet every week on getting ready to go again. So from tomorrow morning right across the country we'll have physical distancing back in place. We will close every second check out. We'll manage the numbers in our stores again."
"We're going to put limits on the food that we knew flew out the door so that we can make sure everybody gets some. Again, not because we have an issue with supply, but because we need to manage the demand and make sure Kiwis shop properly and do the right thing.
"The only thing I'm really worried about is that my poor team's morale and resilience is tough, I'm really hoping that people are kind again."
Foodstuffs, which operates New World, Pak'n Save and Four Square, said in a statement: "Foodstuffs will be reactivating overnight the social distancing and health and safety protocols across our stores and supply chain".
Customers visiting all 40 stores across the wider Auckland area can expect to see the following safety measures in place:
2 metre social distancing Restricted customer numbers in-store One customer, one trolley No bag packers at check out No reusable bags to be bought into store Increased sanitisation, hygiene and cleaning protocols throughout the supermarket including, on entry, at checkout and other high touch areas Social distancing signage and posters advising of customer requirements
Customers outside of Auckland can expect to see increased sanitisation and safety measures when they visit their local supermarket.
They will be in place initially from midday Wednesday 12 August until midnight Friday 14 August.
"Foodstuffs has good stocks of PPE and hand sanitiser, and our teams are familiar with what is required to keep both themselves and our customers safe from Covid-19.
"We would like to reassure customers that, just like before, our supply chain is robust. We are working hard to make sure all the grocery items New Zealand households might need are on the shelf and readily available.
"We ask that shoppers #shopnormal - this is the best way to ensure no pressure is put on the supply chain. Just buy what you need, as you need it... help us by being kind to one another, we know how to do this."
Ardern said she had been informed that there had been reports of panic buying and reminded New Zealanders that supermarkets would remain open and stocked and there was no need for people to panic buy.
"I understand - it's a completely natural reaction - it happens around public holidays as well when people know that there are closures but there are no closures here.
"We've all experienced before, that supermarkets will not shut, they will remain open. People will continue to be able to access them. They'll be open tomorrow, they'll be open the next day, they'll be open right the way through.
"They are an essential service, so are pharmacies. Dairies will remain open as well ... you'll even be able to get a takeaway coffee."


---