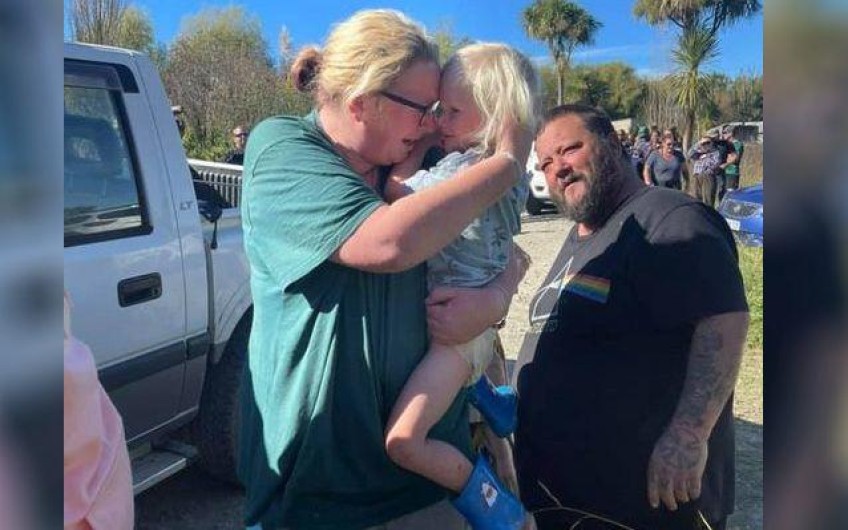 Community search finds missing boy: "We all pulled together, we didn't stop."
May 05, 2021
---
The little boy who went missing in Tolaga Bay yesterday appears to have spent the night in a small gully, using pine needles to bed down, according to police.
Three-year-old Axle was found alive this morning after hundreds searched for him overnight.
Constable Richard Reeves said he was found in a steep, forested area and appeared to have fallen down a bank into a small gully, where he spent the night.
He said the youngster had not shown any sign of hypothermia.
Reeves told Afternoons he was at the house with the family when the news came in that the three-year-old had been found.
"He was in a nappy and a t-shirt, some little gumboots and we had a pretty cold night here last night - so he's done really well."
He said Axle was really hungry when he got home; he had been checked over by ambulance staff and had no signs of hypothermia.
"He's obviously tucked up somewhere for the night, he had a few pine needles and stuff on him, but he's obviously found somewhere pretty warm to sleep cause he's come out pretty fit and healthy ... I'd say he's going to be a good little hunter if he's got those sort of survival skills at that age."
Reeves said it was a massive relief to find Axle alive and well because there would not usually be a positive outcome with a child of that age and with the night's conditions.
"He's only three so he's got really limited ways of communication, but he was pretty happy to see his mum and dad and pretty happy to get a feed."
Reeves said everyone was overjoyed at the toddler being found and "there's a bit of a party going on here at the moment".
Reeves said he went missing with a little dog at about 1pm yesterday around the back of the house.
"The house is a rural area just north of Tolaga and it's an old sawmill so there's machinery and logs and a forestry equipment everywhere, there's a large river next to the road which is a stone's throw from the house and then once you get up behind the house it's thick bush and very steep and rugged."
Reeves said Axle went up the main track behind the house and then fell down the other side which is quite steep ending up in a small gully and he was not able to get out from there.
Axle was located just before 11am with between 120 and 150 volunteers looking for him, along with two trained search and rescue squads.
Reeves said a local man found Axle along a forestry road about 3km from his house.
'I've never seen relief like that'
Damon Jeffrey is the owner of the dog, Bro, who had accompanied the boy yesterday afternoon from the family's home near Tolaga Bay.
Jeffrey said Axle was found by a local man named Peter.
"There was just cheering and clapping, you could feel the relief in the air," Jeffrey said.
"It was an unreal moment, it really was.
"His mum and dad's legs nearly dropped out from underneath them. I've never seen relief like that."
Axle was "smiling and happy," he said.
Jeffrey said that the boy had wandered on an old "pretty steep" logging track in the area which made searching difficult. More than 100 search and rescue volunteers and 40 police helped in the search.
"I damn near fell to my death just looking for him. As every minute went by our concern was growing. How does a kid that young survive overnight? It's unreal."
Jeffrey said he had been calling for his dog Bro, who returned without the boy late yesterday.
"When I whistle, he always comes back. Three hours later, he came back."
The boy may have tried to follow but got lost, Jeffrey said.
There was not much shelter to be found on the track.
"There's nowhere that I would say someone would choose to camp for the night," he said.
Axle was originally reported as four years old, but is only three, he said.
"He's actually three. That's pretty unreal in itself, to have a three-year-old go missing, but the community pulled together, we all pulled together, we didn't stop, and we found the absolute best result in the end."
The family, who had lived in Auckland and Gisborne, were new to the community and had only been out at Tolaga Bay for a month or so, Jeffrey believed.
Jeffrey said Bro helped guide the search for Axle to its happy ending.
"If it wasn't for the direction that my dog came from, we wouldn't have known what way to go. The dog gave a hint."
"He's an awesome dog," he said of the 18-month-old Bro. "He's got the coolest personality, he loves kids."
Bro and Axle are great friends, and "they play all the time," he said.
"My dog just followed Axle on his adventures."
It was a joyful reunion for the two this morning after Axle was found safe.
"Bro was very, very pleased to see him and Axle was very happy to see him as well."
Both of them will be close to home from now on, he said.
"My dog never goes very far, and after last night, I don't think Axle is going to go very far."
Jeffrey thanked everyone who helped with the search and spread the word.
"The country showed genuine concern for this kid and it's made me restore a bit of faith in humanity.
"I honestly had a bit of a tear roll down my face [when he was found].
"I have a kid myself and I can't even imagine what that was like for them, and that's why we weren't going to stop until we found him."

---