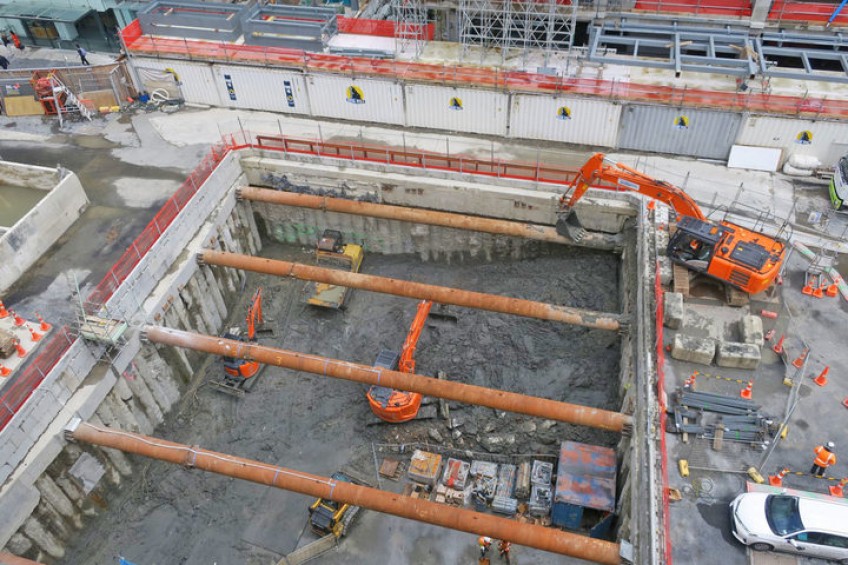 City Rail Link engineering company goes bust
Nov 23, 2018
---
The Australian engineering firm that was set to build the Auckland City Rail Link's entire underground network has gone into administration.
RCR Tomlinson, in a joint venture with Opus International, was awarded the contract last month.
At the time, City Rail Link's chief executive Sean Sweeney said the announcement marked "a major milestone for a project that will deliver significant benefits for Auckland".
The Perth-based company had gained $100 million from its shareholders in an equity-raising in late August, and later that month, had released audited financial statements to the ASX claiming to have a positive balance sheet.
In a statement to the ASX, RCR said it had appointed administrators McGrathNichol, having entered a trading halt last week.
A director of the investment management company Allan Gray, Simon Mawhinney, said the collapse was astonishing and an absolute disaster for shareholders.
"We've never seen a turnaround like this," Mr Mawhinney said.
"After the $100 million they raised, they allegedly had $140 million of net cash and a seemingly bullet-proof balance sheet.
"To go from audited financial statements released to the ASX in August, signed off by the board and their bankers, as well as the positive AGM commentary in October, defies belief.
"It's very hard to say what's happened, we have no idea. Something terrible has happened on the watch of the current board."
RCR Tomlinson has 3,400 employees, mainly in Australia.
Just two days ago, RCR listed an advertisement on LinkedIn seeking to fill a host of jobs on the City Rail Link, from senior to graduate engineers, through to health and safety managers and quantity surveyors.
The ad noted: "One of the key objectives of the CRL Project is to contribute to social sustainability across Auckland, targeting employment for Māori, Pasifika and youth along with others marginalised in the workforce."
It's not yet clear what the firm's failure will mean for the hoped-for job creation in the country's biggest transport infrastructure project.
Public Transport Users Association's national coordinator Jon Reeves said it was a bit of a shock to wake up to this news.
"It is a major concern. This is the largest transport project ever in New Zealand," he said.
"At this stage we can't tell what the impact's going to be, but there most definitely will be an impact, that's for sure."
It was too early to say whether the completion date would be compromised, but he said it most likely would be, by months but hopefully not a year.
He said if this part of the project had to go for re-tendering, it could potentially cause a delay of three to six months.
The City Rail Link is scheduled to open in 2024.
- Additional reporting by ABC News
Main Image: City Rail Link work on Lower Queen St. Photo: City Rail Link


---