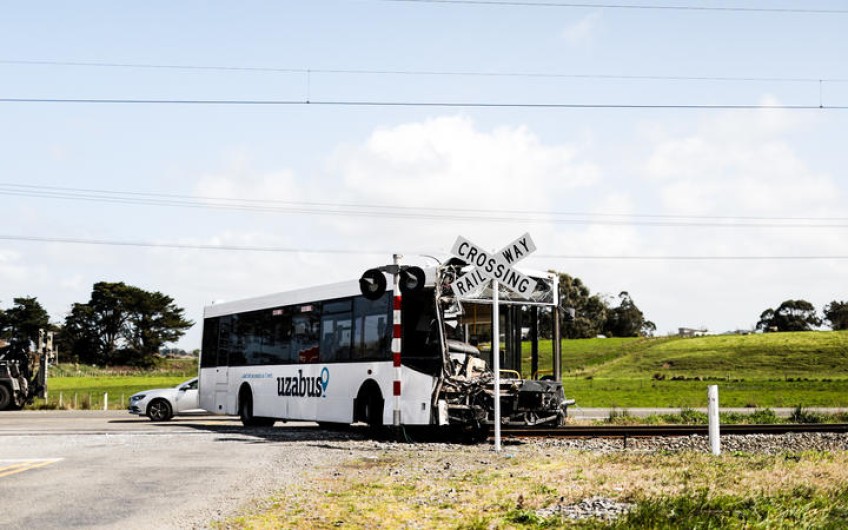 Children among 40 people injured after train and school bus collide near Palmerston North
Sep 16, 2020
---
The driver of a school bus involved in a crash with a train near Palmerston North this morning has died.
Forty others were injured, including six Feilding High School students who were taken to Palmerston North Hospital with moderate to minor injuries.
Emergency services were alerted to the serious crash just after 8am at the intersection of Railway Road and Clevely Line in Bunnythorpe.
St John said it assessed 40 patients at the scene, whose conditions varied from moderate to minor.
A resident near the crash site said it appeared the front of the school bus was hit by the train and that there were children with minor injuries.
Police were also at the scene and said no children were seriously injured, but some were being treated for minor injuries.
The number of children on the bus was being counted and senior staff from Feilding High School had been at the scene.
Following the collision, staff and councillors from the school came down to provide support to the children.
Four ambulances and a rapid response team were sent to the scene.
Parents who wanted to collect their children were asked to make themselves known to an officer at the scene.
KiwiRail chief executive Greg Miller said the company was shocked to learn of this morning's collision, and had sent staff to work with emergency services.
The level crossing is protected by flashing lights and bells - but the mayor of the Manawatu District, Helen Worboys says it's one of several high-risk areas where roads intersect with rail.
The train driver is physically unharmed but shaken by the incident and was being supported by staff on site, Miller said.
The North Island main trunk line is closed between Marton and Palmerston North.
The site of the crash had been blessed and police said the road was expected to open shortly.
In the meantime, diversions were in place and motorists were asked to avoid the area.
WorkSafe had been advised and an investigation into the cause of the crash is ongoing.


---