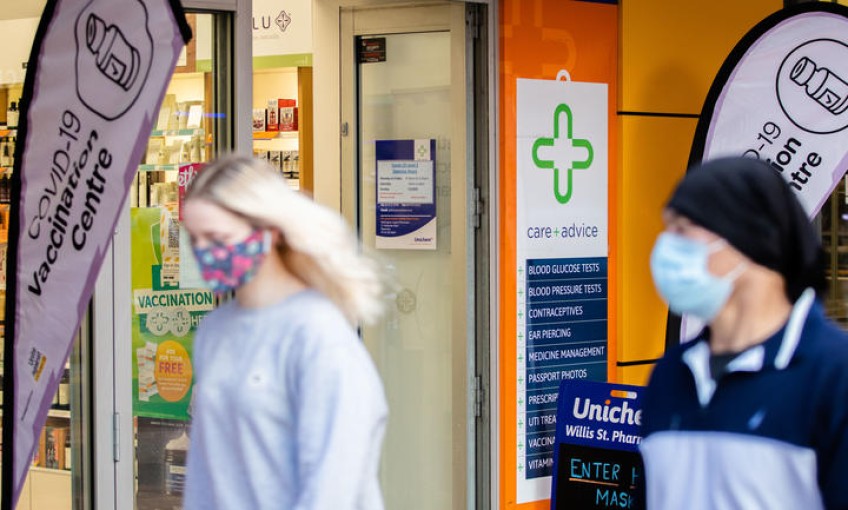 Business owners welcome workplace vaccination mandates
Oct 27, 2021
---
No jab, no job policies are ramping up in their reach across the country.
Under incoming laws, any business that will require a vaccine certificate for customers must also have fully vaccinated workers. This includes cafes, restaurants, gatherings including churches, events, gyms and hairdressers, and other close contact businesses.
This is about 25 percent of the country's entire workforce, Workplace Minister Michael Wood said. This was in addition to another 15 percent who are already or will be soon required to be jabbed, including teachers, some health staff and border workers. The government estimates this will be about 40 percent of the entire workforce.
Employees that refuse to get vaccinated can legally be shown the door after a four week paid notice period.
Some business owners are breathing a sigh of relief, happy the legal question has been taken out of their hands, and the employment law risk enforcing their own mandate could carry.
With more than 100 staff across four Auckland restaurants, Krishna Botica has been grappling with the headache of what she should do with unvaccinated employees.
She had already put five of her employees on paid leave for not being vaccinated, due to the risk they posed to other staff who had underlying conditions.
The government's announcement has given her a clear path forward.
"There was so much relief. I am just so grateful. This is one less thing for us to worry about, and that is huge given the fact that so many of us are fighting to save our businesses," Botica said.
Botica said any personal grievance claims under employment law would have been an extra stress, so the explicit legal backing from the government is welcome.
"This is a better pathway forward for our industry, having full government support, in allowing us to not only encourage the hesitant but to actually make sure our own businesses are safe places," Botica said.
Employment lawyer Barbara Buckett said work contracts will not need altering for this mandate to come into force, and people cannot argue a vaccine requirement was not written into their contract when they signed.
"The contract is subordinate to the law. So what I agree on with you in the terms and conditions of employment can be superseded by any regulation. The law trumps the contract," Buckett said.
She said there are still grey areas within the mandate, including exactly which businesses will or won't be subject to it, but it was a lot closer to black and white than before.
The Council of Trade Unions supports the policy. It was consulted by the government on the policy, along with Business New Zealand.
CTU President Richard Wagstaff is encouraging businesses to start talking to their people now.
"It's really important to talk to unions and workers about getting vaccinated in the timeframes. If there is low vaccination rates in any particular sector or workplaces, employers need to really figure out how they're going to get people vaccinated. They won't be able to operate without having proper vaccinations," Wagstaff said.
Business NZ chief executive Kirk Hope said the the feedback from businesses to the announcement has been overwhelmingly positive.
However, at least one industry would struggle if it lost any more staff: hospitality. The sector's been battling to attract and retain skilled staff this year.
In fact some restaurants had closed some nights because there weren't enough staff.
The Restaurant Association's Marisa Bidois said although the law will be positive overall, losing staff, no matter how many, would be a drawback.
"[Staff shortages are] something that has been raised, and we've been discussing the issues this might present, when we are already facing severe skill shortages," Bidois said.
The government said it will pass this law as a priority.
There will also be a risk framework available for other businesses who are not subject to vaccine certificates to help them decide if they can mandate vaccines for their staff.
Employees who refuse will get a minimum of four weeks' paid notice, even if they don't have a notice period written into the contract.
When it comes into force depends on when the country moves to the Covid-19 Protection Framework - the traffic light system - which triggers once every DHB reaches 90 percent of its eligible population having had both vaccinations.
Auckland however will move to the traffic light system when its three DHBs reach the threshold regardless of rates in the rest of the country, due to the city's border stopping residents travelling out.

---