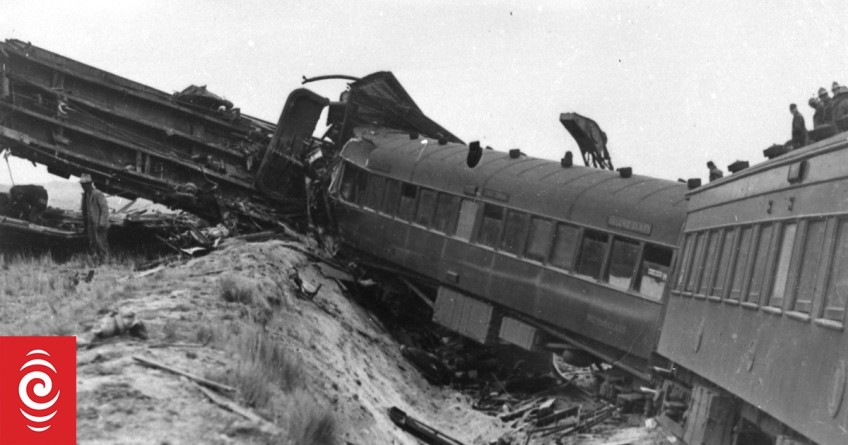 Author says train driver "scapegoat" in 1943 Otago crash that killed 21
Jun 04, 2023
---
An Otago-born author who researched the train crash which shattered her family 80 years ago says she believes the driver was made a scapegoat for the tragedy.
Today marks the anniversary of the Hyde rail disaster which killed 21 people and injured 47 more in Central Otago in 1943.
At 1:45pm, about five minutes out from Hyde railway station, a steam locomotive towing seven carriages carrying 121 passengers left the rails while taking a corner at speed.
The crash was the country's worst rail accident until the Tangiwai tragedy claimed 151 lives on Christmas Eve in 1953.
Driver John Corcoran was jailed for three years for his role in the disaster amid allegations he was drunk and driving at excessive speed.
Elizabeth Coleman wrote a book on the tragedy and led the group behind a memorial cairn erected near the crash site in 1991.
She was four-and-a-half years old when her father and brother died and another brother was severely injured in the accident.
She said she believed Corcoran was under pressure, speeding to meet a demanding timetable and driving the train on poorly maintained tracks.
"Corcoran was a decent bloke, I believe. [He] went to prison and was very subdued after that. Someone told me he used to go to the pub and sit very quietly. It must have been dreadful, being blamed, but it wasn't his fault," Coleman said.
She said she could still remember the moment her mother was told of the crash.
"Even at four-and-a-half I can remember what it did to my family. My mother being held so she didn't fall to the floor when somebody told her that Dad and John were dead. She just started to fall and they held her," Coleman said.
She said she still felt the effects of the tragedy that "cut my family in half".
She began talking to her mother and, later, began researching the incident at a counsellor's suggestion after experiencing depression and panic attacks in the late 70s.
"I've been to the place [where it happened] and you can still pick up bits of rubble and pieces of glass from the bank where the engine hit. It's still there," Coleman said.


---