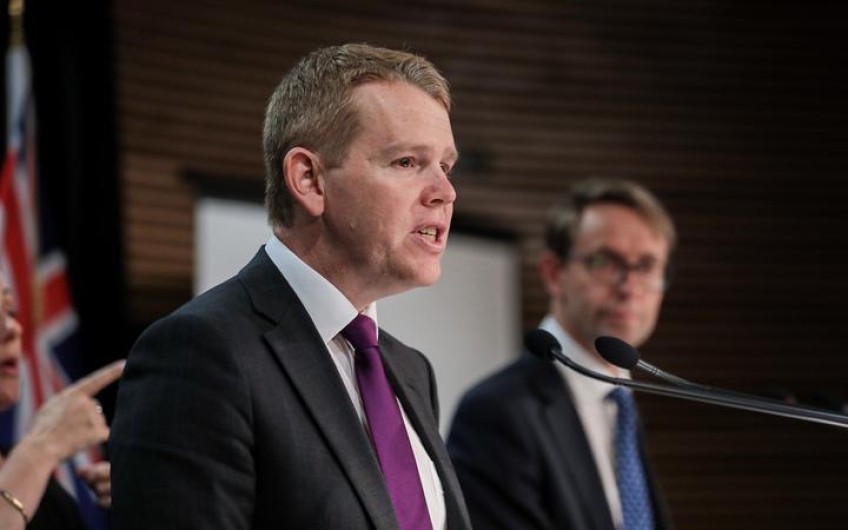 Australia in "worst shape ever" since travel bubble start
Jun 27, 2021
---
Covid-19 Response Minister Chris Hipkins and Director-General of Health Dr Ashley Bloomfield have provided an update a week since the Sydney tourist visited Wellington.
There are no new cases of Covid-19 in the community.
Cabinet has decided to extend the level 2 restrictions in Wellington for 48 hours until 11.59pm on Tuesday.
"It's clear that we are not out of the woods yet, more testing and more results are required in order for us to feel confident in making a decision to lower alert levels," Hipkins said.
"The last thing that we want to do is find ourselves moving in and out of alert levels unnecessarily. We do know that the more we do that, the more uncertainty there is for people and the higher the consequences of that for businesses and for people."
The rest of New Zealand remains at level 1.
"We do want to see more testing data particularly for those later exposure events on Monday morning, when the person travelled back to Australia," Hipkins says.
The partner of the Sydney man (case A) who travelled to Wellington has tested positive for Covid-19.
Hipkins says this suggests the man was infectious towards the end of his stay in New Zealand.
"That shows that case A was able to transmit the virus, and it suggests that case A was infectious towards the end of their stay in New Zealand. Those two people were isolated from each other on return to Australia, given Case A's positive test result at that point."
So the infection could have taken place in New Zealand or while they were travelling back together, he says.
"We are now particularly focused on those who could have been exposed to case A towards the end of their stay here in Wellington."
Hipkins urged everyone in the Wellington region to review their movements over last weekend and contact Healthline if need be.
As of yesterday 2444 potential contacts have been identified as a result of investigations in Wellington.
"That's a very large number of contacts for one individual case, it does highlight that we are spreading the net very wide here and we are leaving no stone unturned to make sure that we are identifying any cases that may flow from the recent positive case detected in Australia."
Of those 2444 contacts 2067 have returned a negative result so far, and the remainder are expected in the next day or two.
"Now that that peak of demand has worked its way through, now we are encouraging others in the Wellington region if they are showing cold and flu-like symptoms, are a bit achey, please come forward and get a test," Hipkins says.
He says the test results have been encouraging, but they received a "potential indeterminate" result in Masterton. It may be a false-positive.
"There is a possibility that it will turn out to be like our recent case on Stewart Island / Rakiura which turned out that it wasn't a case at all, it was a cold. At this point we are not regarding that as relevant," Hipkins says.
More information will be made public later today or tomorrow.
Support for businesses
The extension of alert level 2 triggers the resurgence support payment for businesses.
This is available to businesses or organisations that are facing a reduction in revenue due to the alert level increase.
A business or an organisation needs to have experience at least a 30 percent drop in revenue or a 30 percent decline in capital raising ability over a seven-day period, due to an increase in alert levels.
The payment is calculated at $1500 per business plus $400 per equivalent fulltime employee, to a maximum of 50 fulltime equivalent employees.
So the maximum payment is $21,500. Sole traders can receive a payment of up to $1900 .
Further information on that is available on the IRD website.
"We'll finalise the date that applications can open as quickly as possible, we expect that to be tomorrow morning," Hipkins says.
Trans-Tasman bubble
The current situation with cases in Australia is the worst it has been since the bubble started, he says.
There are now 82 cases in the Sydney cluster.
"The R-value for the outbreak is calculated at 2.89. Remember that an R-value greater than 1 suggests that the virus is continuing to spread.
"We've also been made aware of a potentially significant event in a Northern Territory mine. A case is deemed to have been infectious for five to six days whilst working at the mine. With over 700 close contacts having been identified - 100 of those considered to be very close contacts."
He says about 950 workers have left the mine during that period and are now scattered across Australia. "We are working very hard to identify whether any of the miners have arrived in New Zealand since that time."
Quarantine-free travel with Australia has been paused until 11.59pm on Tuesday, after Greater Sydney was placed into a two-week lockdown yesterday.
University of Otago epidemiologist professor Michael Baker told Sunday Morning it would take a few more days before New Zealand can be said to have dodged a bullet over the latest scare.


---