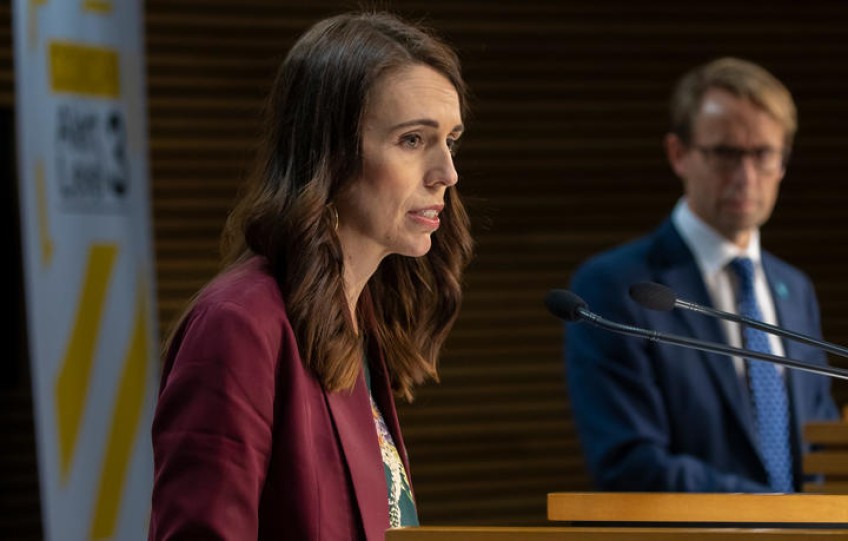 Auckland gets an easing in Covid restrictions next week
Nov 01, 2021
---
Prime Minister Jacinda Ardern says Cabinet has decided in principle to move Auckland to alert level 3 step 2 next Tuesday at 11.59pm.
Parts of Waikato will move down to step 2 of alert level 3 from tomorrow 11.59pm.
Ardern says the Director-General of Health recommended Waikato can move to the second step down in level 3.
This means retail can open their doors with face masks and physical distancing; the number of people meeting outside can increase to 25; while the two-household restriction is also removed.
The 3 steps to easing Auckland restrictions: what you need to know
In Auckland, fewer than 5000 first doses remain before reaching 90 percent single-dose vaccination, and for Auckland as a whole 80 percent has had two doses.
"And that's incredible," Ardern says. "Case numbers, while growing, remain within some of our expectations as modelled and the public health assessment of the impact of changes like opening up retail include that this activity is generally not responsible for marked increases of new cases."
Cabinet has decided in principle to move Auckland to the second step down of level 3 from next Tuesday, 9 November, at 11.59pm.
Ardern says the approach is to take a "steady and conscious change" in restrictions.
"For those who have concerns about any easing, I would say that because of high vaccination rates in Auckland we can move forward with greater confidence and we will continue to have very strong and clear public health guidance on how businesses that are eligible to reopen, do so."
She says the extra week is being taken to give time for the changes to schooling, to allow businesses to prepare, and says vaccinations will continue to help.
She says schools probably pose more risk than other areas being considered, so they are stepping down very carefully considering the changes there.
Ardern says the outbreak cannot be contained forever, despite Auckland boundary and the work Auckland has done to help contain it.
"We will continue to try and extinguish these cases but I don't want anyone to be left with the belief that we can keep Delta in one place and one place only for good."
She says everyone is tired and worn out thanks to the virus.
"Despite how hard everything feels right now, we are going to be okay, we just need to keep moving."
Alert levels and new Covid-19 protection framework
Ardern says the country is on track for the Kiwi Christmas summer holiday. "If I could implore everyone to just remember that this matters for everyone, not just Auckland."
She rejects the suggestion that Auckland was moved to level 3 too soon. "We have to also take into account the long term impact of restrictions on the ability of people to comply with them. We had been in level 4 for the longest period that we'd ever been in level 4."
She says the decision to keep Auckland in level 3 has kept case loads much much lower than has been seen in NSW and Victoria.
"That is down to the commitment of everyone in Auckland."
Ardern says it will take some time for people to get to grips with the new traffic light system, just as it took a while to get used to the alert levels.
She says the message to New Zealanders is to get vaccinated if the country is to move in a concerted way towards lower restrictions.
Ardern says the digital options for vaccine certificates will be ready to use by the end of this month, but if needed other forms of the certificates can be used earlier. This could include if Auckland or the South Island reached 90 percent double vaccinated, triggering a potential move from alert levels to the traffic light system.
Vaccination rates
Director-General of Health Dr Ashley Bloomfield says as of yesterday 75 percent of eligible New Zealanders are now fully vaccinated, and 80 percent can be expected to reach that milestone next week. Auckland is already at 80 percent.
He says 70 percent was a figure that was being bandied about internationally, so to reach that is fantastic.
Pointing to several slides showing the outbreak in Auckland, Bloomfield says whilst case numbers are increasing, "we can see the hospitalisation numbers are not increasing at the same rate, and in fact a number of those people in hospital are in hospital for reasons other than Covid-19".
He says of concern in the current cases is a large proportion of Māori. "It was less than 10 percent of cases initially in August but is ... between 40 and 50 percent of cases each day now."
He says the number of Pasifika cases has dropped from the high proportion seen at the beginning of the outbreak.
Regarding paediatric vaccines, Bloomfield says Medsafe will not skimp on its protections and will wait until Pfizer makes the application. He says the government is having conversations with Pfizer about ordering the vaccines.
Bloomfield says testing for Māori is still high, however, with about 12 percent of Māori in Auckland having been tested in the past 14 days. "This is very important for us being able to identify cases there."
He says there has also been a slight increase in the positivity rate, but it remains one of the lowest, if not the lowest, in the OECD.
Modelling of the R-value shows projections for where case numbers are expected to go. Bloomfield says vaccination rates can be expected to have an impact on the R-value.
He says hospitalisations last week were higher than what was expected, but ICU rates remained low.
Most cases are among the unvaccinated or partially vaccinated, he says, and the impact of vaccination on hospitalisations "is even more profound", as can be seen from the data.
Bloomfield says the low number of deaths from the outbreak so far reflects the number of vaccinations, the younger average age of those infected, and the treatments becoming available in hospital.
He says even in the upper projections, hospitals and ICUs in Auckland will be able to manage.
Bloomfield says there is a low risk of undetected community transmission in Christchurch. He says there are explanations for the positive wastewater testing results.
Ardern says daily case numbers do not say much about how the Covid-19 response is going.
She says she will travel to support Northland's vaccination efforts tomorrow, and on Wednesday will be in Whanganui to support the vaccination teams there.
There were 162 new community cases of Covid-19 reported today, 156 in Auckland and five in Waikato.
More than 3.1 million New Zealanders are now fully vaccinated.


---