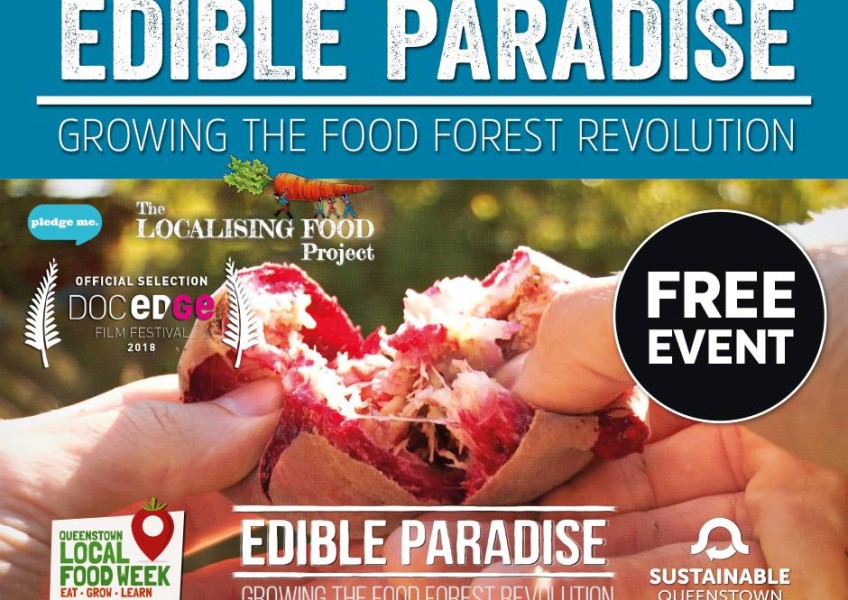 Let's celebrate food!
by Jane Guy - Sep 13, 2018
---
Sustainable Queenstown has joined forces with local businesses to celebrate eating (we like this!), growing and learning all about good food. Eating well is the basis of good health for me, I eat badly and everything else goes out the window. Add a heady mix of sleepless nights, no exercise and a pinot or five and it all adds up. Learning together as a community about what fuels our bodies is a wonderful way of connecting.
Here we have a week long celebration with events with restaurants, educators and people who are interested in knowing where their food comes from and how to grow, find food and compost.  Join the mailing list here.
Be aware some of these are full already so be quick!
● 14 Sept > Edible Paradise screening with intro and Q+A with Robert and Robyn Guyton and spring seed swap at Queenstown Library
● 15 Sept > Apple Grafting Workshop at Sherwood
● 15 Sept > Re-localising Our Food presentation and discussion with Robyn Guyton at Sherwood
● 16 Sept > Grow your own herbal tea with Josie from Gardens without Borders at Queenstown Community Harvest Gardens
● 16 Sept > Edible Weeds Walk with Bruce Thurlow at Queenstown Community Gardens
● 17 Sept > Kiwi Harvest launches
● 17 Sept > Doctor Compost - Easy Ways to Compost Workshop at Sherwood
● 19 Sept > Doctor Compost - Grow your Own Veggies Workshop at St Margaret's Presbyterian Church
● 19 Sept > Come to the table - Join a panel of guest speakers for breakfast and a lively discussion on local food production and sustainability at Jack's Point Clubhouse
*For an up to date list of events and bookings please refer to the Sustainable Queenstown Facebook Page.
About Sustainable Queenstown Charitable Trust:
Sustainable Queenstown is a leader in environmental education, thought leadership and innovative sustainable solutions. We are a registered charity, with any profits reinvested into our projects to create a more resilient future.
Sustainable Queenstown was formed in 2015 as a grassroots community group. Governed by a group of passionate trustees and with over 2000 members. Our aim is to connect people to people, people to the environment and people to new ideas and solutions. We inspire change!
For more information:
Lou Vicente, Sustainable Queenstown Trustee.
0226809870

---