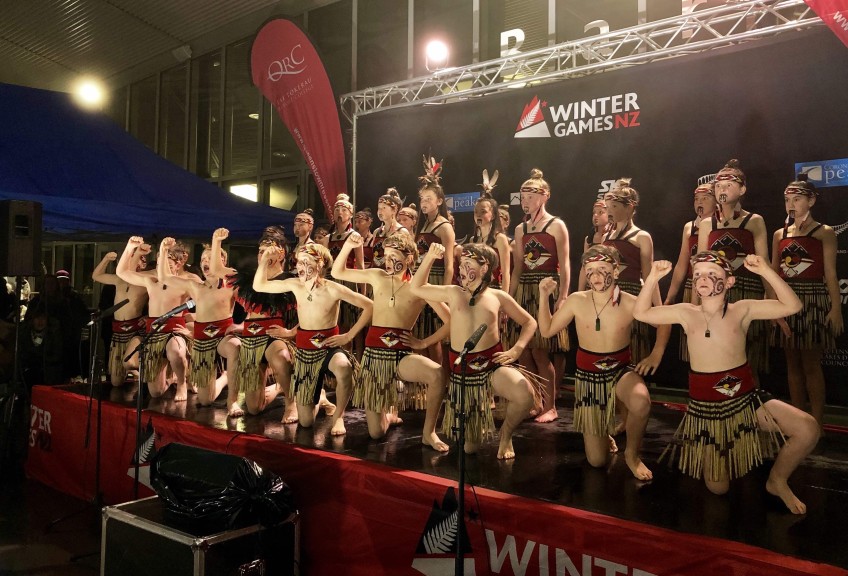 Winter Games cements it's place in the world of sport
---
The crowds (and a bare-skinned Kapa haka group) braved the snow at Coronet Peak this evening for the opening of the 7th Winter Games. Local philanthropist Sir Eion Edgar, who founded the games in 2009, says while it's been hard work to get it where it is, the event has become a permanent fixture on the world's snow sports circuit, making a massive contribution to the local economy.
The Games have become the world's third largest winter sports event, and kicked off with a bang tonight with the finals of the Night Parallel Slalom. The Games bring local and international athletes together to compete across Queenstown, Wanaka and Naseby, with 26 events over 6 venues, from today until September 7.
It's not just fans and athletes that reap the benefits. Sir Eion, who is the former chair of Forsyth Barr and has contributed significantly to the Southern Lakes community, says the event contributes a minimum of $10 million to the local economy.
"The wonderful thing about The Games is that the average competitor's stay is over three weeks - they're here to train and everything. It's a much bigger multiplier," he says. He says while the event is hard work, particularly without a major sponsor this year, the success of local athletes like Nico Porteous and Zoi Sadowski-Synnott has helped grow awareness.
Grant Robertson, Minister for Finance and Sports, who officially opened the Games, was quick to recognise the work of Sir Eion. "I know you don't like to be singled out, but the community, and in fact this whole country owes you a debt of gratitude for bringing the Winter Games here," said Minister Robertson, addressing Sir Eion. "If you get something going for a decade, you're onto something good!"
Having moved to Queenstown with his wife Lady Jan 15 years ago, Sir Eion shares his thoughts on watching it change. "When you live in one of the most attractive places in the world, which goes for Wanaka as well, of course the numbers are going to grow. So we have to accept it, but as far as tourism goes, we're much better to have quality over quantity. Like the Switzerland's of the world, attract people who are prepared to pay."
This year, both Coronet Peak and Cardrona will play host to the alpine ski racing programme, which includes the Giant Slalom, Slalom, Para Alpine Slalom and Super G. Cardrona will also host the freestyle skiing and snowboarding world cups, and the Park and Pipe events.
The Remarkables will host the North Face Frontier, where skiers and snowboarders ride from the top to the bottom of the natural (ungroomed) face and are judged on their style, speed and tricks. Curling will be held in Naseby, cross country events at Snow Farm NZ, and Ice Hockey at Queenstown's Ice Arena.

---