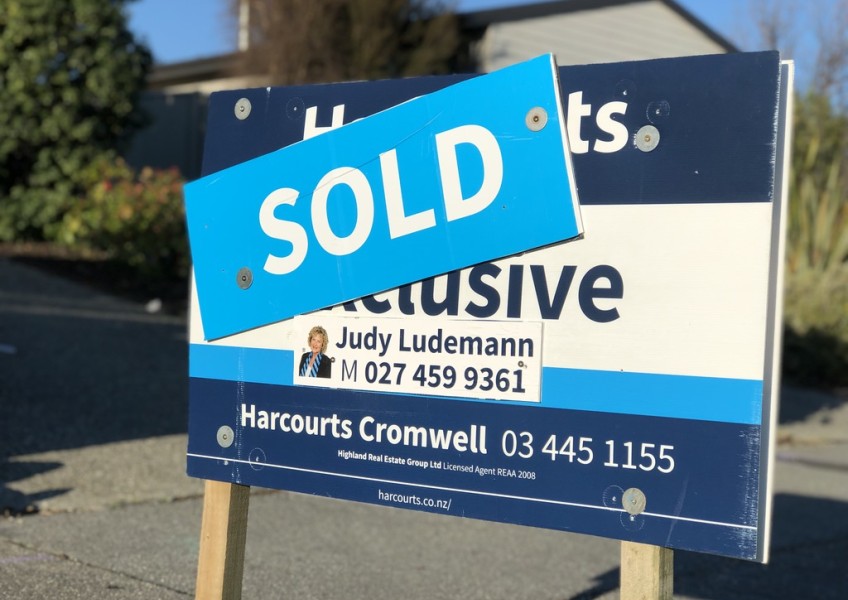 Winners and losers as Covid tests local housing market
---
After a rip-roaring start to the year, the answer to where-to-now for the region's property market involves a fair amount of crystal-ball gazing.
What real estate agents and commentators Crux spoke to do agree on is this: "Expect change, and expect there to be some winners, and some losers."
March figures supplied by realestate.co.nz show a slump in the number of new listings for many regions around the country as Covid restrictions ramped up towards month-end.
However, figures locally bucked that trend. The number of newly-listed properties for sale in Central Otago and Southern Lakes in March was up by more than 18 percent, buoyed by a whopping 82 percent increase in new listings in Wanaka.
Plus, there was a healthy asking price for these new listings – up 7.3 percent across the region, thanks, realestate.co.nz's Vanessa Taylor says, to some "phenomenal" properties in Queenstown.
Ms Taylor says it's a waiting game to see what the property market does in the face of Covid-19.
"I honestly think it's too early to tell."
Housing market to be tested
Meanwhile, in their latest edition of Home Economics, a regular wrap on all things housing, ASB's predictions are grimmer.
While the market got off to a flying start this year, Covid-19 has changed the game: The economy is headed for recession and the bank has slashed its housing price inflation forecasts accordingly, it says.
"We are now forecasting small house price declines for the next two quarters, and annual house price inflation to slow to zero by March 2021."
Both demand and supply are likely to take a knock.
"Demand is likely to tail off first and listings to follow as sellers pull back and await better conditions."
Real Estate Institute of New Zealand regional manager Gail Hudson says, while local salespeople are still receiving enquiries, the level of interest has dropped considerably since the country went into lockdown.
At this stage, she's far from painting a picture of impending doom and gloom, however, despite the region's tourism-reliant economy being set to take a thrashing.
How hard a hit a homeowner takes will depend on individual circumstances – pressure to sell as a result of unemployment or business stress, for example – she says.
The market constantly evolves
She's confident the property market will weather the Covid-19 storm, in the same way it's weathered storms in the past.
"I think things will change…Nothing stays the same in real estate, there's no guarantees.
"There will be a shift, and some people are going to benefit from that, others not. Buyers and sellers are both always looking for opportunities."
She can't see the Kiwi love affair with property changing overnight.
"I'm quite confident there won't be any great halt or any surge forward. As always, it will depend on people's individual circumstances," she says.
"People are still adding to the family, separating from the family…those things don't change."
And, for some, lockdown will be a catalyst to sell: "Some people, after being locked up at home, are going to decide at the end of four weeks or more that they need a bigger house."
Safe haven
As was also the case in the turbulent times initially post-September 11, Ms Hudson says agents have already seen a significant amount of enquiry from expat Kiwis keen to explore a move home.
"I remember September 11, we saw people wanting to move back here because New Zealand is seen as a safe haven, and our area in particular is pretty appealing."
Lockdown in this neck of the woods has been relatively idyllic (local economy and infections aside), with mountain views and lake or riverside strolls and bike rides options for many (within the "stay local" rules) she says.
"Imagine living in London or New York with children."
Over at realestate.co.nz, Ms Taylor says website traffic shows buyers are still active.
Would-be purchasers with unexpected time on their hands are spending longer browsing properties online, while vendors are able to take advantage of tech-savvy selling tools such as floorplans, 3D walkthroughs and video content during lockdown when homes can't be viewed in person, she says.
What's unknown at this stage, is what level-three, or lower, lockdown looks like for the real estate industry.
While those already locked into selling may be making the most of the unexpected opportunity lockdown provides to patch up and prepare their property for the market, details on when open homes and physical viewings can once again take place are still up for discussion, she says.
Attempts to 'cushion the blow'
Keeley Anderson, a real estate agent with Tall Poppy, based in Cromwell, reckons there are already vendors across the region under pressure to sell, attempting to cushion the blow of the impact of the virus.
Queenstown and surrounds were thrown an early punch by Covid, when travel restrictions saw international visitor numbers drop, she says.
"We were ahead of the market in that respect."
She's picking there may be an influx of buyers in Cromwell from Queenstown and Wanaka, seeking to reduce some financial pressures while staying in the area.
People will look to sell to free up capital to aid failing businesses, while other smaller players in the tourism game will also be facing pressure.
There are pockets, like at Jack's Point and Hanley's Farm in Queenstown, where people have built homes with self-contained units on the section to help pay the mortgage, Ms Anderson says.
"They will now be carefully considering their options."
Those running an Airbnb business as a sole trader may be eligible for the Covid-19 wage subsidy, if the business has suffered a greater than 30 percent reduction in revenue, so there's some relief for those who've been operating holiday accommodation by the book.
First-home buyers
Anaemic supply and red-hot property price increases have meant the Central Otago and Southern Lakes region has been historically a tough spot for first-home buyers to secure a place to call their own.
Now, Ms Anderson says fresh-faced buyers relying on their KiwiSaver funds to get into a home are facing an even longer road to get there, as they brace themselves to see the impact Covid-19 will have on their nest egg.
But, it's not all bad news.
There's others, who have been quietly saving away, and an event like this may just help open the door to their first home, she says.
"I've worked with many people in the second group who would have built up a sizable deposit and will now expect to be able to buy, if they have job security."
Newly-minted homeowners may be safe, depending on how thin they spread themselves during mortgage negotiations and their job security.
If they have enough equity in their homes, a financial plan in place and are taking full advantage of the low-interest rates on offer, they should be in a safe position, Ms Anderson says.
"Our banks are doing all they can to help homeowners, so if you are in a difficult situation, make sure you talk to your bank about what is possible."
Win for renters
Tenancy Services puts median weekly rents in Queenstown at a disposable-income-slicing $700. In Wanaka, the figure is $590.
Commentators, the Queenstown Lakes Community Housing Trust among them, say the large number of short-term Airbnb rentals are partly to blame for high rents and house prices that squeeze workers and families out of the tourist towns. That pressure may now ease, resulting in lower rents as the Airbnb market struggles and shrinks.
Ms Hudson agrees accommodation costs have impacted on the region's ability to attract and retain workers in many essential industries, and Covid may change the playing field.
"If it becomes viable to rent or buy at a lesser price, if there was a shift, even a little bit of a shift, it doesn't have to be great, it will be easier to attract talent because right now they struggle to get professionals to come and live here because our house price and our rental price has been up there with Auckland.
"So, that could work as a plus, that's opportunity."
She acknowledges unemployment will grow, people are already out of work, she says, but some workers will pivot to other regional industries, viticulture, horticulture and agriculture among them, who'll depend on an increased local workforce as travel restrictions continue.
The good life
Like Ms Hudson, Ms Anderson's still receiving queries from interested buyers – the reasons why most people move home, significant life changes like a growing family, a new relationship and work relocation haven't disappeared – but things are definitely quieter.
A potential lockdown silver lining, she says, will be businesses realising the benefits of working remotely, and Central Otago and Southern Lakes is sitting pretty in this regard.
"I believe more people will want this flexibility, and we could see more people considering a move south if they can still work remotely.
"It could open the door for people from Auckland, Wellington and Christchurch, who want to live in the area but doing so has previously not been logistically or financially feasible."
Lockdown has provided people with time for "serious reflection", she says.
"I think we will see a huge number of Kiwis re-prioritizing and working out what is actually important for them and their families.
"This fundamental shift in thinking will drive a lot of decisions relating to where people want to live and how they want to live. We could potentially see a lot of movement around the country as people seek a better work-life balance."
With challenge, comes innovation
Ms Anderson's predicting the number of cranes on the skyline to drop.
Building worksites across Queenstown, Wanaka and Cromwell have come to a grinding halt during the lockdown.
"Once we move through the pandemic, we'll see some existing developments finished, but anything in the planning phase is likely to be parked - it really depends on how diverse a developer's portfolio is."
The pandemic may have opened an unknown chapter of economic uncertainty for local investors, but challenges are something they have faced before.
"There's no doubt our region is under incredible pressure, but from this pressure comes innovation and it's encouraging to see the work underway to identify new markets."
Main image credit Kim Bowden


---