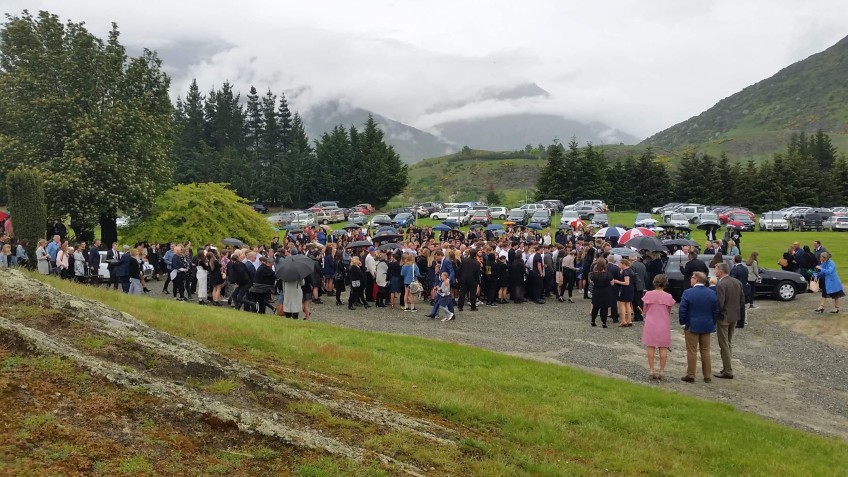 WHS suspends classes as funeral tributes paid to teacher Kate Moetaua
Nov 16, 2018
---
The teaching staff of Wakatipu High School have contributed to this tribute to drama teacher Kate Moetaua, who died at the age of 45 after a long battle with cancer last week. Her funeral was held this afternoon at the Moonlight Stables.
This afternoon the Queenstown community honoured a dearly loved teacher and mentor.
Kate Moetaua, 45, who passed away on Friday 8 November after a courageous battle with cancer.
Kate taught drama at Wakatipu High School and was a significant mentor, teacher, director, coach
and friend to many in the area. The school closed this afternoon to allow staff and students to grieve
and acknowledge Kate's contribution to the community at Moonlight Stables.

In the winter of 1996 she arrived in Queenstown as Kate Glover from Blenheim for some
snowboarding and fun. This short holiday extended into a long stay after meeting Teaukura Moetaua
who she described as "a freaky, car-mad, league-mad, quiet, caring passionate family man with a
winning smile."

Queenstown became their home and Kate soon put her speech and drama qualifications to work in
establishing her own drama school: the Kate Moetaua School of Drama. Her signature energy and
enthusiasm attracted a large, loyal student base and 20 years on, her work still nurtures young
Queenstown talent under the name of DRAMA Queenstown.

Always looking for the next challenge, Kate decided to gain her teaching diploma through distance
learning. With her usual mix of calm discipline and determination she juggled study, part time work
and having a family. Of course, there was also time to become a published author and many children
still claim "Papa's Donuts" as a favourite.

After completing the practical component of her teacher training at Wakatipu High School in 2010,
she was quickly offered a part-time position which by 2012 had turned into a full-time role.
Kate became deeply involved in many facets of life at Wakatipu High School — and not just in the
Arts. She was also a mad sports fan and directed her relentless energy into coaching netball and
supporting the rugby league team. She opened her home to many players in the league community
and considered the boys children of her own.

In time, Kate became the dean of Mackenzie House, a role that showcased both her competitive
spirit and fierce support of students in her House.

It would be an understatement to say that Kate always put relationships with her students at the
centre of her teaching practice. To her drama students she started the year as Mrs Moetaua but by
the end of Term 2, she was simply "Kate". She didn't teach students for a single year; Kate became
a teacher for life.

Under her patient guidance Wakatipu High School students discovered unknown talents and her
belief in them formed lasting relationships. Her mana, humour and warmth made the drama room a
haven, where students and staff knew there was always a listening ear and if necessary, a guiding
hand.

Kate was stern and strict when it was needed, but always gentle, kind and completely unflappable. It
was her firm and consistent belief in her students' innate abilities that brought out the best in them.
She regularly brought home accolades from the One Act Play competition, the Sheilah Winn
Shakespeare Festival and the Otago Southland Musical Theatre Awards. Kate was instrumental in
two students being selected for the NZ Young Shakespeare Company that travels to the Globe
Theatre each year.

In December 2017 as her illness worsened, past students demonstrated their heartfelt appreciation
for their mentor by hosting Made by Kate , a variety show to raise funds for her treatment. " Kate has
changed the course of so many of our lives, and this performance gives us the chance to express the
love and appreciation of this special woman, whilst showcasing the fabulous talent that she has
inspired."

Many of the numbers came from the musicals Kate directed alongside Alison Price, which are now a
firm fixture on the Queenstown arts calendar. To the amazement of onlookers, Kate used her quiet
but firm directing style to transform a large group of wide-eyed teenagers into musicians, actors,
dancers, set designers and lighting and sound technicians, empowering them to stage musicals of a
highly professional standard. Most schools would stretch to put on such an event every two years
but as soon as one WHS musical wrapped, Kate would be busy planning for the following year.
In the words of one former student, Kate transformed many people from "shy, snivelling children into
amazingly confident performers and is a constant source of energy, passion, enthusiasm and love."
But family always came first for Kate who is survived by her loving husband Teaukura (T) and their
three daughters Anika, Aya and Malia. One of Kate's final wishes was that a foundation was set up
support talented people in the sporting and Arts arena so to honour this the Kate Moetaua
Foundation has been set up . This Foundation Endowment Fund will provide an opportunity for Kate's
children to carry on the work that their Mum started through distributing money from the fund to
talented and aspiring young sports people and artists to help them achieve their dreams.


Main Image: This afternoon's funeral service for Kate Moetaua at Moonlight Stables.

---