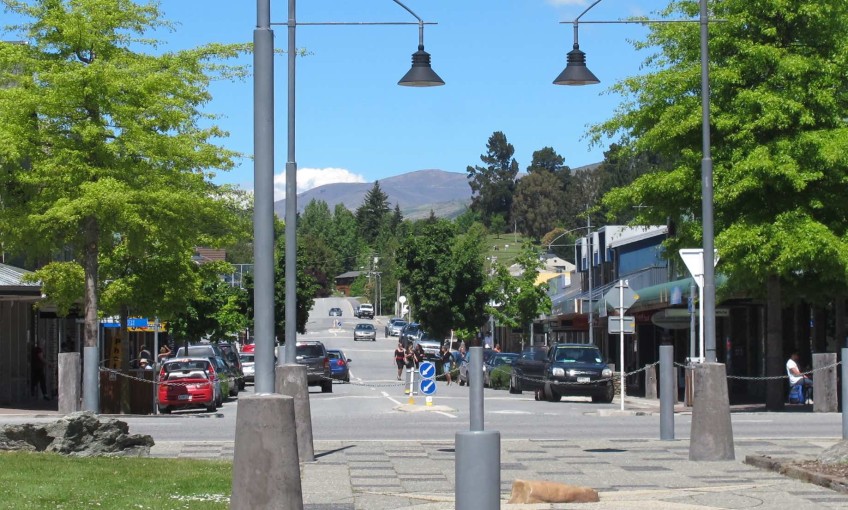 Wanaka's wish list for the future
by Kerrie Waterworth - Oct 30, 2018
---
The Wanaka Town Centre Masterplan project has reached a significant milestone with the release of community ideas and insights into what would make residents spend more time in the Wanaka town centre.
As part of the community engagement process, Queenstown Lakes District Council ran a four week campaign in September to find out what people cherished about the Wanaka town centre, what they found challenging about it, and what changes they would like to see happening now and in the future.
General Manager Property and Infrastructure Peter Hansby said during the "join the conversation" campaign the council received more than 790 pieces of feedback and spoke to hundreds of people from the Upper Clutha community.
Mr Hansby says "This shows how engaged Upper Clutha residents feel about the future of their town centre."
The next step is for the feedback to be fed into a vision and key outcomes workshop with community stakeholders and the project team.
"This is a really important part of the project – everything we do will be tested against the vision and outcomes to make sure we're proposing the best possible outcomes for the Wanaka Town Centre and community."
Mr Hansby says the QLDC has appointed a consultant team made up of Stantec and Jasmax to complete the Masterplan and associated Integrated Transport Programme Business Case," he said.
Crux asked Mr Hansby for a comment on why the development of the Wanaka Town Centre Masterplan appeared not to be taking into account the proposed redevelopment and expansion of Wanaka airport by the Queenstown Airport Corporation but Mr Hansby was not able to respond by our deadline.
The September community feedback on the Wanaka Town Centre Masterplan released today found 62% of those who "joined the conversation" agreed the QLDC is heading in the right direction and 33% agreed somewhat with these themes, but some elements were missed or needed expanding.
In response to the question "What one thing you would change today to improve the town centre?" The top ten suggestions were:
1.  PEDESTRIANISATION OF HELWICK AND ARDMORE STREET
2.  REMOVE PARKING ON LAKEFRONT AND PROVIDE DESIGNATED PARKING AREA FOR CAMPERVANS
3.  REMOVE SPEED BUMPS ON ARDMORE STREET OR CONVERT TO ZEBRA CROSSING
4.  MORE SHORT AND LONG TERM PARKING OPTIONS
5.  ACTIVE TRAVEL ENCOURAGED THROUGH IMPROVED CYCLE PATHS, BIKE HIRE AND DROP LOCK STATIONS
6.  PUBLIC ART AND PERFORMING ART FACILITY
7.  CENTRAL CAR PARKING BUILDING
8.  ENHANCED PUBLIC REALM INCLUDING SEATED AREAS, GREEN SPACES, STREET LIGHTING AND  WIND PROTECTION
9.  AFFORDABLE PUBLIC TRANSPORT OPTIONS
10.  INTEGRATION OF BUSINESS ACTIVITIES WITH STREETSCAPE  SUCH AS CAFÉ TABLES AND STREET MARKET
 In response to the question  "Looking ahead 30 years what is one thing that would motivate you, your kids or your grandkids to spend more time in your town centre?"
The top ten responses were:
1.  PEOPLE CENTRIC SPACE
2.  ART AND CULTURAL FACILITIES
3. SENSE OF COMMUNITY AND BELONGING
4. PEDESTRIANISED STREETS
5. VIBRANT AND INTIMATE TOWN WITH AUTHENTIC RETAIL OFFERING
6. ENVIRONMENTAL SUSTAINABILITY
7. CONNECTIVITY TO THE LAKEFRONT
8. INTERACTIVE AND WELL CONNECTED COMMUNITY SPACES
9. SAFE ACCESS FOR PEDESTRIANS AND CYCLISTS
10. ADEQUATE CAR PARKING FACILITIES
Here is a snapshot of some of the 790 pieces of feedback found online at https://www.qldc.govt.nz/assets/Uploads/Wanaka-Town-Centre-Masterplan-Commuinty-conversation-engagement-insights-Website-Sept-18.pdf
Have we missed anything, if so what did we miss?
1.An assurance that developers will not have a monopoly on profiting from any/all waterfront developments, that the community should profit from any developments, and those funds put back into providing community and tourist facilities, to reduce strain on cost of living and rate payers having to pay the bill for the growth
2.Queenstown airport to remain primary airport in the area (no QLDC funding to support commercial flights into Wanaka)
3. Everyday Wanaka resident services, e.g. petrol, supermarkets, pharmacy etc. need to be encouraged to set up outside the town centre so we don't have to go there.
Name one thing that would change the town centre.
1.Closing traffic from Helwick Street between Dunmore and the lake front to create a "outdoor mall." remove main thoroughfare and parking space from between the lake and the town centre and make it largely car free better parking
2. Take traffic away from lakefront and put bike and walking tracks there instead
3. A greater focus on public arts and culture for the community to share in
And looking ahead, what would be one thing that would motivate you, your kids, and your grand kids to spend more time in the town centre?
Dinosaur park for adults in current car park near lake. Imagine if you actually went to town to have a stretch workout!
if Wanaka and town centre becomes more bike friendly ... biking as a form of transport like in Europe
Keeping the place to a modest scale which interfaces easily with our wonderful natural environment.  There are many many places around the world where the natural environment has been sacrificed in favour of the perceived need for growth to accommodate visitor demand. Queenstown is today a much less attractive place than it was a few years ago because of such pressures. Visitors themselves will tell you that. Do we just accept the inevitability of travelling down that same road? Or, do we look ahead to the end game of that journey and understand that if we are to retain the very things that we as residents value about our town and community, and indeed the very things that visitors come here for, then we must exercise some form of control over the numbers of visitors we can accept. To simply acceptable whatever numbers of visitors "the market" delivers, and in particular the number of visitors which the airport wants to plan to deliver, is going to inevitably have us chasing our tail in trying to catch up with the endless infrastructure shortfalls. The financial pressures of this and the constant inconvenience of construction, the expansion into the rural environment, the resulting environmental degradation through pollution, are the opposites of all the things that the residents choose to live here for. If we are truly PLANNING ahead for the next thirty years, then we need to be up front about where we are headed and get some consensus about the big issue of capacity to accept either;  an unlimited number of visitors, or  A limit to what the town of Wanaka is able to accept without sacrificing our place as an increasingly rare example of a beautiful and unspoilt piece of natural paradise.
The vision and key outcomes workshop will be held in November.
The next round of community engagement is expected to start in March 2019.

---