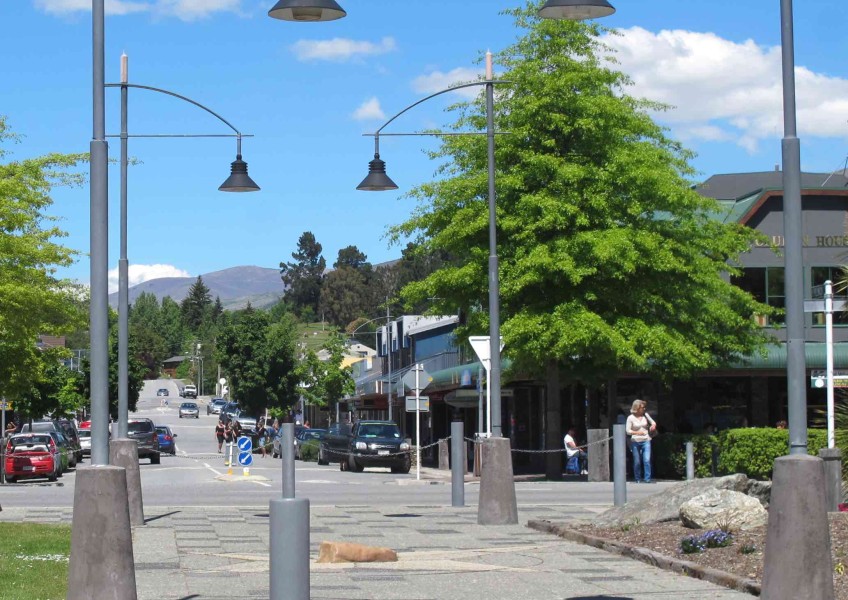 Wanaka's events: are they worth the hassle?
---
Wanaka locals support downtown events but want better planning to ease traffic congestion and avoid the events occurring simultaneously.
Questions were asked on social media following this year's Challenge Wanaka triathlon and the Wanaka Show, about whether the events' benefits outweigh the hassles.
Roads and some car parks are closed for both events and town centre traffic is congested. And in recent years the Wanaka Show and the popular Motatapu marathon and mountain biking race, which starts at Glendhu Bay, have been held on the same weekend.
Locals' views
One local said while the Wanaka Show's free park and ride service from the outskirts of town has "helped enormously" with congestion and parking problems, he supported moving Challenge Wanaka to late spring or autumn during the off-peak tourist seasons.
More work needed to be done to identify and publicise alternative routes around the town centre for traffic, another local said, with bus companies, hotels and possibly GPS map providers informed of the temporary changes. "Perhaps invoke a specific events planning team…where people don't have to re-establish the challenges each time. Instead they can call on a group of experts to consult."
What retailers think
Most Wanaka retailers spoken to by Crux said congestion and parking problems did not detract from the events' benefits. Most saw extra custom as a result and, even if they did not, they appreciated the events were good for other businesses or sectors of the community.
"I don't get lots of customers but (the events) are no trouble…that's the nature of town -
weddings, sports events, shows – there's something on here every weekend. Get over it," said Paper Plus manager Chris Lumsden.
Soul Food owner Paul O'Hara said he lost a few local customers while the events were on, as some found it a hassle to get into town and find a car park, but tourists visited the shop and "locals come the next day. "That is what Wanaka is about – it has always been about events – it's a resort town. Our local population is founded on tourism as a main source of income."
The owner of Wanaka homewares and gift shop Kaleidoscope, Helen Johnston, said while her business did not benefit greatly from the events, particularly since the number of commercial exhibitors at the Wanaka Show grew, events were vital to the town. "For the little disruption we have, it's not like it's for weeks on end.
"Locals and business people have to be a little sympathetic while it's going on because I'm sure we all see a brush off."
"Anything that brings people into town is great for business," said Soul Clothing manager Chelsea Ivey. "There definitely is the loss of car parks and congestion but…for two or three days it's not a big deal."
Structure For Men director Sandy Limmer said she saw the benefits of the Wanaka Show, but the timing of Challenge Wanaka had a detrimental effect on her business.

Weddings were a large part of her menswear business and the timing of Challenge Wanaka clashed with the peak wedding season, resulting in a lack of accommodation, she said.
Another Wanaka local questioned the economic benefit of the events. "I do wonder about the numbers that are quoted for large events and how much they allegedly bring into town. I find it very difficult to believe that Challenge (Wanaka) brings $5 million in. Given that MBIE (Ministry of Business, Innovation and Employment) reckon visitors spend about $200 to $300 a day and a huge proportion of competitors are locals anyway."
Figures from event organisers
Victoria Murray-Orr, former Challenge Wanaka race director for 10 years, said an economic benefit study based on the number of nights the event's visitors stayed, the amount they spent and the earlier training trips estimated the triathlon was worth $4.5 million to the town annually. "We know they spend a lot of money. Athletes are very driven people, personally and professionally, they're high up the pay grade. And it's not just them - they might go to bed early, but they've got a support crew and kids who go shopping. And every athlete goes out for meal and a drink after race day."
A builder, for example, might not think they benefit from Challenge Wanaka but if a café has a record February as a result, the owners might be able to afford to renovate their house. "There's a knock on effect," she said.
Plus promotion of the area: "People reading about it in a magazine and thinking 'let's go there' – there's no way of tracking that (but) the exposure Wanaka has had to the sporting world, around the world, has been huge – TV, press, word of mouth.
"It's a small community and every event organiser recognises that they will ask a lot of a very few, but the feedback we get is how friendly, welcoming and wonderful Wanaka is."
There was also a huge non-monetary benefit, she said, with Challenge Wanaka and the Junior Challenge for children "inspiring" locals to get fit and compete.
"Some of my proudest moments working on Challenge Wanaka were in the supermarket when someone would come up to me and say 'I'm going to do the run in a team this year, I've never done anything like it'. Middle aged people who've probably sat on the sofa suddenly running a half marathon. There's now a lot of fit or fitter people in Wanaka."
And, through Junior Challenge, children were growing up knowing the importance of an active life, she said.
Long-time Wanaka Show event manager, Jane Stalker, said authorities need to ensure events were not scheduled at the same time.
Town was "chocka" at these times, she said, but it was not just due to the events. Growing tourist numbers in general and more tourist attractions contributed.
A 2015 economic impact report found the Wanaka Show contributed $11 million to the local economy per annum, based on visitor interviews about how long they stayed, how they travelled here and how much they expected to spend.
Local businesses who exhibited at the show, plus those who did not, benefited, along with local community and sports groups which provided services for fundraising purposes.
Local services were also used, she said, for the likes of signwriting, security, portaloos and cleaning. "Sometimes it's hard to see that if you're not directly involved and I appreciate that."
The national and international news coverage was also hugely valuable to Wanaka, Stalker said.


---