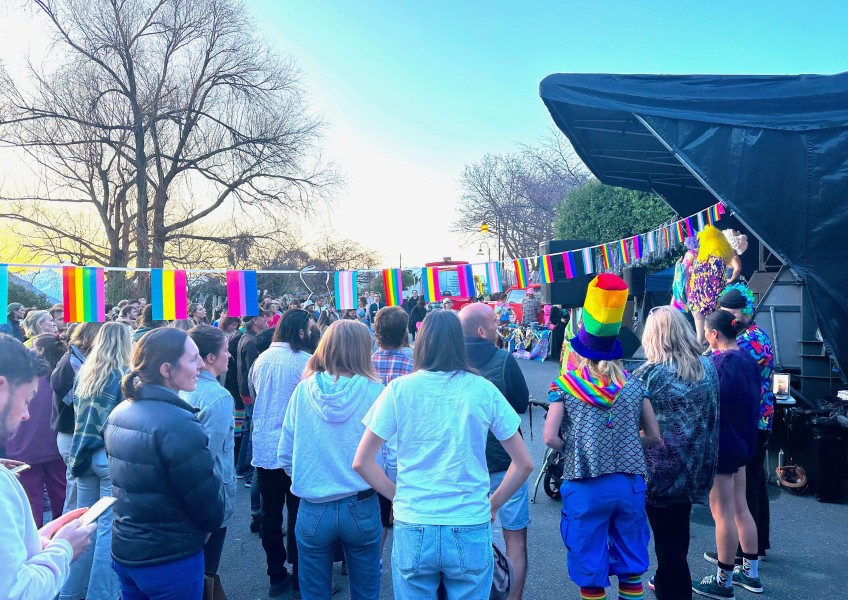 Wānaka embraces town's first pride party
---
The event going doing down in history as Wānaka's first Pride Street Party has been welcomed by locals as a great success as well as a celebration of its LGBTQIA+ community, complete with live drag performances, painting, food, a living library and a craft market experienced by hundreds of party participants.
Set up inside Lake Wānaka Centre was Lizzie Thomas of Ellaquaint selling her watercolours, one of the twenty stallholders at the market. Ms Thomas is also a former school teacher, who's had stints working in Taranaki and Auckland, working at schools with varying levels of support for the LGBTQIA+ community.
Ms Thomas says seeing members of Wānaka's community who "felt free to express their intolerance", made her want to participate.
She's seen the difference it makes when kids are supported to be themselves, teaching at schools where kids were free to come out and others where kids were "pushed so far into the closet".
During her time teaching, she's had a student transitioning in her class, and he was really "celebrated".
Being a teenager, and a part of the rainbow community is hard enough, let alone in a community where there is push-back against it, Ms Thomas says.
She also does secondary relief teaching at Mount Aspiring College and says the school is doing a great job at queer visibility, with a number of supportive pride stickers and posters up around the school.
The pride party was originally organised in response to rainbow youth being targeted at the high school as well as a parent at Mount Aspiring College encouraging students to wear black in opposition to a Wānaka pride march.
However, on the day, there was no evidence of homophobia and no opposition from those who had opposed the earlier march. Instead, hundreds of Wānaka residents, many decked out in colourful clothing, danced along to DJ's at the event stage.
Sporting purple pants and purple eyeshadow on the day was organiser Amber Perry saying she "couldn't be happier" with how everything turned out, seeing such a diverse mix of people coming along; families, and people of different ages.
During the pride party, she says attendees kept pulling her aside to tell her what a great event it was and "the energy has just been so incredible".
She's super excited for the years to come, and to make the pride party bigger and better.
Anneli Jacobson of Pints and Paints, a paint and sip business in Wānaka, had set up a canvas for attendees to paint their hands to show they stand with or are a part of Wānaka's rainbow community.
She says "Wānaka's pretty shockingly homophobic" at times and the recent events of this year were the reason she came out.
Ms Jacobson also got on board with the event's raffle, contributing a paint-and-sip experience, wanting to show her face and be supportive.
Community Board deputy chair, Chris Hadfield also came along to support the event and the people in Wānaka who have experienced community pushback to their sexual orientation.
Living in Wānaka, Mr Hadfield says he feels comfortable being out and hasn't experienced any of the anti-queer sentiment that's circulated at the high school.
He was surprised by what's been happening at Mount Aspiring College, having visited the school himself on mufti day last year, and saw students wearing colourful outfits and men in dresses.
To him, it seemed like the school had "the best inclusivity".
The Pride Party was also a great opportunity for local artists and creatives to showcase their work and get more visibility in their community.
Down at the event's chill out zone, local poets shared pieces they'd written about coming out, doing drag, neurodiversity, and gender-questioning, the stage also hosted a variety of musicians.
Art school graduate Frances Hensen moved to Wānaka in February, and at the Pride Party's craft market was the first time she'd ever sold her art.


---