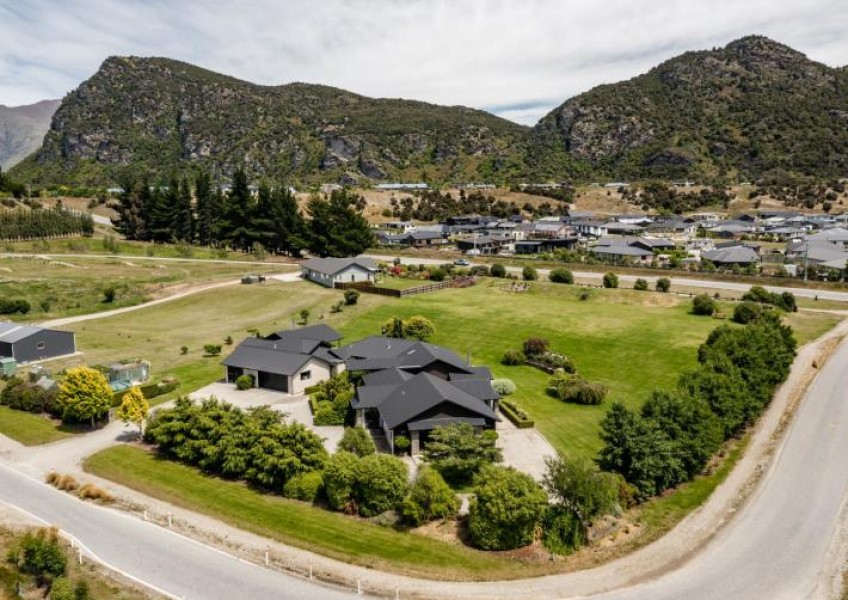 Wānaka women to birth in former luxury lodge
---
A former luxury lodge in Albert Town is set to be converted into a long overdue birthing centre for Wānaka families.
Te Whatu Ora Southern, which replaces the Southern District Health, has today confirmed it has purchased the eight-bedroom residence on Monteith Road to house a Primary Birthing Unit.
How much the taxpayer paid for the 6,196-square-metre property is undisclosed, but homes.co.nz estimates its value at $2.07million.
Hannah Gentile, Te Whatu Ora Southern's acting service manager primary maternity, says she estimates approximately 100 women in Wānaka will birth at the unit each year.
"Dramatically cutting down their travel time to a birthing facility and allowing for a midwifery model of care which meets the needs of the community, on their own doorstep."
The residence was marketed for sale by Sotheby's International Realty as an eight-bedroom, six-bathroom home with a "grand entrance", "manicured, established grounds" and a "flexible layout".
In its resource consent application to the Queenstown Lakes District Council, the former Southern District Health Board says the residence will remain "largely untouched".
The unit will have one birthing room and three postnatal stay rooms.
"This beautiful birthing facility is a well-established property and will enable closer-to-home care in a welcoming and comfortable environment," Ms Gentile says.
It's welcome news for local midwives and families who have long campaigned for better birthing facilities in the town.
Crux has an archive of stories documenting the Russian Roulette decision Wānaka women have faced for years on whether to stay in town to birth or drive to Dunedin.
In 2019, Kristi James, one of the leading spokeswoman for change, gave birth in her own midwife's office.
There was a first chaotic attempt to establish a maternity "hub" for the town.
Morgan Weathington, the co-ordinator of the Wanaka Maternal and Child Hub, is welcoming the step forward in maternity care for the town.
"It is an incredible celebration for the midwives, families, and community stakeholders, who have advocated for a birthing unit in Wanaka."
The site is zoned rural residential – generally a healthcare provider wouldn't be expected to set up shop in such a zone.
However, in its decision to approve the resource consent, Queenstown Lakes District Council planners say the new birthing unit will "largely continue to appear as a residential unit from a visual perspective".
In addition, only a maximum of four women will stay within the unit at any one time, so any activity will be "relatively small scale".
It will not result in adverse effects on the character of the environment that are "more than minor", the council decision says.
Doors are expected to open in early 2023.
The new facility in Wānaka will complement the existing Central Otago Maternity Unit in Alexandra (the former Charlotte Jean building) and the Queenstown Maternity Unit at Lakes District Hospital.
It is part of a larger project that will also see the Central Otago Maternity Unit transfer to its new home in a brand-new purpose-built facility in Clyde, alongside Dunstan Hospital, projected for early 2024.

---