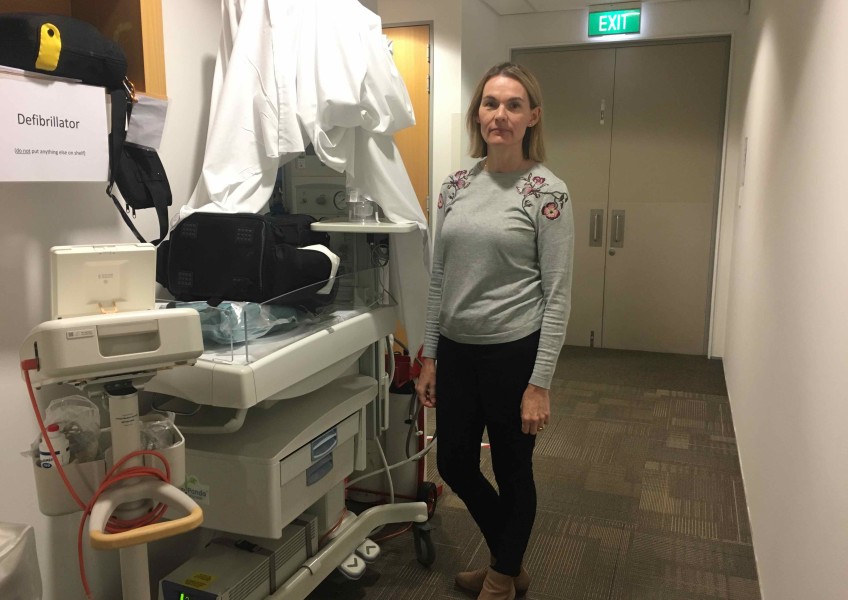 Wanaka's maternity hub - a storage corridor with some equipment
---
This is what SDHB CEO Chris Fleming calls the Wanaka maternity hub - a storage corridor with some equipment in it. Meanwhile across town there is no sign of action at the site of Wanaka's new maternal hub, and neighbours say they haven't seen any work being done even though the SDHB took possession on June 4th.
This is despite the current services being stretched well beyond their limits (and with extensive media coverage). The latest display of this was an early morning emergency birth in the midwives' consultation room, for the leader of the Save Our Wanaka Midwives group, Kristi James.
The SDHB announced a month ago that a new maternal and child hub was to be created at 21E Gordon Road (off Ballantyne Road). In the meantime, midwives are having to make do with facilities that fall well below what's needed, given Wanaka had around 200 women due to give birth this year.
SDHB chief Chris Fleming said in a press release on June 12 that there is an interim maternal and child hub set up and running within the Wanaka Lakes Health Centre (WLHC). But Deb Harvey, one of Wanaka's two full-time midwives, says the current facilities are nothing more than a shared clinic room and a hallway where equipment is kept.
"This is in no way a hub, it never has been. It's a storage corridor. If there was a woman with an emergency tonight, the situation would be exactly the same as it has been," says Ms Harvey.
That is, the emergency would have to be dealt with in the midwives' clinic adjacent to the WLHC, which currently consists of a bed, a toilet and some basic emergency equipment.
The midwives have a key to access the storage corridor in the medical centre after hours, but to access an emergency triage space they have had to wait to be let in via an after-hours team. In a development late this afternoon Ms Harvey told Crux that she has now been given a key to get into the medical centre after hours.
As Ms Harvey says, time simply doesn't allow for this kind of delay in an emergency. She also says she thinks the new space should really be built at the WLMC. "I think we need to stop faffing around offsite and find a permanent spot here - the new hub is in an industrial and residential area, not close to the helipad or support. It's just clunky and unsuitable."
Ms Harvey says the emergency equipment, while they have to cart it between the corridor and the clinic, is completely fit for purpose. It consists of a CTG, which measures fetal wellbeing, and a neonatal resuscitation machine, which she says they thankfully haven't needed to use.
In a response this afternoon the SDHB's Executive Director Strategy, Primary and Community, Lisa Gestro, told Crux:
"We lease midwives' clinic space and additional space for telemedicine once a month at the Wanaka Health Centre. In addition, there is a CTG and resuscitaire, purchased by Southern DHB, stored in shared space within the medical centre.
"Due to limitations with available space at the health centre, we had to look for offsite space to accommodate a full maternal and child hub. We've now leased suitable space that will be fitted out to include two clinic rooms and an additional treatment room that can accommodate unplanned births when required."
A plan for fitting out the new hub has been drafted and shared with midwives. We expect the new Wanaka Maternal and Child Hub to be in operation early in 2020."
According to the latest SDHB press release, the approximately 90m2 space will be completely refitted and is expected to include two, dedicated clinic rooms, an urgent treatment space, a lounge with kitchenette, equipment for tele-health consultations, plus supplies and medications for routine and urgent maternity care.
Main Image: Midwife Deb Harvey in the Wanaka "maternity hub" - in reality a storage corridor.


---