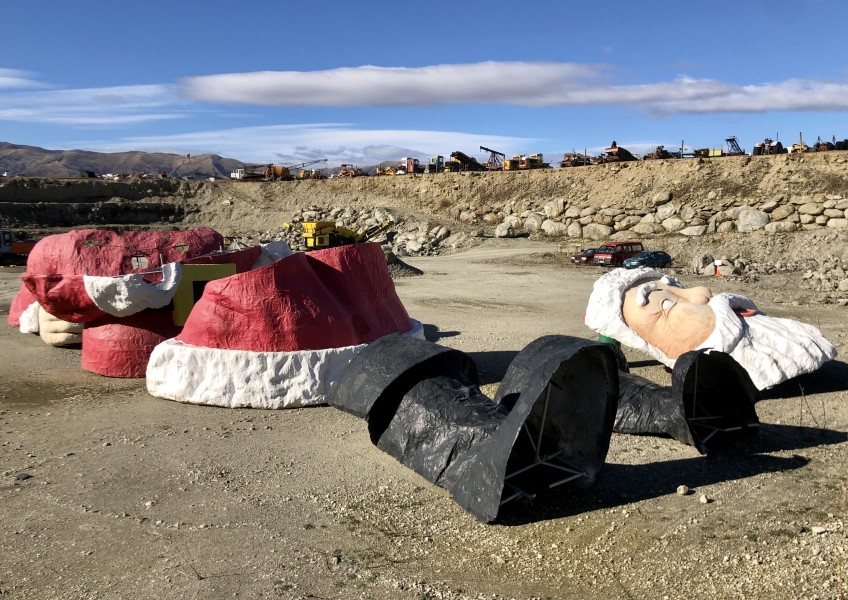 Wanaka second chance for Auckland's fallen Santa
---
Do not mention the phrase "creepy Santa" to Jason Rhodes.
The owner of Wanaka's National Transport & Toy Museum acquired Auckland's giant Santa at the end of last year, and plans to have him upright and spreading cheer by Christmas.
But first on the agenda is a total rebrand.
"I feel like he's been very much maligned by whatever individual started the rumour of him being creepy," Rhodes says.
"I feel it's without just cause because on the whole, he's brought a lot of pleasure to a lot of people.
"I'd like to see that reversed."
The 18m festive icon of downtown Auckland for the best part of 60 years is currently in a not-so-jolly state, lying in six parts in the bottom of a quarry behind the museum.
Rhodes has taken the past few months to evaluate Santa's condition, and says the restoration will take several stages to make it financially viable, including structural repairs and paint work.
"We'll start with the face and the first part of the body, and each year try to do another section so that eventually we get him back to what he should be and put him out where people can see him."
The plan is to use scaffolding to prop the big man against one of the hangars that houses some of 600 vehicles displayed by the museum.
"He's got to have a backing to him so we can hold him up in the winds," Rhodes says.
Accused of having a scruffy appearance more than once in his lifetime, Santa's maintenance has run well into the hundreds of thousands of dollars over the years.
Rhodes is well aware of what he's taking on, and expects the expenses "will add up."
But he's nonetheless pleased to preserve what he calls "an iconic piece of New Zealand history" for those who remember him fondly.
"There's a lot of people constantly coming in, because they know we've got Santa here, and they want to see where he's gone because he's a piece of their past."
Rhodes hopes to have Santa's first stage underway by around September.
Santa's winking eye and beckoning finger, which were arguably to blame for the "creepy" moniker, are long gone.
The winking eye sold on Trademe for $790 in 2009, while the beckoning finger was replaced with a static one as part of a $100,000 makeover in the same year.
In December 2011, Santa was branded the 'World's creepiest Christmas ornament' by the popular American website cracked.com.
It's unclear what's become of Santa's two giant fibreglass reindeer, which never made the trip south to Wanaka, Rhodes says.
Rhodes says he understands it was two women who built the five-tonne Santa from fibreglass and steel piping in 1960 - part of Santa's story he wants "brought to the fore."
"It's quite impressive because it's not a small scale thing, and it's not like they had computers and all that sort of thing to work out the engineering."
Rhodes would love to hear from anyone who can share a story or nugget of information about Santa's past to help inform his exhibition at the museum, and usher out the long-held nickname.
"It's about giving him a bit of a fair chance."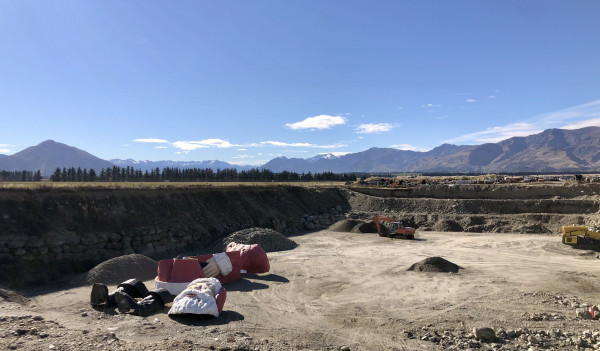 ---