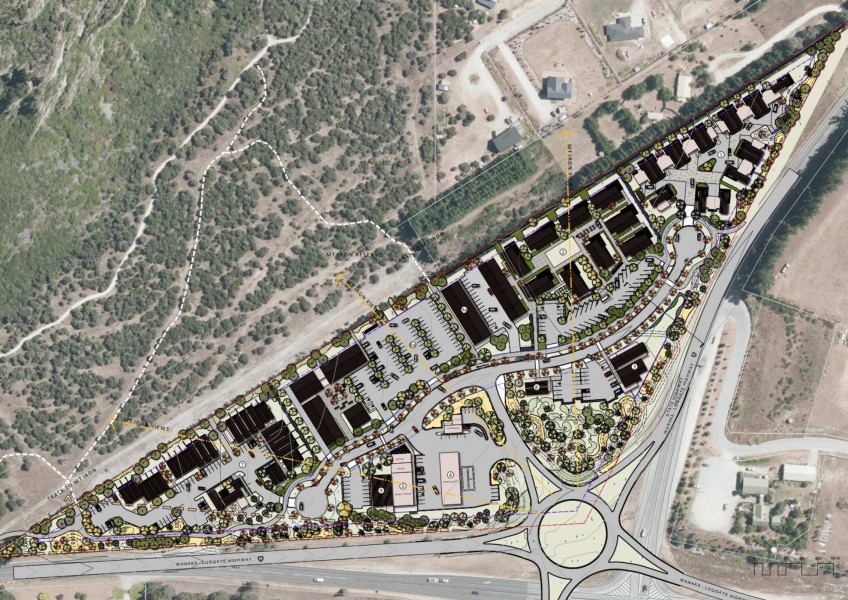 Wanaka developer to build affordable community project on key site
---
In a fresh and community-focussed approach a local Wanaka developer plans to transform a problem intersection into a transport and housing hub.
The Mount Iron Junction project aims to address the shortage of affordable worker accommodation and also make the SH 6, Albert Town/Riverbank Road intersection safer and easier to navigate, using a new roundabout.
The development also includes a brand new service station and an upmarket motel, along with shops and a child care centre.
It is all the vision of Steve Schikker and Peter Greene. Schikker told Crux this morning that, as a long term local, he saw the opportunity to create something that would solve problems and turn a tricky intersection into a elegant collection of affordable, eco-friendly housing. "I'm an employer so I want to do the right thing by our workers. The accommodation will be warm, comfortable and affordable."
"The petrol station is important too" says Mr Schikker. "It's essential to have this type of service station out of town rather than taking up valuable space, and causing congestion, in the town centre. We are also working with NZTA on the roundabout design so that it will ease the existing major traffic and safety problems."
The Mt Iron Junction project will include 17 two and three bedroom two storey villas as well as Wanaka's first dedicated worker's village with accommodation for up to 90 seasonal and long term working residents.
Steve Schikker told Crux that he's been really impressed with the QLDC team who have assisted the project's progress so far. "They've all been really good. We were upfront right from the beginning and they have responded by being positive, helpful and collaborative."
"Another exciting factor of the project is that by providing dedicated worker accommodation we can help free up a lot of family homes for families. That's got to be good for the community."
No plan change will be required for Mt Iron Junction but it will need to go through the resource consent process.

---