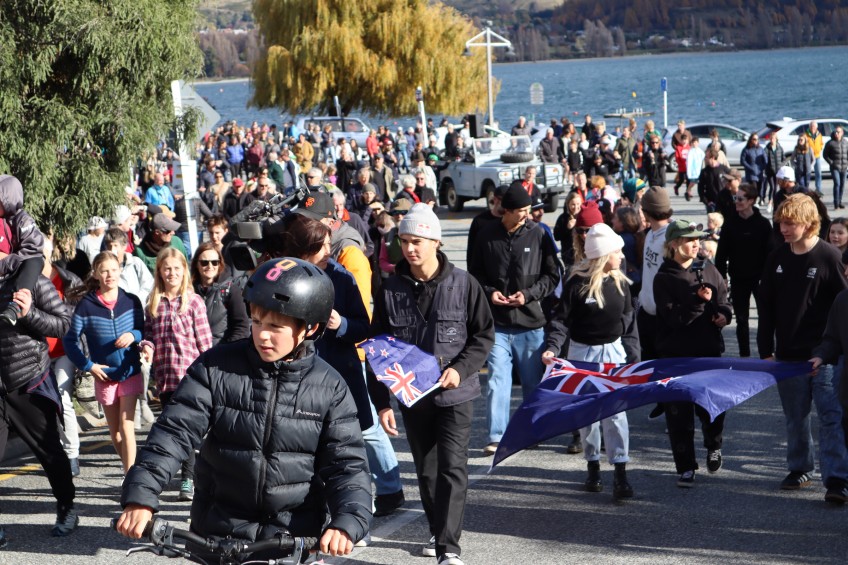 Wānaka celebrates their Olympic medallists
---
It was more than a warm welcome for four Olympic medallists in Wānaka today, it was a celebration of the town's unique ability to develop champions.
Zoi Sadowski-Synott, Nico Porteous, Adam Hall and Corey Peters all shone bright in the late autumn sunshine as well as the warmth of Wanaka's pride as they strolled along the lakefront, all wearing their medals from this year's Beijing Olympics and Paralympics.
Both Zoi and Nico told Crux in video interviews that life had not changed too much since their respective gold medal wins except for "a bit more pressure."
The parade in Wānaka is just the first stop in a national tour for the snow sports stars that will include Auckland, Ohakune, Wellington, Dunedin and then Queenstown on May 26.
Pausing outside the Lake Wānaka Centre, Zoi stopped to speak with 9-year-old Estelle Brewster a student at Holy Family school who started to train as a ski racer last year.
"Zoi is amazing" Estelle told Crux afterwards, clearly in awe of the young medallist.
It was easy to imagine hundreds of young boys and girls being inspired to hit the slopes this winter with dreams of future Olympic medals in their eyes.
And of course, only Wānaka has that special power to deliver world champions in such impressive numbers.
It was a great day for the town, a fitting reward for all of the thousands of hours of training, encouragement, highs, lows, endless travel and sheer guts that goes into making an Olympic medallist.
Watch our Crux interviews with Zoi and Nico in Wānaka today as they discuss Olympic nerves, their future career plans and how Wānaka helped them achieve Olympic Gold.

---