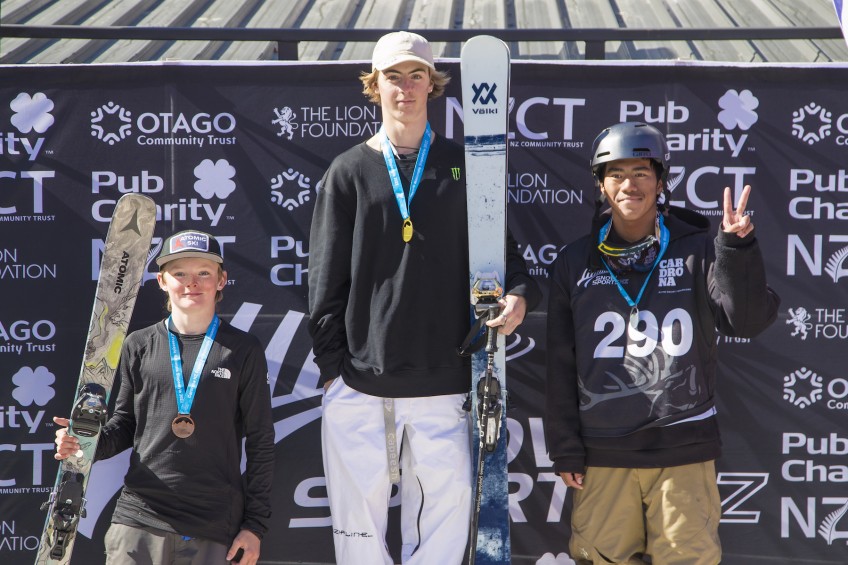 Wānaka teens dominate FIS ANC slopestyle contest
Oct 07, 2022
---
Wānaka athletes Lucia Georgalli and Luca Harrington have dominated the FIS Australia New Zealand Cup slopestyle competition.
After two days of cancellation due to a polar blast that swept up the country, competitors were back in action today with perfect spring weather at the Cardrona NZ Freestyle Nationals.
Some 236 athletes descended on three of Cardrona Alpine Resort's world class terrain parks to battle it out for the National Slopestyle Championship Titles.
The slopestyle open division was a FIS sanctioned Australia New Zealand Cup, drawing an international field with more than 70 athletes competing across freeski and snowboard.
Each athlete had two runs through the rails and jumps to impress the judges, with their best score counting.
Wānaka 15-year-old Lucia Georgalli asserted her dominance from her first run, scoring a 86.00 to hold the top spot. Not one to take her foot off the gas, Ms Georgalli further upped her score to an 88.67 to take the win.
Mari Fukada of Japan finished in second place and fellow Kiwi Ava Beer rounded out the podium in third.
Ms Georgalli's run consisted of a boardslide to 270 out of the first rail, 50/50 to wildcat out of the cannon rail then she linked together two 540's and finished up with a solid back 720 on the final jump.
"I am really happy - this was the best run I have ever landed in competition and also the first time I have landed this trick combination in competition. Landing this run brings my confidence up, the level of riding was good, and it was awesome competing against people from other countries today," she says.
Snowboard judge Ben Rhety says "Lucia had a really good run, a solid rail game and great jumps, she absolutely dominated today. She was also the only woman getting inverted off the cannon rail."
Meanwhile Wānaka 18-year-old Luca Harrington, the FIS ANC Freeski Big Air champion from Tuesday, once again proved he was the man to beat in the men's freeski field in slopestyle today. Scoring a huge 94.33 for his first run, his score was untouchable for the remainder of the event.
Rai Kasamura of Japan finished in second place and young Kiwi up-and-comer Luke Harrold claimed third place.
Mr Harrington laced together a technical run including big rotations on and off the rail features and finishing up with right double cork 1260 and a switch right double cork 1440 on the jumps.
When asked about his consistent top performances, he says "It's been a really good training year so far, I have become really comfortable on the course so taking that same comfortable mindset into a competition is key. It really worked well for me today and the other day in Big Air as well."
Victoria Beattie, the head ski judge and Cardrona NZ Freestyle Nationals judging coordinator says "Luca was quite dominant in a field where a lot of the competitors struggled for speed with the fresh snow, Luca showed his comfort and prowess on the course.
"The FIS ANC Slopestyle today gave Kiwi athletes a chance to see just how clean they have to be when they are competing overseas and get a real taste for the high-level events. It's an opportunity for our younger athletes to get a feel for what a true international competition is like."
The younger age divisions also had the cache to show what they could do in the Little Bucks terrain park - a great course that encouraged inclusivity from 69 young skiers and snowboarders from all over New Zealand who competed today.
The older age divisions consisted of an impressive 96 athletes who competed in Antlers Alley and Stag Lane.
The action continues tomorrow (Saturday) with the freeski and snowboard FIS ANC Halfpipe competition and the FIS ANC snowboard Big Air, the final events of the 2022 Cardrona NZ Freestyle Nationals.
Note from the organisers:
This year, for the first time, the Cardrona Freestyle Junior Nationals are now the Cardrona NZ Freestyle Nationals.
What does this mean exactly? All the age divisions are still here (U8 – U18), but an Open division's been added for athletes who feel they're ready to step up and compete on the bigger venues and against competitors of any age.
Added in is a Big Air event, for some of our older competitors as it's now a multiple Olympic medal winning event for New Zealand and deserves its place on the pathway.
The Big Air, Slopestyle and Halfpipe events are also FIS Australia New Zealand Cup's (ANC) for those FIS registered athletes (Open division only). This provides an opportunity for athletes to get FIS points under their belts during the NZ season.
The above changes to the Freeride age divisions and in the inclusion of Big Air are in alignment with international standards and will support New Zealand's development in the freestyle disciplines.
Main image (Image Snow Sports NZ/Ross Mackay): FIS ANC Slopestyle Men's Freeski Podium (left to right), Luke Harrold of New Zealand (3rd), Luca Harrington of New Zealand (1st), and Rai Kasamura of Japan (2nd).


---