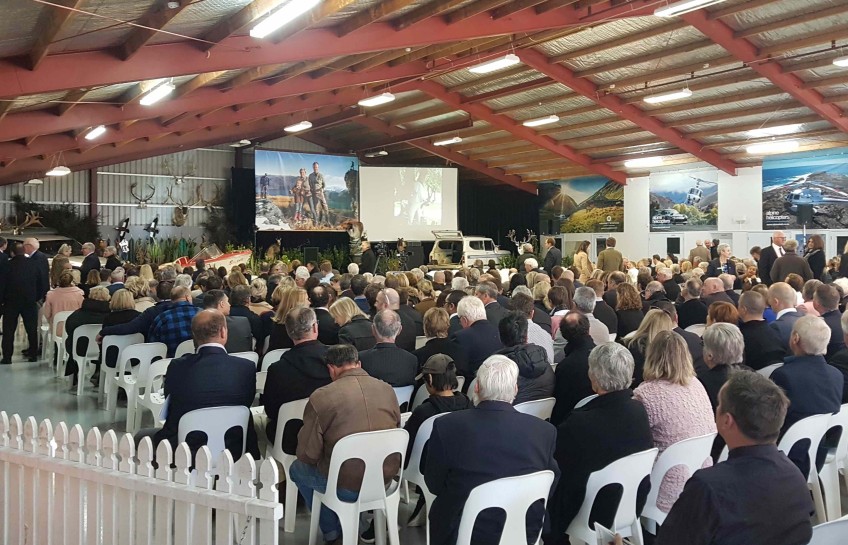 Wanaka airport farewell for Matt Wallis
Jul 30, 2018
---
Hundreds of mourners attended the funeral for pilot Matt Wallis at Wanaka airport this afternoon, before his body was flown on a final circuit of the places he loved most.
Matt lost his life in a crash on Saturday July 21 while flying over Lake Wanaka. A full investigation into the accident is underway.
Today's funeral service was held in the Alpine Helicopters hangar at Wanaka airport, attended by hundreds of friends and family, as well as local dignitaries and members of the aviation industry.
Matt Wallis' wife Alice spoke at the funeral service which was also attended by his five year old son Arthur. Matt's father, Sir Tim Wallis was also in attendance.
Many of those attending the funeral flew in from outside the Wanaka area.
In an open letter posted on the Wallis family business Facebook page after the accident, his brothers Jonathan, Toby and Nick paid tribute to Matt.
"Matthew played a critical role in the development and operations of the Minaret Station tourism business. As so many of you know first hand, he was passionate about providing guests from all corners of the globe with the most quintessential of New Zealand experiences. He was an exceptional host and highly skilled outdoorsman.
Matthew left a lasting impression on everyone he met. His warm character and his smile filled a room. He always took time to make others feel special.
As you will all know, Matthew was one of four very tight brothers. We worked closely together and laughed loudly together. He was the adored son of Prue and Tim. Above all other other things, he was a wonderful husband to Alice and proud father to young Arthur."
The Transport Accident Investigation Commission (TAIC) work to discover the cause of the crash involved recovery of the helicopter wreckage two days after the crash. The wreckage is to be moved to a TAIC facility near Wellington for further examination.


---