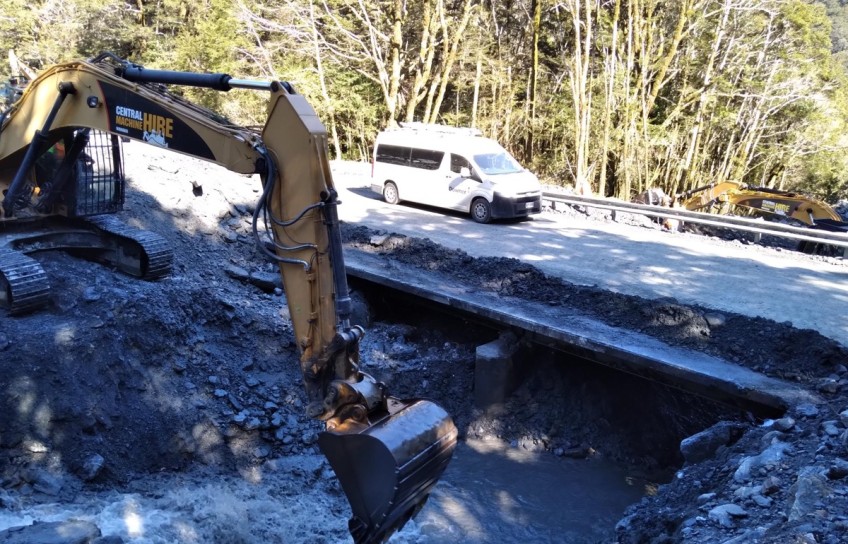 Waka Kotahi defends sending crews home from Haast highway clean up
---
Update: The highway will be open with traffic lights controlling a one-way stretch at Muddy Creek this weekend (starting 5pm tonight, Friday, September 29). Convoys will return on Monday to allow roading crews to resume clean up and repairs. "People still need to bear in mind that this route is subject to short term closures if more rain falls or slips occur so check before you head off," Waka Kotahi spokesperson Robert Choveaux says.
Buses and larger vehicles can join the scheduled convoys moving between Makarora and Haast today as the transport agency defends sending West Coast roading crews home over the weekend.
Travel on State Highway Six is limited after flooding at Muddy Creek during torrential rain last Thursday deposited approximately a kilometre of debris on the road, making it impassable.
In recent days Waka Kotahi has come under fire after it was revealed Greymouth-based contractors finished at the site at lunchtime on Saturday and were sent home.
But the agency is pushing back at any suggestion keeping the crews there would have sped up the clean-up job.
Waka Kotahi spokesperson Robert Choveaux says the highway at Muddy Creek is narrow, providing limited access for people and machinery.
"All of the people and machinery needed to complete the job as quickly as possible are currently on site".
There remains two excavators, two loaders, five trucks, and a bulldozer working to clear the stretch of road.
"The presence of an additional crew at the site would not accelerate completion of the work," Mr Choveaux says.
"Squeezing more people in would only make the work site more difficult to manage, increase health and safety issues and would in fact slow the job down."
At 8am this morning, 30 vehicles were escorted from the Makarora side heading north, before 21 joined the return escort heading south, from around Cameron Flat.
Convoys, which from today can include vehicles weighing more than five tonnes, will depart at 8am, midday and 4.30pm daily until further notice, starting from the Makarora side each time.
An estimated 20,000 cubic metres of material - the equivalent of eight olympic size swimming pools - was deposited on the road during last week's storm.
On the Muddy Creek bridge, the debris was up to four metres deep. A small, temporary earth bund has now been created on the bridge, which is without a barrier on one side.
Meanwhile organisers of the Haast Whitebait Festival, scheduled for Saturday, remain positive their event will continue, with the ongoing weather forecast shoring up plans.
Waka Kotahi says it is "very aware" of the festival, and its convoys mean people will be able to get into Haast from Otago and back out again, weather and conditions permitting.
Contractor Aspiring Highways remains on the job, while crews from Fulton Hogan finished on Saturday.
Latest highway conditions can be found online at https://www.journeys.nzta.govt.nz/highway-conditions.
Main image (Waka Kotahi): A convoy of escorted vehicles travels across the Muddy Creek bridge, on Tuesday, September 26, for the first time since the highway closed five days previous. Work continues in the creek to clear debris, while a temporary earth bund on the bridge takes the place of a barrier.
Watch: The aftermath of Thursday's rainstorm


---