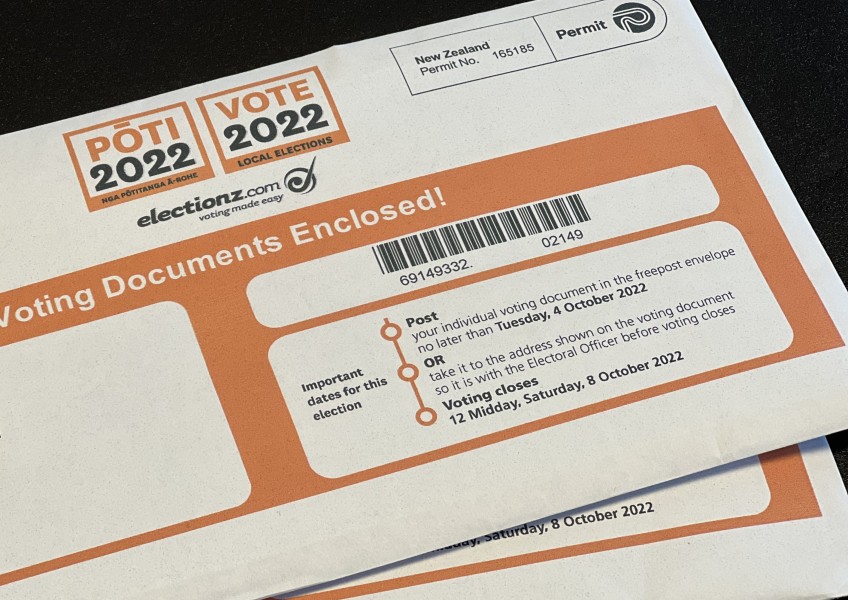 Voter turnout down with one week left until voting closes
---
Voter turnout in both Queenstown Lakes and Central Otago districts is down on the two previous local elections with little more than a week left until voting closes.
By the most recent count of voting documents yesterday evening, 12.2 percent of those eligible to have a say on who'll sit round council and community board tables had done so in Queenstown Lakes.
The figure compares to 17.8 percent at the same time last election, and 26.7 percent - twice as many - the one before.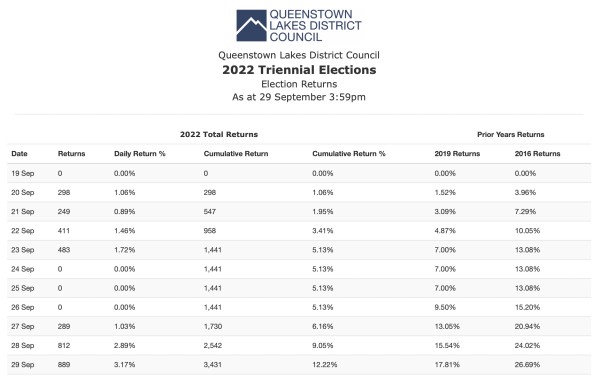 In neighbouring Central Otago District, the count's better, but still well down on previous figures.
As at 4pm yesterday, 20.4 percent of voters had ticked their ballot papers and had them returned. But that's still seven percent fewer than the same time three years ago, and 19 percent on 2016.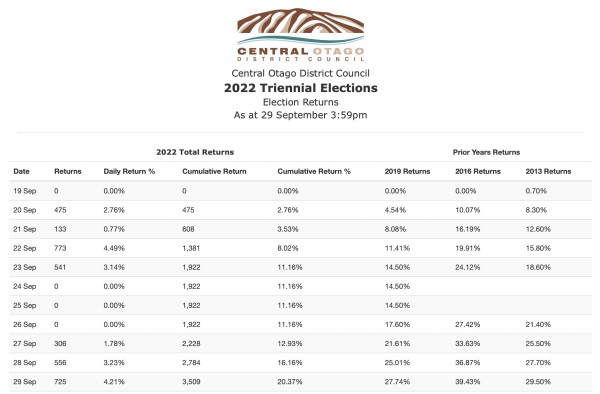 It's not unique, voter turnout is down on previous elections across the country. Some commentators are blaming the use of "snail mail" voting, while others are optimistically saying the voting period's kicked off with an unexpected routine shift due to the death of the Queen and subsequent memorial public holiday.
Candidates vying for election in both local districts have taken to social media to encourage people to vote.
Incumbent Central Otago Mayor Tim Cadogan's seat is safe for another three years as he was elected unopposed. Speaking on his mayoral Facebook page Mr Cadogan says he hopes voters in his district are hanging out for some final public forums before committing to their final choice of candidates.
Two community meetings for would-be councillors and community board members were held in Alexandra last night.
It's a tight race between the top four candidates hoping to take over the mayoral chains from outgoing Queenstown Lakes District Mayor Jim Boult from next Saturday, and they're all still out pounding the campaign trail, with public events in Gibbston winery and Albert Town having been held this week.
Incumber Wānaka councillor Quentin Smith, who's keen for another stint at the decision-making table, is warning voters October 8, the voting deadline day, may sound far off, but it's not.
In a post to Facebook this morning, the councillor says "If you don't get your papers in the box today you risk them not making it (Yes, the mail service is that bad). Vote now!!!!"
The official word: Voting papers must make it to a post box by Tuesday, October 4 at the latest. But Mr Smith's advice isn't misguided as there's reports around the country of the post system failing to deliver voting papers yet to some.
Cromwell's Paper Plus store has as a post box right outside its doors.
The owners are encouraging people top take a photo of themselves posting voting papers and send it to them, or use #postyourvotecromwell, to be in to win a $100 voucher for the store.
Secure ballot boxes are also available at council offices and service centres across the two districts and at libraries in Cromwell, Alexandra, and Frankton.
Voters in both districts who haven't received voting papers in the mail can head into a council office and make a special vote in person.
Voting closes on Saturday 8 October at noon.
Need to find a post box? Use this online tool.
Still deciding how to divvy your votes? Read more of our elections coverage:
Queenstown-Whakatipu ward: Who will best represent you?
Arrowtown-Kawarau ward: Who will best represent you?
Wānaka-Upper Clutha ward: Who will best represent you?
Wānaka-Upper Clutha community board: Who will best represent you?
The Crux mayoral candidates debate
Community verdict: Which QLDC mayoral candidate came out on top?
Cromwell ward: Who will best represent you?
ORC Dunstan constituency: Who will best represent you?
Hot battle for three Dunstan ORC seats


---