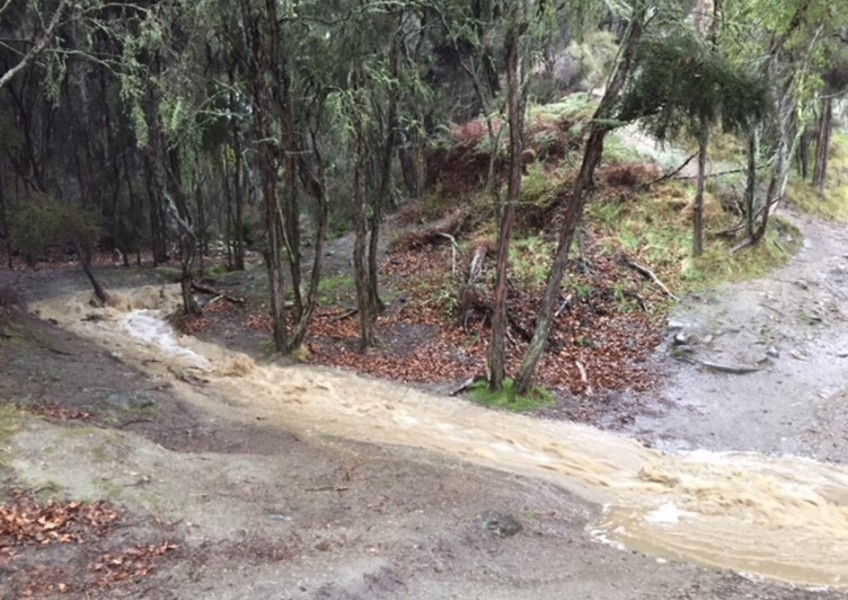 Updated: ORC investigates subdivision runoff into the Clutha
by Andrew Waterworth - Sep 24, 2018
---
Updated: See response from Hikuwai developer Lee Brown*
Wanaka locals have witnessed a significant sediment runoff into the Clutha river just days after Crux published a feature on the declining quality of our rivers and lakes.
This is the second significant runoff in less than six months. The runoff appears to have come from one or both of two large housing subdivisions on the western side of the Clutha - Hikuwai and Northlake.
The sediment runoff was serious enough to discolour one side of the Clutha, in the Dean's Bank section, renowned nationally for its prime trout fishing. The Upper Clutha is where many trout spawn and right now rainbow trout are still spawning.
The runoff is being investigated by the ORC and has been reported to the QLDC monitoring team. The sediment contamination has also been referred to the current Commission hearings on the QLDC Proposed District Plan, reviewing Earthworks, Transport & Signage, Open Spaces and Recreation and Visitor Accommodation
The issue of stormwater management was raised as a potential issue during the planning hearings into the Northlake subdivision in 2013. Subsequent ORC inspections have certified the subdivision's stormwater disposal systems as being compliant.
Mayor Jim Boult has been reported as saying that this type of run off "leaves some questions that need to be answered."
*Update: Crux has been contacted by Lee Brown, developer of the Hikuwai subdivision who wishes to challenge recent reports of stormwater runoff into the Clutha River possibly coming from his property. Mr Brown states that the stormwater is not from Hikuwai. The source, according to Mr Brown is the neighbouring subdivision of Northlake which is permitted to discharge stormwater at his boundary. Crux will follow this matter with interest and awaits the findings of the current investigation by the ORC.


---