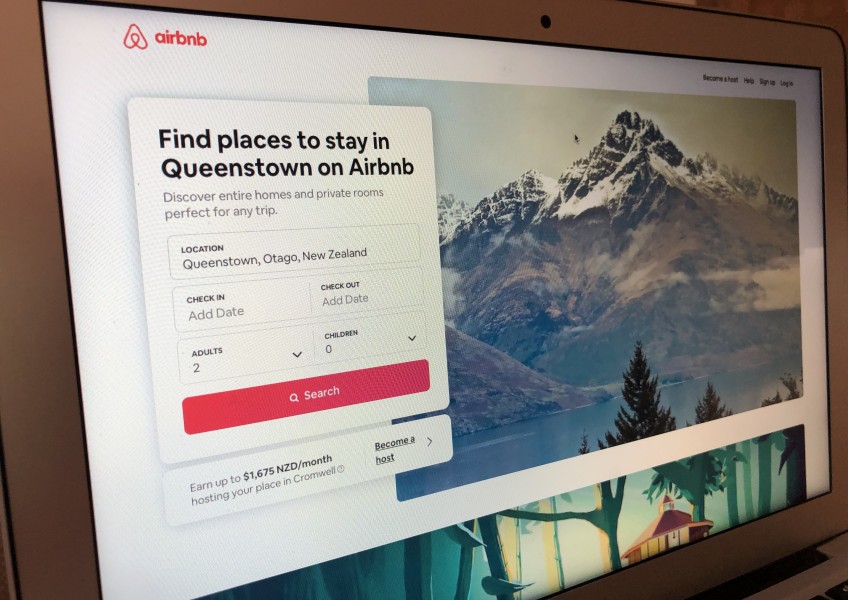 Queenstown domestic tourism hit by Airbnb cancellation fees
---
A would-be Queenstown holidaymaker is gutted she's lost hundreds of dollars to an Airbnb property she won't be able to stay in.
Pre Auckland lockdowns, Olya Ishina was due to be jetting home from a South Island get-away this week to celebrate her and her mate's 35th birthday, but instead she's battling a Queenstown Airbnb host for $500 in cancellation fees.
Back in May the Aucklander booked a three-night-stay at an Airbnb apartment in the resort town.
Four weeks ago, when it became obvious there'd be no letup to her city's lockdown, Ms Ishina sought to cancel her travel plans.
However, the Airbnb "superhost" is refusing to offer Ms Ishina a full refund, opting to keep a $532.50 deposit.
In response, Ms Ishina tried to transfer her stay to a future date to avoid losing a chunk of money.
Although the Airbnb host agreed to this, the stay, in March next year, will cost Ms Ishina an additional $500.
The original cost of the three-night stay was approximately $1070.
Ms Ishina says the apartment host has been unsympathetic and reluctant to budge from a strict cancellation policy.
"They just took the money and – gone."
With Delta and the ongoing Auckland lockdown, tourism operators should try to be flexible and empathetic, Ms Ishina says.
Meanwhile an operator in Milford Sound, where Ms Ishina and her companion were booked to stay prior to Queenstown, commiserated and refunded the pair in full.
They have been "kind and accommodating", Ms Ishina says.
Ms Ishina is a repeat visitor to Queenstown – since Covid hit and the borders shut, she's holidayed there six times – but this experience has left her feeling jaded.
"We are both working single mums, and were both looking forward to some time off.
"It just feels really unfair."
Holidaymakers using Airbnb affected by pandemic-related disruptions to their plans are at the mercy of individual hosts' cancellation policies as a result of changes to the American company's cancellation and refunds policy late last year.
Derek Nolan, Airbnb's head of public policy for New Zealand and Australia, says there's two sides to any Airbnb transaction, and his company's policies have been designed to balance the needs to hosts and guests.
Guests can easily view the cancellation policy selected by a particular host prior to booking, and those wanting flexibility in uncertain times can filter accommodation searches to find hosts offering free cancellation, he says.
"Almost two-thirds of active listings offer a moderate or flexible cancellation policy."
Ms Ishina is not the only disgruntled Airbnb customer - Consumer NZ regularly receives complaints from consumers in similar situations, according to spokesperson Raksha Nand.
Terms and conditions provided to holidaymakers at the time of making their booking should include a clause stating what will happen if the accommodation can't be used due to events outside the control of either party – often called a "force majeure" clause – she says.
"A clause that allows the provider to keep a sizeable chunk of money, like in this case, is likely to be unfair. This gives the consumer grounds to make a complaint to the Commerce Commission."
If there's nothing in the terms that states what happens in a "force majeure" or lockdown situation, the consumer can rely on the Contract and Commercial Law Act, she says.
"This act applies where a contract is 'frustrated', that is it can't be fulfilled due to events outside the parties' control. It gives the consumer the right to request a refund and limits what the company can charge to its reasonable administration costs."
If the consumer wants a refund but Airbnb refuses to budge, the consumer can lodge a claim at the Disputes Tribunal, she says.
The Commerce Commission has received 116 complaints from consumers about Airbnb since January 1, 2020.
A spokesperson for the consumer watchdog says it has an open investigation into complaints about bookings made on the platform.
However, as the investigation is ongoing, no further comment can be made at this time, the spokesperson says.


---