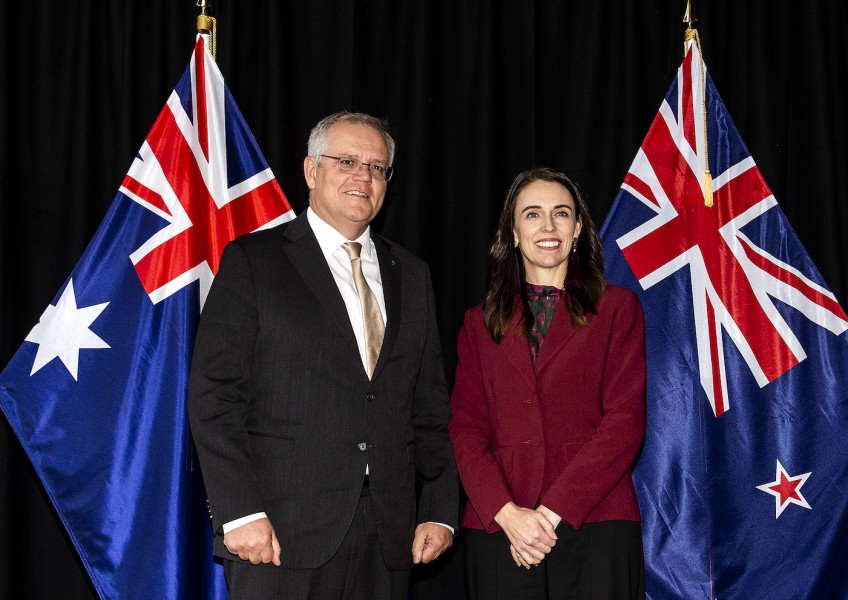 Trans-Tasman bond: Qtown gains, disputes remain
---
Scott Morrison and Jacinda Ardern have shut down suggestions of a splintering relationship between Australia and New Zealand, adding much needed confidence to Queenstown's embattled tourism sector. Disputes over China and Kiwi deportations remain - but for the next few months at least, it's business and trade as usual.
Both leaders addressed media in Queenstown at the close of Australian prime minister's whistle stop tour, which was held here partly to promote the trans-Tasman bubble and play up the success of both countries' defence against Covid.
Over the past year, the trans-Tasman relationship has been strained by conflict over Australia's "501" deportation policy and differing approaches to China.
Australian media have played up suggestions that New Zealand's "softer" approach to Beijing has driven a wedge between the two longtime allies, but on Monday Morrison rejected the idea.
He made the pointed remark that there were "some who would seek to undermine the Australia-New Zealand relationship and security" - a thinly-veiled dig at China - but insisted that there was no beef between Australia and New Zealand when it came to dealing with Beijing.
Morrison played down the risk of conflict between China and Australia, saying he wanted to ease tensions and facilitate trade in the Indo-Pacific region.
Asked if New Zealand was "cosying up" to China, Ardern said New Zealand was maintaining a principled position and there was little difference in the relationship compared to the Australia-China one.
"At no point in our discussions today did I detect any difference in our relative positions on the importance of maintaining a very strong and principled perspective on issues around trade and human rights," she said.
However, one topic the pair can't agree on is Australia's controversial policy to strip citizenship from people with tenuous links to New Zealand who have been found guilty of crimes.
Today Ardern quipped it amounted to "Australia deporting Australian criminals", adding, "Prime Minister Morrison's under no doubt on my views of these matters."
But aside from differences which Ardern dismissed as "disagreements undertaken in the spirit of openness and ultimately friendship", the leaders stressed their tight bond and shared goals for gradually reopening to the world post-Covid.
"The trans-Tasman relationship is New Zealand's most important, we are family and the pandemic has underscored that in many ways," Ardern said.
Trumpeting the strength of the trans-Tasman relationship is now more important than ever - to lend confidence to business operators in the economically-significant southern lakes region, after a long period of damaging uncertainty.
The visit was largely aimed at advertising the successful restart of tourism, and a boost for Queenstown aimed at any Aussies yet to book a winter holiday.
Not that it seems they need much encouragement, with tourism and accommodation providers predicting a belter of a season.
In fact, on a lighter note, Aussie keenness to get to Queenstown could have been measured by the Australian media pack present on this visit.
It's customary for the media to travel with the Prime Minister, but this time they were told to make their own travel arrangements.
Crux understands they all chose to stay three nights in Queenstown, a full 48 hours longer than the Prime Minister's visit.


---