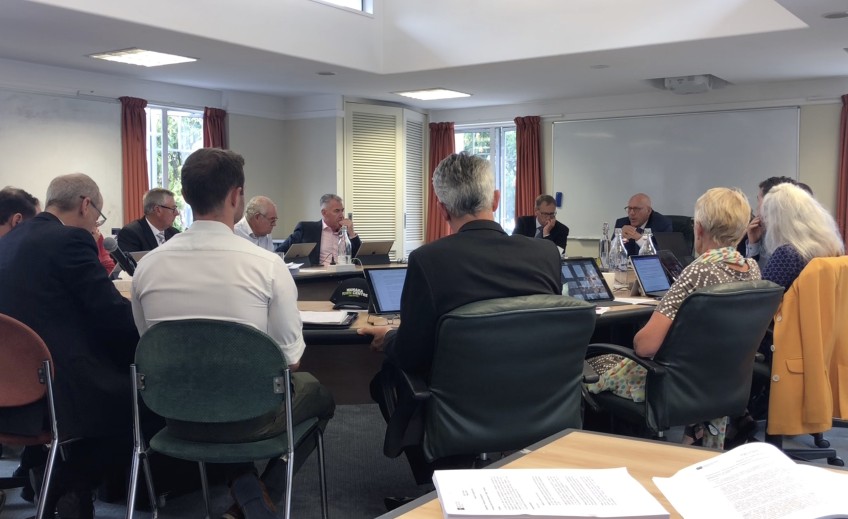 Tipping Point - Councillors lobby against more development
---
It was only one subdivision - Laurel Hills - that was being debated and voted on at today's full meeting of the Queenstown Lakes District Council.
But the topic of development in general, including the expansion of Queenstown airport, became the overriding concern, with many councillors arguing that Queenstown and Wanaka had reached the point where any further growth has to be seriously questioned.
Traffic congestion and a lack of infrastructure was largely blamed on external factors - the NZTA, The Otago Regional Council and the slow progress by Government towards a local tourist tax for Queenstown (see today's story on the new local Visitor Levy)
But regardless of the cause, the effect was that the council was not able to vote today on whether the 156 home Laurel Hills development should be given the green light. A number of councillors made it clear that they would oppose the development when it is put to the vote at next month's council meeting.
The next council meeting is significant in that four other developments, all under the previous Government's Special Housing Area (SHA) legislation, are due to be considered.
One of the Laurel Hills directors, Tim Allan, spoke to the packed council chamber about how important new housing was for Queenstown but afterwards he told Crux that he now wondered if the project would go ahead and if the other four SHA developments might bite the dust as well. He vowed to carry on but said he was very concerned about some very strictly enforced deadlines that had to be met under the SHA rules. Those deadlines are now extremely tight given the postponement of a QLDC decision until April. He said he did not believe there was sufficient time for the other four developments to be properly considered by the council and the public.
That is why today may turn out to be so important. The majority of councillors outlined their own personal perspectives on why development in the district needs to be at least paused ... and potentially stopped.
Alexa Forbes called for more genuine consultation and transparency, not just around sub-division development but in connection with the Queenstown Airport Corporation's draft Statement of Intent.
Wanaka's Quentin Smith wondered how small residential sections could get before they became unsuitable to build a house on - would the limit be 300 square metres or even 200 square metres? Laurel Hills goes down to 110 square metres for some sections.
Deputy Mayor Calum MacLeod wondered if the Shotover Bridge needed to become a toll bridge in order to stem record traffic flows, placing the blame at the door of the Otago Regional Council for not providing direct buses between Shotover Country/LHE and the CBD, saying "Come on - really - it's madness."
Councillor Penny Clark highlighted the fact that Queenstown was "stuck between a rock and a hard place" in terms of desperately needing more housing but not having the roads or infrastructure to support those houses. She predicted things would get worse before they got better, partly because the NZTA demanded that certain population density levels had to be reached before any new roads would be funded and built.
Mayor Jim Boult pointed out that a lot of the traffic congestion was caused by people driving in from places like Cromwell to work in Queenstown, meaning that the NZTA local roading business models did not work.
Craig (Ferg) Ferguson said he felt that growth should not be measured by statistics and economic factors but by community spirit and human factors. He said he would vote against Laurel Hills because development had become too much and was damaging social values. Councillor Scott Stevens echoed the views of Ferg, speaking strongly about the damage over development could do to the district.
It felt suddenly like a local election year where being anti-growth, or at least anti over-development, was the political place to be.
The packed public gallery, representing Shotover Country and Lake Hayes Estate, left feeling temporarily relieved, but seemingly ready for a long fight.


---