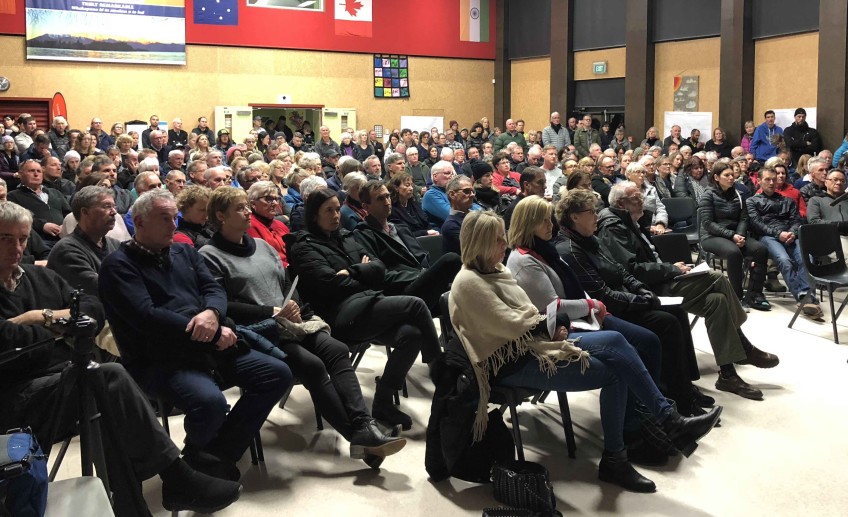 "This is your last chance" - residents told to block Queenstown airport growth now or never
---
Frankton residents attended a packed community meeting this evening to quiz tourism, legal and health experts on the effects of massive proposed flight increases at Queenstown airport.
The Queenstown Airport Corporation (QAC) wants to increase flights to as many as 114 a day - or one flight every four minutes - in order to meet what it says is the growth in demand from airlines wanting to fly into Queenstown.
The meeting was organised by the Frankton Community Association.
Destination Queenstown boss Graham Budd was careful to stress to the audience that his marketing agency sees a social licence from the community as being fundamental to their core mission. He told the packed hall of around 300 residents that unlimited growth was not on the agenda and that funding must be found to get vital infrastructure not just up to scratch but ahead of forecast needs.
But the most dramatic information of the evening was provided by the Southern DHB's Medical Director Dr Marion Poore who spoke about the wide ranging health problems that can be linked to loud and persistent aircraft noise.
Dr Poore listed physiological, noise related stress being a cause of high blood pressure and even heart attacks while the psychological effects included memory problems and learning difficulties, as well as sleep disorders.
Four QLDC council members were at the public meeting but QAC airport officials had not been invited.
The audience was told that the planning process meant that there was a limited window for public submissions after which any attempt to prevent airport growth would involve a complex and expensive legal process that would need "a fighting fund."
Questions from the floor included a common theme of "enough is enough" in terms of tourism growth, especially until local infrastructure could be adequately funded.
The QLDC council members who were at the meeting attempted to reassure the audience that a decision to allow the airport to increase flights was "not a done deal" with Councillor John MacDonald saying that the community meeting was "democracy in action."
Queenstown airport is 75% owned by the QLDC and 25% owned by Auckland Airport.
An interview request from Crux to the Chief Executive of Air New Zealand made last Friday did not receive a response, in spite of an undertaking from Air New Zealand communications staff in Auckland. Our questions included asking for details of the effect that reduced growth capacity at Queenstown airport would have on Air New Zealand's international and domestic revenues. Crux will continue to seek an interview with the Chief Executive of Air New Zealand to answer this and other questions relating to the funding of Queenstown's tourism infrastructure.
Another residents meeting is being staged by the Kelvin Peninsula Community Association tomorrow (Wednesday) evening.


---