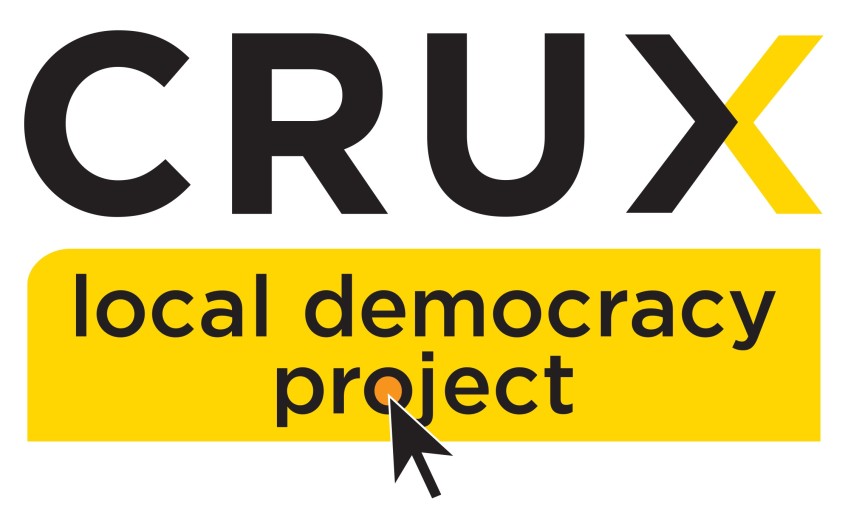 The Crux Local Democracy Project - Full Details
Mar 30, 2019
---
Here's full details of the Crux Local Democracy Project. Tickets are free to the launch events - but please register so we can manage numbers and update you on launch event details.
Wanaka. Friday, April 5th 10.30 am – Festival of Colour Pacific Crystal Palace.
Queenstown. Saturday, April 6th. 5.00 pm – Sherwood Community Hotel.
Cromwell. Sunday, April 7th. 5.00 pm – The Gate.
In a world first, Southern Lakes community news website Crux is to join forces with a global pioneer in the field of digital democracy – Ethelo. The Local Democracy Project is designed to increase the power of the citizen.
This will be the first time that public interest journalism and a digital democracy platform have joined forces. The founding principle of the project is that citizen engagement needs to be based on an educated and informed community.
The partnership will marry public interest journalism and fast moving, agile citizen engagement. It's an initiative to combat "survey fatigue" and add real journalistic impact to the way public opinion is measured and made to count.
The initiative follows successful digital democracy projects around the world which have allowed residents to make direct decisions about how their communities are run. Over 100 Government agencies in 33 countries are now running direct digital democracy projects.
The Crux Local Democracy Project will launch at the Festival of Colour in Wanaka on Friday April 5th. The founder of the Canadian platform Ethelo, John Richardson, will be in Wanaka to take part in the launch campaign that will include additional public forums in both Queenstown and Cromwell on April 6 and 7. Crux Managing Editor Peter Newport will co-present the launch campaign with John.
Ethelo is used by the Canadian Federal Government as well as local councils and commercial customers around the world. The platform specialises in producing clear community outcomes on complex issues.
The project is a direct result of feedback from the Crux audience who have expressed frustration at the growing complexity of local issues and the difficulty in influencing local government in this challenging environment.
The first Crux/Ethelo project will go live on April the 5th. The goal will be to give residents the power to set the agenda for this year's local body elections, rather than the agenda being set by the candidates themselves.
Another project goal is to hold successful candidates accountable to their local communities and to make sure that agile, fast paced and independent citizen engagement plays an active role in managing the decisions being made by local government.
Tickets are free – but it is very important to register so that we can manage numbers at each venue and let you know of any updates or changes.
Wanaka. Friday, April 5th 10.30 am – Festival of Colour Pacific Crystal Palace.
Queenstown. Saturday, April 6th. 5.00 pm – Sherwood Community Hotel.
Cromwell. Sunday, April 7th. 5.00 pm – The Gate.
Read: Our Crux editorial - Local Democracy - Broken but Fixable.
John Richardson – Ethelo.
Social entrepreneur, mathematician, lawyer and technologist.

John is dedicated to using digital technology to advance participatory democracy. He is the founder and CEO of Ethelo, an online group decision platform described by the Canadian Government as "an exceptional advance on the state of the art." Ethelo is powered by a set of algorithms that John invented which enable groups to find broadly supported solutions to complex and contentious decision problems.


John's career focus is systemic approaches to social impact. In 2001 he founded Pivot Legal Society, which conducts strategic litigation for marginalized communities. Pivot focuses on creating legal change on issues of police accountability, sex worker and drug user rights, homelessness and mental health. John built and led Pivot for ten years, and it has become one of Canada's leading human rights organizations. A recognized human rights leader and innovator, John was awarded an Ashoka Fellowship for Social Entrepreneurs in 2005.

Previous to Pivot, John articled at environmental law firm EcoJustice and was an environmental campaigner for the Great Bear Rainforest on behalf of Western Canada Wilderness Committee. John was also the organizing chair for the BC Green Party's 2001 provincial election campaign, helping the party achieve a historic high in voter support.

John received a law degree from the University of Victoria, and a B.Sc (Hon) from the University of Toronto in mathematics and philosophy. An active student leader, he was elected Head of Trinity College and Chair of its Joint Board of Stewards. Previously, he received a scholarship to attend Pearson College , where he received an International Baccalaureate.

A lifelong student of meditation, John lived in Japan for several years where he studied Japanese and lived for a time as a zen monk. His favourite quote: "Everything rests upon the tip of intention."
Read: John's article on E-Democracy in the Stanford Social Innovation Review. https://ssir.org/articles/entry/edemocracy_an_emerging_force_for_change


---