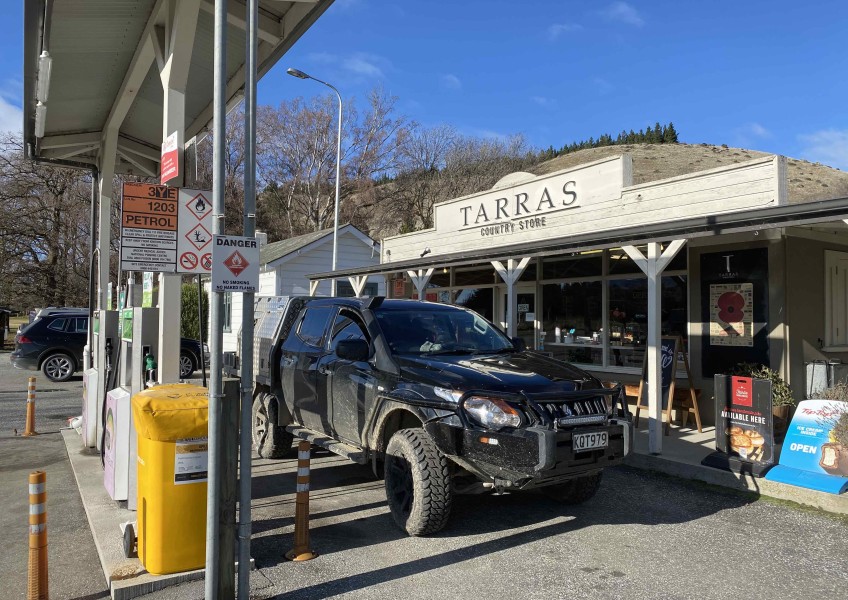 Tarras: A tiny town in airport shock - full report
---
Crux Managing Editor Peter Newport reports from Tarras.
Christchurch airport did their best to keep the stealthy purchase of large blocks of land near Tarras a secret, but the plan was always going to get out eventually - and today was that day.
Crux has been receiving news from local landowners over the past 48 hours detailing the patchwork of lush farmland that will now be developed as a "world class sustainable airport."
At Maori Point Vineyard today, just hours before the official announcement, Dr Marilyn Duxson, co-owner and former scientist, was bemused by the potential for their quiet piece of paradise being converted into an international airport.
"We have seen a number of local farms get bought" she told Crux. "But really, is this the right place for such a big airport? We've just had nearly six weeks of low cloud and that happens a lot in winter."
Other locals - landowners, cafe staff and the team running the local shop - echoed the same sentiment. Disbelief.
None had really taken the rumours seriously. Collectively they have all said that it wll take time for the news to sink in, however it was agreed that landowners will see prices soar, lifestyle block owners will be more than disappionted that their rural dream may be over and young parents will be wondering what effect a new airport would have on the tiny local school.
One local, who declined to be named, supplied Crux with a description of the Christchurch airport land buying strategy.
"The buy-up has been happening for a while but one farmer has been away and just found out who is trying to buy his farm. He has had neighbours at him for about three years to sell and nothing had come of it and this latest offer he just thought it was the neighbour at it again. It seems to be the Christchurch Airport with the Government. His farm is the last to be signed up. It's about 1km along from the corner of the Tarras-Wanaka road. So if you take a straight line from his place to about where Scene 17 vineyard is on Maori Point road, south down the road to the intersection with the main Road then up to the Tarras - Wanaka intersection has all been signed up for $26 million."
"Yesterday a work mate had PGG arrive to do a soil test and the guy was telling him that someone had been at the shop saying that all the land was being bought up."
Crux was the first media outlet to contact Christchurch Airport about the recent land purchases earlier today. As a result the airport management made the decision to go public this afternoon. We asked a number of questions this morning relating to who was buying the land, if the Queenstown Airport Corporation was involved, if shareholders had been told and if former Christchurch Airport CEO and now QLDC Mayor Jim Boult held, or had held, shares in Christchurch Airport. Here's their responses. Note that Christchurch airport is 75% owned by Christchurch City Holdings/Council and 25% by the NZ Government.
The land has been purchased by Christchurch Airport only.
We have not engaged with QAC on this proposal to date.
We have advised our shareholders as required.
Jim Boult has never been a shareholder or investor in CIAL and has not been involved in our business' operations since he left his role as CEO. However, we do speak with Jim in his capacity as Mayor, as we do with all other Mayors across the South Island.
In Queenstown, Mayor Jim Boult said the news came out of the blue.
"Today's announcement from CIAL is surprising, and I regard it as a strong vote of confidence in the future recovery and prosperity of our district and the central and southern parts of the South Island sufficiently to make such a significant investment. The proposed runway length is interesting, in that it is close to that required for a wide body jet service. Some in our community have signalled strongly that they do not want such a development.
"Queenstown Airport and the QAC continue to offer a unique proposition in the district's future as visitors return and our economy diversifies and will do for some time. As I know very well from my time in the airport industry, purchasing land is only one step in a very long process of developing a greenfield site airport and recent debate within our own district has clearly shown there are many perspectives and factors that need to be considered as CIAL progress their discussions. I am pleased they have signalled a long horizon to achieve their desired outcome."
Statement from Mrs Adrienne Young-Cooper, Acting Chair, Queenstown Airport Corporation regarding Christchurch International Airport rural land acquisition.
"We note with interest this afternoon's announcement from Christchurch International Airport regarding their purchase of a rural land parcel in the region. A greenfield airport development, by its very nature, is a long-term proposition,"
"As signalled for almost a year, QAC has paused its long-term planning while QLDC and Central Government complete their district spatial plan work including infrastructure planning and impact assessment of airport development as key inputs into our future thinking."
The management team at Auckland International Airport has issued a statement backing their shareholding and strategic alliance with Queenstown Airport.
"The lower south island is currently well-served by a number of regional airports, each playing an important role in supporting local communities and economies. Auckland Airport remains confident in the long-term future of Queenstown Airport as a critical piece of infrastructure in one of the country's most popular tourist destinations."
Reaction from CODC and Mayor Tim Cadogan.
"Christchurch Airport has signalled in a media release this afternoon that they are taking a long-term approach and their top priority is having conversations with and working alongside the community. This is very early days in what will be a very long process. At this early stage I encourage all our community to get informed and get engaged in the process and form their own view."
CODC Chief Executive Sanchia Jacobs said her Executive Team had just learned of the news today.
"As a consenting authority, we don't have a view on this but will be watching with interest and in the event an application is made for consent we will follow the statutory process."
However, as the residents of Queenstown and Wanaka well know, local sentiment in the two key Southern Lakes towns is 80% or more against further expansion involving big, jet capable international airports, so the move by Christchurch airport is very bold and potentially a winner. That of course assmes that the communities of the region actually want more tourists and (another) big airport.
Read the full statement from Christchurch Airport here.


---