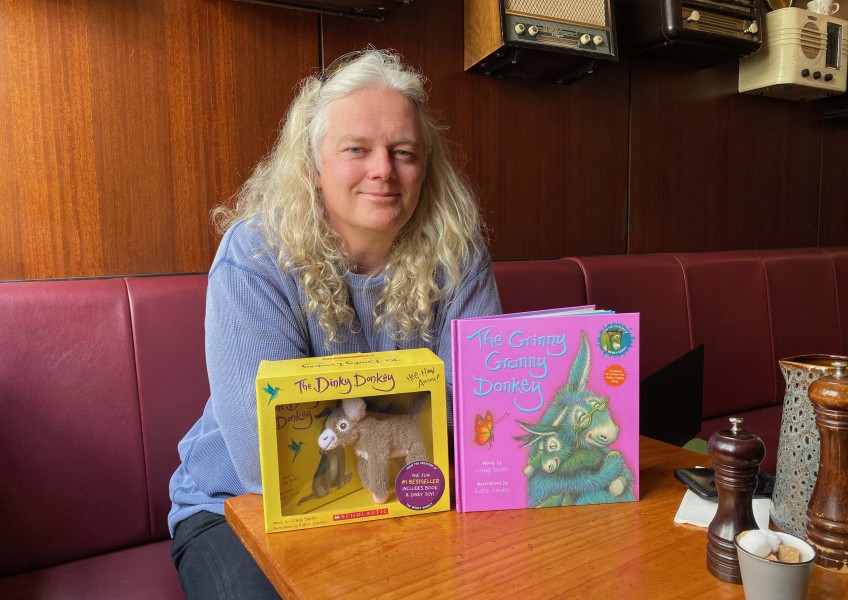 Taking the Donkey Work out of Success
---
Becoming a globally successful author is one of those things very high on many wish lists, but it's also extremely high on the "Very Hard to Achieve" list.
Queenstown author Craig Smith already has two global Donkey successes as an author, but he is going for a third with The Grinny Granny Donkey, the latest title in his children's book series that has so far sold over 4.5 million copies. The new book is published on November 1st. A fourth book, Willbee the Bumblebee also did well around the world.
Craig is a regular sight around Queenstown and lives a lifestyle far from what might be expected from an author with a stellar sales record around the world. Does he drive an expensive car? No – he drives a Hi Ace Toyota van.
Crux sat down with Craig to find out the secret of being a success – without all of the baggage that usually goes with Celebrity.
Our first question was around business acumen. The world is littered with smart people who have fallen out with their publisher or movie studio, lost their intellectual property rights or just been ripped off by a dodgy accountant.
Craig explains that he learned business the hard way, selling toys and books door to door in Auckland and then through various tough sales roles in Australia and even Vietnam, leading to an eventual franchise network. This was street smart selling – not advertising agency marketing. Craig has managed his own companies since he was 20.
Those street smarts have not only allowed Craig to cut tough but fair deals with his publisher, Scholastic, but also maintain an incredibly healthy balance between work and leisure.
He traces it back to Christchurch – Sumner library to be exact. Craig made the decision at the ripe old age of thirty-three, some fifteen years ago, that he wanted and needed to earn a living as a musician but knew that he needed to keep his expenses low in order to achieve success.
So, he sold his car, bought a cheap van to sleep in, and set himself the challenge to survive on $400 a week. Using the toilets at the Sumner library to wash and the van to live in, Craig managed to save $1,000 a week, $50,000 for the whole year. He did, in later months, enjoy the luxury of renting a mate's driveway ($40 a week) and using their bathroom instead of the library. But you get the point – this man is determined to achieve his goals.
We caught up at one of Craig's favourite local eateries – "the best big breakfast in town" – where he added that his Mum's tough life bringing up her six kids in Queenstown while working at the old Travelodge Hotel played a key role in his formula for coping with success.
Seeing how hard she had to work to feed six young mouths while earning a low wage reinforced in Craig the value of money and the importance of taking care of the basics in life.
But it's also the mountains, rivers and lakes around Queenstown that keeps him here. He enjoys the sheer size and timelessness of the landscape and also fights for the community's right to keep the environment in good shape for future generations.
The Grinny Granny Donkey is officially published on November 1st but Crux has one signed copy to give away (pre-publication), along with the chance to meet Craig and go along to his upcoming stage show in Arrowtown. Just email [email protected] with your name, contact number and address to go into the prize draw - plus a brief reason why you should be the winner.

Watch our Southern Lens mini documentary on Craig here:


---