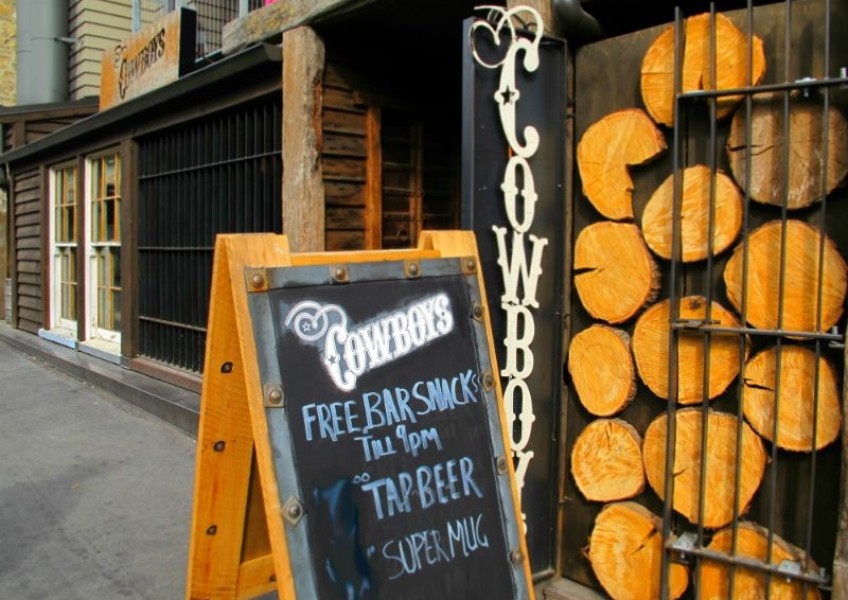 SDHB asks partyers to get tested if symptomatic
---
The number of cases of Covid-19 in the community continues to climb today, with 19 new cases in the South.
It brings the number of cases in the Southern District Health Board area in the current outbreak to 51, with 41 of those in the Queenstown-Lakes district.
By 6pm today, four new locations of interest in the South had been listed on the Ministry of Health website.
There's alerts for two flights departing Queenstown for Auckland – passengers seated in rows 34, 35, 36, 37 or 38 on flight NZ612 on Tuesday, February 8, from 10.30am to 12 pm are close contacts; likewise passengers seated in rows 25, 26, 27, 28 and 29 on Flight NZ634 on Tuesday, February 8, from 6.05pm to 7.50pm.
Two Queenstown bars are also new locations of interest: Cowboys Bar on Searle Lane on Sunday, February 6, between 1.13am and 2.30am, and Harry's Pool Bar on Brecon Street on Saturday, February 5, between 3pm and 5pm.
Patrons and passengers at these spots at these times are considered close contacts and are asked to self-isolate and get tested immediately.
The two hospitality businesses join a host of popular Queenstown venues to become possible locations of Covid transmission over the long Waitangi holiday weekend, including The Ballarat, Pog Mahones Irish Pub, Reading Cinemas and Pier Restaurant and Bar.
Local health officials are asking anyone who has been out at a bar or restaurant, or attending parties across the South to be tested if they have cold or flu symptoms.
As of 1pm today (Monday), there is 306 close contacts isolating throughout the Southern district, and 239 of these are in the Queenstown-Lakes district, a SDHB media spokesperson says.
"Please go and get tested if you have any symptoms or you have been asked to get tested by the Ministry of Health or Public Health.
"Otherwise, you do not need to get tested. Due to our district's geography, transporting swabs to the appropriate laboratory for testing may take some time – please be patient in waiting for your results.
"Now that we have Covid-19 circulating in our communities, we are all at risk of being exposed.
"Please continue to wear masks, follow physical distancing, and hand hygiene measures – these actions will slow the spread and help flatten the curve."
Queenstown Lakes District Mayor Jim Boult says the record number of cases over the weekend is confronting, but there are many more to come.
"We have been fortunate to have been free from any Covid-19 cases for many months.
"However, it's here now and numbers are growing rapidly so we need to turn our attention to embracing all forms of defence against this virus."
People can play their part by receiving a vaccination boost as soon as they are eligible, keeping an eye on locations of interest and following public health guidelines if at an exposure event, and scanning in, he says.
People who are symptomatic, regardless of how mild it may be, should isolate and get tested, he says.
"People may brush off symptoms as hay fever or a cold, but each and every one of us needs to be sure we are not putting those vulnerable members of our community, or our essential workers, at risk.
"Equally, if you don't have symptoms and haven't been in a location of interest at the specified times you don't need to get a test. Leave testing capacity for those that need it."
There is tension within the community around vaccination and mandates, but now is a time to pull together, he says.
"Some businesses will experience staff shortages due to illness or the need to self-isolate, and others may need to close temporarily while they deep clean.
"Stick with them and support local businesses as much as you can."
There are 981 new community cases of Covid-19 across New Zealand today, prompting Prime Minister Jacinda Ardern to announce the country will move to Phase Two of its Omicron plan tomorrow (Tuesday) at 11.59pm.
Prime Minister Ardern says the increase in Covid-19 cases is not unexpected and the country can expect to stay in phase two as long as daily cases remain between 1000 and 5000.
In phase two the focus remains on slowing the spread, but also balancing the needs of critical services, businesses and the economy.
The self-isolation period drops from 14 days to 10 for positive cases, and contacts need to stay home for seven days (previously 10).
Critical workers who are close contacts may not even have to isolate at all, if they return a negative rapid antigen test.


---