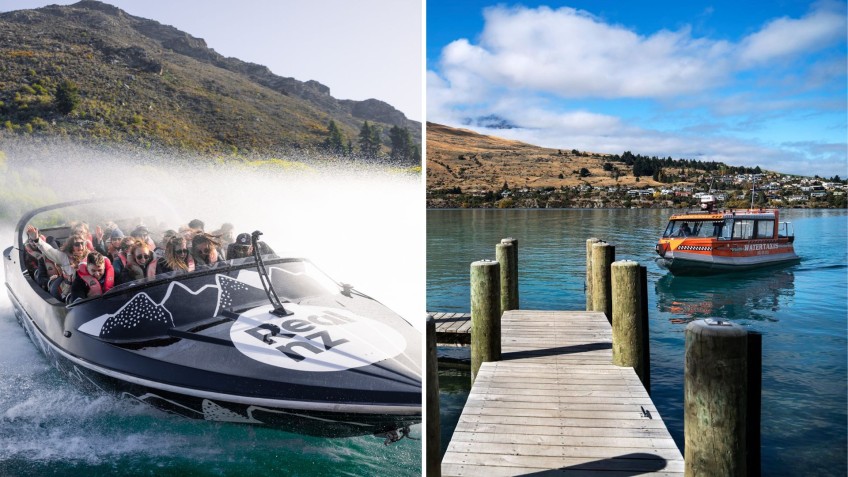 RealNZ puts Queenstown ferry, jet boats up for sale
---
A ferry service that takes passengers across Lake Whakatipu linking the CBD with Frankton and Kelvin Heights has been put on the market.
In a statement this afternoon, tourism operator RealNZ announced it is looking for a new owner for this part of its business.
Acting chief executive Paul Norris says while the ferry provides a "valuable service for the community, the offering sits outside of RealNZ's direction".
Until it hands it over to a new owner, the ferry will continue to operate as usual, including with a doubling of fares as reported earlier today by Crux.
It's not the only business announcement made by RealNZ today.
It says it is also in the process of buying a vessel, the Spirit of Queenstown, off rival operator Southern Discoveries, with plans to have it on the lake alongside vintage steamship the TSS Earnslaw taking visitors to Walter Peak Station.
Meanwhile, other boats run by RealNZ are on the chopping block.
The business currently operates Queenstown Jet Boats, but is looking for a new owner for this package too.
The jet boats will be listed as a going concern, and operations will continue as usual until a sale is made.
The company indicates the moves are about gearing for growth and ensuring the experiences it offers make sense within its wider portfolio.
"RealNZ experiences are designed to connect our guests with nature to inspire an interest in conservation," Mr Norris says.
When it comes to the jet boats, they are "more geared towards speed and exhilaration which, while a lot of fun for guests, is a step away from our core focus as a business", he says.
Also up for sale are the International Antarctic Centre in Christchurch, which the company acquired in 2015, and the Stewart Island Lodge. Both will continue to operate as usual until successful sales.
RealNZ will continue to provide ferry connections to Stewart Island/Rakiura.
Mr Norris says the company is "at the tail end of a turbulent few years" and is now looking to the future.
"Staying true to the intentions of our founders, RealNZ serves to help the world fall in love with conservation - connecting our guests with the beauty of our environment through real experiences.
"We are fortunate to live and work in arguably the most beautiful and protected part of Aotearoa New Zealand, so we need to be critical about what experiences we offer."
In March last year, RealNZ announced it had undertaken one of the largest private capital raises in New Zealand tourism, bringing in investors including Milford Asset Management, Xero founder Rod Drury, investor Jonty Edgar, developer Martin Dippie, and Sistema Plastics founder Brendan Lindsay.
While in March this year, chief executive Stephen England-Hall announced is departure from the company after two years, two years after taking on the top job in the midst of the Covid-19 pandemic, with New Zealand's borders closed to the international tourists that had made up the bulk of the company's business.
Main image (Facebook/RealNZ and Queenstown Ferries): Tourism operator RealNZ is looking for new owners for its Queenstown ferry and jet boat services, saying neither are the right fit for the bigger business.
Read more: Fares double - Kelvin Heights 'priced out of ferry service'


---